"The big ones - cannot disguise the jingoistic agenda."
Indian actor Naseeruddin Shah has made comparisons of Bollywood to Nazi Germany.
Naseeruddin Shah is known for speaking on matters which affect India and its famous film industry.
In an interview with Indian news outlet NDTV, he said he believes the industry has been largely insulated from Islamophobia.
However, Shah said that he thinks filmmakers are being encouraged to make "pro-establishment" films by the Indian government.
Shah elaborated on this as well as the German ideology, stating:
"They are being encouraged by the government to make pro-government films, to make films lauding the efforts of our beloved leader.
"They also being financed, also promised a clean chit if they make movies which are propaganda, to put it bluntly.
"You will find the biggest guys giving in to this. In Nazi Germany also this was attempted.
"Filmmakers who were outstanding, world-class, were rounded up and asked to make films propagating the Nazi philosophy."
The veteran actor said he didn't have definitive proof of this but said it was "obvious" from the high-budget films. which are currently being released.
He adds about which kind off movies have a specific outline to it:
"The kind of big-budget films that are coming. The big ones – cannot disguise the jingoistic agenda."
Watch the Full NDTV Interview here: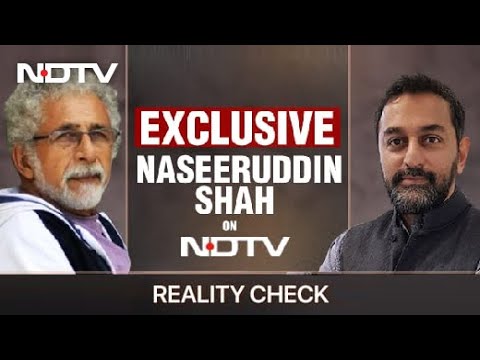 Shah's controversial interview comments led to a mix of reactions online. One Twitter user said:
"Happy to know that at last an actor has opened his mouth while Khans closed down their mouth since 2014."
Another agreed: "Bless him for having the courage to speak the truth."
It comes after the 71-year-old faced furious backlash over his video comments on the Taliban's return to power in Afghanistan. Shah said:
"Even as the Taliban's return to power in Afghanistan is a cause for concern for the whole world, celebrations of the barbarians by some sections of Indian Muslims is no less dangerous."
Since then, he has said that "celebration" may not have been the right word to use and mentioned:
"I was referring to those who openly made a statement in favour of the Taliban.
"What saddened me was that there are sections of the Muslim community who are in agreement. I also received pats on the back from the rightwing. I don't need any such congratulations or label.
"The actor added that harmless statements by Muslims were being penalised but statements about violence against them "are not being castigated or commented upon, let alone taken to task."
Shah also stated his comments were "perfectly reasonable" and that he felt sorry for those who were getting "rabidly angry" over them.:
"It's not an ordinary time. There is an atmosphere of bottled hate just waiting to be released.
"People are waiting to take offence to anything. If they had heard my statement they would have realised there is nothing to get their knickers in a twist about,"
The Bollywood star responded to claims of him exaggerating about the number of Taliban supporters:
"It doesn't take time for a wildfire to spread. It doesn't take time for thoughts like this to penetrate into people's minds.
"A majority of people were upset about reforms and that bothered me even more. They are against the idea of modernism.
"By Indian Islam, I meant tolerant, Sufi-influenced practice of Islam in this country. I was referring to the Islam represented by people like Salim Chishti and Nizamuddin Aulia.
"Indian Islam is a religion that does not believe in the fundamental execution of the word of the law."
Naseeruddin Shah first rose to fame in Bollywood after starring in the 1980 film Hum Paanch also featuring Mithun Chakraborty, Sanjeev Kumar, Raj Babbar and Amrish Puri.