"The closest you can get if you want to experience a real medieval picture."
Role-playing games (RPGs) have long become associated with fantasy. However, Warhorse Studios presents a refreshing take on the genre with their upcoming game Kingdom Come Deliverance.
Set in the medieval landscape of Bohemia, players will have the chance to truly become a 'dashing knight'.
Ahead of its release in February 2018, Warhorse Studios and Deep Silver presented a preview event of the title. It was held in the stunning location of Hever Castle. As the childhood home of Anne Boleyn, this seemed a perfect fit.
DESIblitz got the chance to try out a special preview of Kingdom Come Deliverance, as well as speaking to PR Manager Tobias Stolz-Zwilling.
Let's uncover more about this game, and whether it could be one to watch out for in 2018.
A Quest for Redemption
Set in 1403, Kingdom Come Deliverance is inspired by true events. The player takes on the role of Henry, a young man who suffers tragedy as mercenaries kill his family. He embarks on a journey of revenge and redemption, roaming through Bohemia.
Speaking to Tobias, he explained how Creative Director Daniel Vávra and Executive Producer Martin Klíma created the upcoming release: "They decided that they wanted to make a realistic game and a historically accurate game.
"We found out the Holy Roman Empire has so many cool stories to tell, but no one tried it before." With the help of a full-time historian in the studio, they have brought this story to life once again.
For the event, DESIblitz explored three levels specifically selected by developers. The first, entitled 'Awakening', gave us a taste of the storyline, as well as a tutorial on combat. The following levels also present an intense battle with soldiers and uncovering a murder in the game's largest building, the monastery.
Throughout exploration, the game initially feels similar to the likes of The Elder Scrolls franchise. A medieval setting, the first-person camera, a sandbox world, side quests; it has all these necessary ingredients for an RPG.
Not to mention the breath-taking graphics one encounters. At one point, DESIblitz had to stop to watch a sunrise take place in the game. The lighting and environment feel completely realistic – but this doesn't end there.
Taking Realism to the Next Level
As mentioned before, medieval and fantasy have become entwined in franchises such as The Witcher. However, Kingdom Come Deliverance aims to stand out through its sense of realism. Tobias says:
"We said no one ever tried to make a fully realistic game. We stripped down RPGs from most of those fantasy elements." In addition, they also removed several tools that players have become familiar with in RPGs.
"It's definitely the closest you can get if you want to experience a real medieval picture.
"It's unique in its entire approach that you are not the superhero. You have to live with the fact that every arrow can kill you. You need to fight with your brain, not with your muscle."
Throughout gameplay, we encountered many moments that required strategic thinking. Prior to going into battle, there was the choice of two helmets for protection. While one offered a better defence, its design meant you have an obscured vision, only able to look through small eye slits.
For those who thought they mastered archery in RPGs, think again. The game offers no crosshair with the bow and arrow; meaning you have to hone your aiming skills. Just like a real archer.
Players will also have to ensure they are well prepared for missions, ensuring they have bandages, food and rest. Even in combat, you cannot rely on "button mash"; instead you need to create strategic combinations of slashing and stabbing, as well as well-timed defending.
However, one can see the potential hinderances this height of realism may cause. For example, during a big battle, DESIblitz was unable to apply bandages and couldn't recover health. This eventually meant that our character bled out to death.
In addition, as we attempted to discover who the hidden murderer was in the monastery, we felt confused on which characters to approach next. Perhaps this is due to an overreliance of such tools from other titles. Tobias also explained:
"In general I think being different doesn't mean being bad. It just enriches the market."
Watch the trailer here: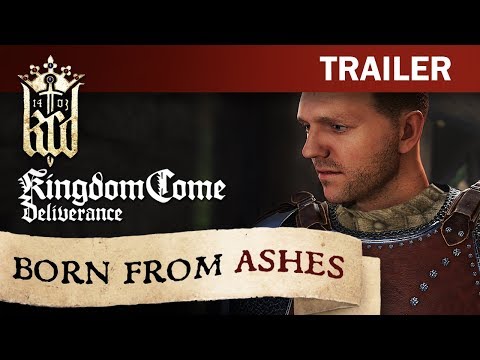 Warhorse Studios began development in February 2014, after a huge support on Kickstarter. With the release date scheduled for 13th February 2018, this marks exactly four years the title has been in development.
But this enduring journey towards release means the studio feels proud and pleased. Tobias said:
"The most important thing is we are happy with how it looks like today. It's exactly what we wanted to create when we pitched the idea to Kickstarter."
Tobias also explained how the industry is witnessing a trend of history merging with gaming, highlighted in titles such as COD: WW2 and AC: Origins. He said:
"There's potentially a chance that this might create some kind of new sub-genre of RPGs. I was calling it 'RRPGs' – realistic RPGs."
Indeed, the game does bring a new take on this much-loved genre. With stunning graphics, immersive gameplay and an intriguing story, we can see the potential of this title to be a big hit.
But its realism may cause a divide between casual and dedicated gamers.
Until then, make sure you keep a close eye on the release of Kingdom Come Deliverance, scheduled for 13th February 2018!