"The little I know about music is that the property is naturally inside you."
Singing (Geet) and Music (Sangeet) comes from within his soul.
He lives a simple life, wears simple clothes and does not show off in any specific style. And you all love him. He is popular Punjabi Sufi Singer, Kanwar Grewal.
Kanwerpal Singh Grewal was born into a Jatt family in Mehma Sawai village, District Bhatinda on 01 January 1984. His parents are Beant Singh Grewal and Manjeet Kaur Grewal. He has one sibling, an elder sister who is also married.
Kanwar Ji spent his childhood days playing Gilli Danda, hide and seek and marbles with his friends.
Grewal Saab was also quite naughty as he got beaten up constantly for playing cards.
He had a keen interest in singing from a very young age, with his family very supportive of this. During 6th class, he would sing and dance in his room, whilst playing a cassette on his deck.
One day his father saw him performing and told him to gain formal training for singing.
Upon request to his father and following a deal with him, he received a ranger cycle and a harmonium.
His early Ustaad's included: Gurjant Singh Kalyan and Ravi Kumar Sharma.
Post completion of 8th grade from his village, Kanwar Ji headed to the city for further education.
After attaining Plus 2 education, Grewal Saab did his Bachelors in music at Shaheed Bhagat Singh (SBS) College in Kotpura. He then achieved an MA in Music Vocal from Punjab University, Patiala.
During his school days, he won many musical competitions at the state level. He also sang in a local restaurant while living in Patiala.
In reply to a question of how education helped his music career going forward, he exclusively tells DESIblitz:
"The little I know about music is that the property is naturally inside you. When you are in the academic line, you learn how to design music and make a sequence out of it."
Besides completing his education, he also did some theatre work, composing and making music. But after graduation, Kanwar Ji did a government job for a brief period in 2009, before leaving that too.
In late 2010 he went to Phillaur and learned so much from his guru Bebe Ji (mother) Anmol Vachan.
Grewal Saab gradually started living at her ashram, as she took him under her guidance. This was a big change over in his life. He often talks about and mentions her through his music.
From once drinking alcohol to sitting with the Satsang (with Bebe Ji), it has been an amazing journey for him. He describes himself and his life as 'Saddi Yatra' (Our Pilgrimage).
Bebe Ji would always advise him to find out: "Where you are from, what is the purpose of your life, and where are you going to go."
Like other vocalists, he would sing sad and upbeat songs. But under the enlightenment of Bebe Ji, his music was influenced by spirituality.
Whilst adopting and performing Sufi music with Bebe Ji, he gradually became popular amongst music lovers. Slowly he performed his own solo programmes.
He began his music career with the super hit track 'Akhan' from the namesake album in 2012.
One by one, he released many other big singles and albums under labels such as Speed Records and Finetone Music.
Some of these include: 'Chhalla' (2013), 'Maaf Kari Rabba' (2013), 'Mast' (2014), 'Mastana Jogi' (2015), 'Ticketan' (2015) 'Jogi Nath' (2016), 'Vekhi Ni Vekhi' (2016), 'Toomba Vajjda' (2016), 'Zameer' (2017) and 'Lohri Yaaran Di' (2018).
Kanwar Ji believes when you think of Sufism, it is about the soul and the truth. For Grewal Saab, the Almighty has gifted him a talent for singing. But his heart tells him to sing those songs, which he can perform in front of his mother and sister.
Explaining the essence of the Sufiana Kalam (devotional music) and how it excites the audience, he says:
"I think before the words, it is about the frequency of your mood. I think before the actual words your own vibration is more important.
"No doubt with your voice, words also become vital. But before the words, it is important to know what your aura is. The way you sit and the positive energy at the time is more important."
On a personal front, he got married to Bibi Karamjeet Kaur in a simple ceremony attended by family on 02 March 2016. He has one daughter with Bibi Karamjeet.
He is inspired by his two favourite singers which are, Kuldeep Manak and Gurdas Maan. From the young generation, he is a big admirer of Satinder Sartaaj and the Nooran Sisters.
Watch our full video interview with Kanwar Grewal here: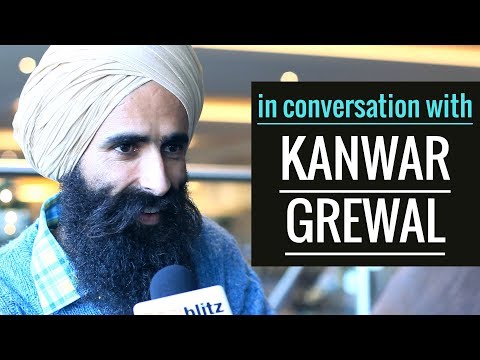 Kanwar Saab likes to live a very simple life. From 2004-2010 he would always wear the same green coat. Whilst Grewal has built a big house in Mohali, he mostly lives by his Bebe Ji with his family.
He was honoured with the Fankaar E Sufi Award at PTC Punjabi Music Awards 2017 held in Panchkula, India.
In recognition of exceptional contribution to Punjabi language and music as a Sufi singer, he received a 'Certificate of Appreciation' from the Premier of British Columbia Honourable John Morgan and Surrey-Fleetwood's MLA Jagroop Brar during his 2nd tour to Canada in 2018.
He also had a successful UK tour in 2017, enthralling his fans in 5 different venues around the country.
Kanwar Grewal is a respected artist who has a lot to offer both spiritually and from an entertainment perspective. He remains humble and down to earth as ever.
Singing was never about being famous. But to fulfil an interest, which he has rightly done.