Priyanka seduces the audience as she talks about piercing her lover with her style which is her arrow.
Since her earning her Miss World 2000 crown, Priyanka Chopra has blossomed into a worldwide superstar.
Delivering hit after hit, Chopra's illustrious career spans more than 50 Indian films. Some of her most memorable movies include Fashion (2009), Barfi! (2013) and the epic Bajirao Mastani (2016)
Her acclaimed Bollywood career caught the attention of Hollywood as ABC cast PeeCee in the TV drama, Quantico.
She then starred in the Baywatch (2017) reboot film as the antagonist, Victoria who takes on Dwayne "The Rock" Johnson, Zac Efron and Alexandra Daddario.
PeeCee uses her fame and power to support others whether she's producing regional films or her philanthropy, she is a selfless icon.
An actor, dancer and singer; she is a triple threat. Celebrating the star's incredible talents, DESIblitz picks 12 of Priyanka Chopra's finest music videos for you to enjoy.
Gun Gun Guna: Agneepath (2012)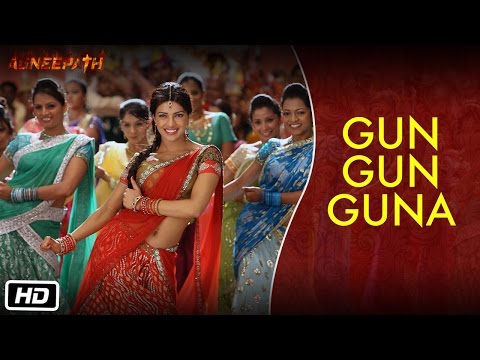 Film: Agneepath (Karan Malhotra, 2012)
Artists: Sunidhi Chauhan and Udit Narayan
In Karan Malhotra's 2012 film, Agneepath, Kaali (Chopra) and the village erupt into a huge celebration with a drunk-looking Vijay (Hrithik Roshan) who is not in the mood.
Priyanka is wearing a red saree with the backing dancers wearing a range of colours. Hrithik is wearing a dirty white vest and jeans in contrast to all the beautiful colours.
The video has enough power to lift your spirits with its fun choreography, the rainbow sea of dancers and Priyanka's adorable facial expressions.
The playful lyrics sung by Sunidhi Chauhan and Udit Narayan leave a smile on the face of listeners, this infectious song will leave you humming once the video is over.
Pinga: Bajirao Mastani (2015)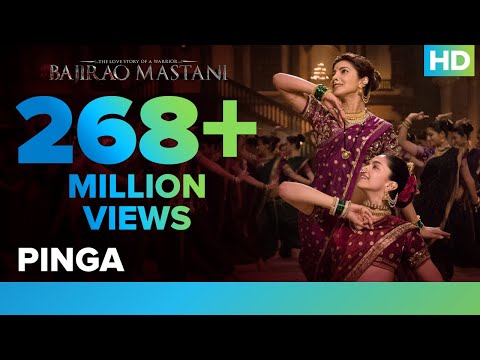 Film: Bajirao Mastani (Sanjay Leela Bhansali, 2015)
Artists: Shreya Ghoshal, Vaishali Mhade
In the modern classic, Bajirao Mastani, Chopra and Deepika Padukone partake in a fierce Lavani dance battle as their respective characters, Kashibai and Mastani put aside their differences.
The characters observe the West Indian festival of Vat Purnima, a celebration of the love for their husband, Bajirao (Ranveer Singh).
Both are wearing elaborate Maharashtrian sarees and jewellery, Priyanka in plum and Deepika in maroon. The two actors take on a challenging routine with detailed footwork and armography. Even the hosts of The View were stunned!
The set was specially constructed for the film with hundreds of diyas and torches lit to take you back to the 1700s.
The song Pinga samples lyrics from Marathi film songs like Latpat Latpat Tujha Chaalan Ga from the film Amar Bhoopali (1951) and Nach Ka Guma from the film Chandanachi Choli Ang Ang Jali (1975).
Gallan Goodiyaan: Dil Dhadakne Do (2015)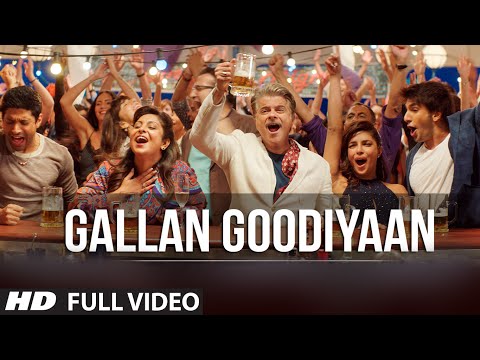 Film: Dil Dhadakne Do (Zoya Akhtar, 2015)
Artists: Shankar Mahadevan, Yashita Sharma, Manish Kumar Tipu, Farhan Akhtar, Sukhwinder Singh
The comedy-drama, Dil Dhadakne Do (2015) features an all-star ensemble cast. It takes place on a cruise ship as siblings Ayesha (Chopra) and Kabir (Ranveer Singh) celebrate with their parents (Anil Kapoor and Shefali Shah) on their 30th wedding anniversary.
Gallan Goodiyaan, a music video which stunned fans with one impressive five-minute take. The video takes place on the cruise ship.
Zoya Akhtar told the Indian Express:
"We had to plan every detail before we started shooting for the song. There was a lot of planning and management to be looked into."
This obviously shows as the cast are faultless in this spectacular cruise party as they tear up the dance floor. Punjabis really know how to throw a party, we would definitely be on board for this!
Asalaam-e-Ishqum: Gunday (2014)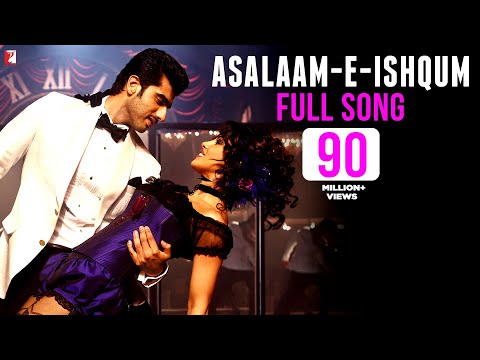 Film: Gunday (Ali Abbas Zafar, 2014)
Artists: Bappi Lahiri, Neha Bhasin
A ravishing Nandita (Chopra) lights up the stage with a fiery 70's cabaret-style performance in glamorous outfits. Meanwhile, Bikram (Ranveer Singh) and Bala (Arjun Kapoor) fantasise in the audience.
Whether she is straddling a chair or hula hooping with a flaming hoop, Priyanka is constantly raising the temperature. Her smouldering eyes and teasing pouts are enough to break a glass.
Priyanka seduces the audience as she talks about piercing her lover with her style which is her arrow.
Gunday went down a hit as the two men Bikram and Bala fight for Nandita's hand in marriage but is it really a love triangle?
Laal Dupatta: Mujhse Shaadi Karogi (2004)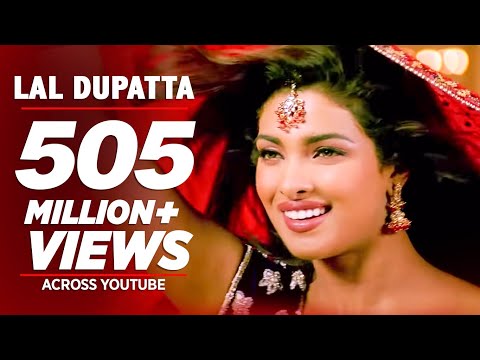 Film: Mujhse Shaadi Karogi (David Dhawan, 2004)
Artists: Udit Narayan, Alka Yagnik
A blast from the past, Laal Dupatta comes from one of Priyanka's earlier commercial hits, Mujhse Shaadi Karogi (2004). Rani (Chopra) who is faced with a dilemma of two men, Sameer (Salman Khan) and Sunny (Akshay Kumar), competing for her love.
In a dreamlike sequence, Laal Dupatta sees the struggle of Rani facing the difficulties of choosing either Sameer or Sunny.
The video features Priyanka in numerous lehengas with a "laal dupatta". She is joined by dancers who perform a smoothe IIFA award-winning routine by Farah Khan.
The scene takes place in a mandir with the flirtatious duo of Sunny and Sameer trying to woo Rani.
Without a doubt, this is probably Priyanka's most memorable film sequences.
Exotic (2013)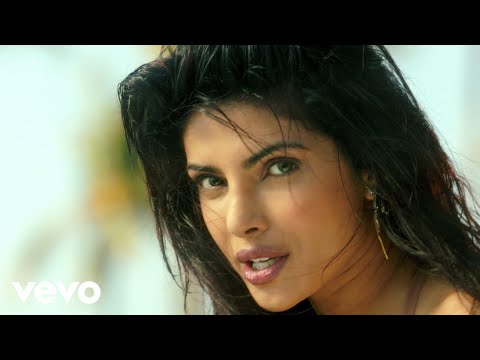 Artists: Priyanka Chopra featuring Pitbull
Miss World meets Mr Worldwide. Priyanka and Pitbull's Exotic is a hot and fun summer party anthem with currently over 140 million views. For this song, Priyanka shows off her bilingualism, singing both in Hindi and in English.
Chopra sizzles in South Beach, Miami, wearing a nude monokini and cooling down in the ocean. Cut to a mansion, Pitbull nonchalantly rapping his verses sat on an armchair with Chopra perched on the arm.
Priyanka also shows off her dancing talent in a forest at night with a group of backing dancers all in black two-pieces.
PeeCee expanded her artistry by launching a music career in 2012 with Interscope Records. Though her music didn't catch the attention of Western audiences, her native country stood by her. Her songs performed well in the Indian music charts with Exotic selling over 300,000 physical and digital copies.
"Tumko jo dekha maine, toh maine ye jaan liya hai/ Pardesi babu ne, iss desi dil ko maan liya hai"… Nick Jonas!
Title Song: Dil Dhadakne Do (2015)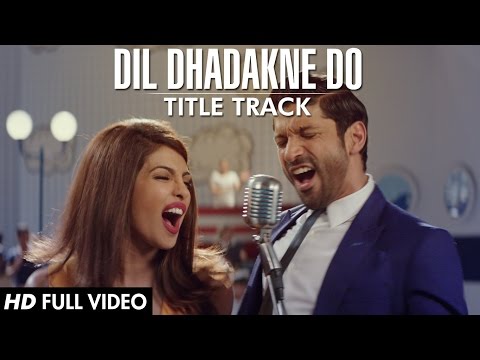 Film: Dil Dhadakne Do (Zoya Akhtar, 2015)
Artists: Priyanka Chopra, Farhan Akhtar
For the title song of Dil Dhadakne Do the entire cast get their groove on as they perform a 60s swing-style number.
Filled with 60s fashion trends such as hairstyles and Anushka Sharma's white go-go boots. The background actors and dancers include sailers and pin-up girls.
To complete the 60s feel, choreographing duo, Bosco-Caesar, devised choreography reminiscent of a Broadway musical.
Priyanka particularly impresses with her vocal performance as many have said she outshines the experienced Farhan. We hope to see Priyanka sing more of her own songs in future films!
Tu Na Jaane Aas Paas Hai Khuda: Anjaana Anjaani (2010)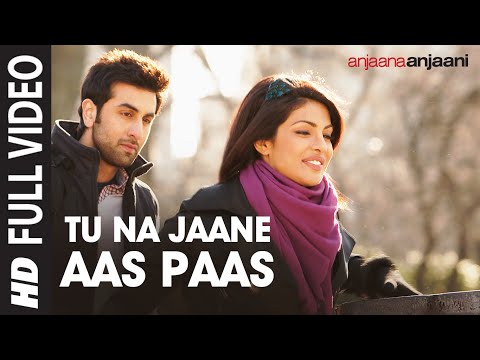 Film: Anjaana Anjaani (Siddharth Anand, 2010)
Artist: Rahat Fateh Ali Khan
Tu Na Jaane Aas Paas Hai Khuda is a song by the Pakistani Qawwali singer, Rahat Fateh Ali Khan. A song praised for its melancholic tone, soft-rock elements and motivational lyrics.
The video is a montage of clips from the film, Anjaana Anjaani (2010). A tragic-romance set in New York which follows two suicidal strangers-turned lovers, Kiara (Chopra) and Akash (Ranbir Kapoor).
Both characters fall into depression; Kiara due to her previous relationship failing and Akash because of his financial issues. Throughout the course of the film, audiences see Kiara and Akash's numerous failed suicide attempts including Kiara drinking bleach and Akash stepping in front of a car.
Though the film contains such a dark topic, there are moments of light with comedic scenes.
Aaja Soniye: Mujehse Shaadi Karogi (2004)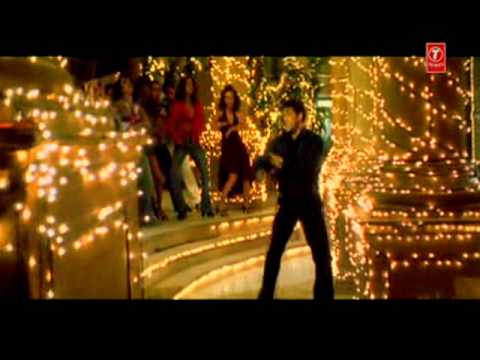 Film: Mujehse Shaadi Karogi (David Dhawan, 2004)
Artists: Sonu Nigam, Alka Yagnik
Without fail, this song managed to appear on every Desi wedding video. A fun party song with an essence of Punjabi, Aaja Soniye gets you up on your feet to bust a few moves.
Majority of the video consists of Sameer (Salman Khan) and Rani (Priyanka) at a New Year's Eve party. Prior to the start of the video, a hypnotist puts Sameer and Rani in a trance that makes them believe they love each other. They profess their love through song and dance.
The video consists of a heavy amount of choreography, with Sameer and Rani side by side with some flirtatious moves. To complete the romantic atmosphere are surrounding buildings covered in garland LEDs.
However, all good things must come to an end as Sunny (Akshay Kumar) shows up and with a snap of his finger, the trance is broken.
Ram Chahe Leela: Goliyon Ki Rasleela Ram-Leela (2013)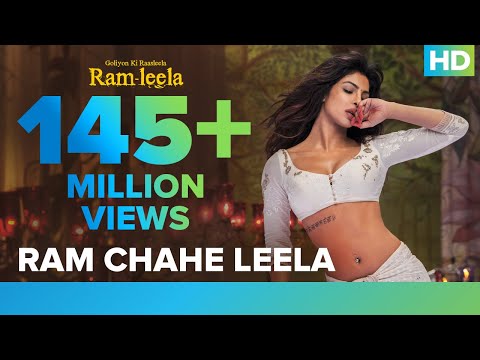 Film: Goliyon Ki Rasleela Ram-Leela (Sanjay Leela Bhansali, 2013)
Artist: Bhoomi Trivedi
The item number of another Bhansali epic. Priyanka performs elegantly with backing dancers in baby blue.
The blue and pink scenery creates a dreamscape effect as an intoxicated Ram (Ranveer Singh) watches on. Reportedly, 2500 candles were used in this scene.
Priyanka's mesmerising routine begins with her raising her eyebrows simultaneously, synchronised with the drum beat. She teasingly buttons up her top, a small detail that audiences loved.
In response to a question about the buttoning, the actor revealed on Koffee With Karan, "the song was entirely Sanjay sir's conception."
The lyrics poetically discuss the forbidden love of Ram and Leela (Deepika Padukone) and how the world should not interfere.
Desi Girl: Dostana (2008)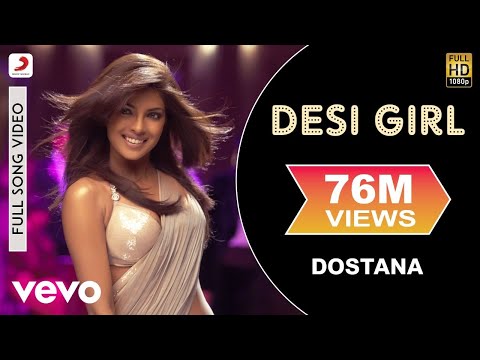 Film:Dostana (Tanu Mansukhani, 2008)
Artist: Shankar Mahadevan, Sunidhi Chauhan, Vishal Dadlani
A song of guilty pleasure, Desi Girl sees Sam (Abhishek Bachchan) and Kunal (John Abraham) play tug of war with the heartstrings of Neha (Chopra) with a pinch of homoeroticism.
Priyanka definitely knows she's "the hottest girl in the world" as she owns the dance floor, making it a little difficult for the boys to keep up with her.
Desi Girl is one of the biggest tracks of the 2008 hit film, Dostana. A film that set fashion trends including the silver saree worn by Priyanka in the video.
Bollywood Hungama said: "Desi Girl is a definite must for the dance floor". With its hip-shaking vibes, we couldn't agree more!
In My City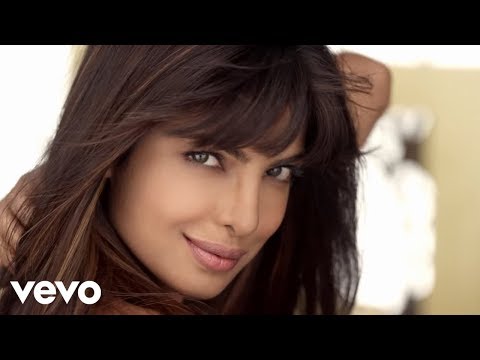 Artist: Priyanka Chopra featuring will.i.am
In My City is another great party song, sung by Chopra. A video with bright lights, a BMW, PeeCee sings about inclusivity and acceptance of all people.
She collaborates with another hip-hop artist, will.i.am of Black Eyed Peas.
Throughout the song, the video gives a nod to various countries by including items of specific cultures. It features Chinese lanterns, London Underground signs and a fusion of Indian and Afro-funk drum beats midway.
Her feel-good anthem is enough to put a smile on her audience with its positive energy.
Priyanka Chopra has taken on a diverse range of roles and has provided us with absolutely stunning performances in Hindi cinema. Her Hollywood career is also soaring and her popularity increasing by the day.
We are sure that PeeCee will definitely keep up the momentum whilst still giving us Bollywood hits!