"I put your name before the heroes. Still your paycheck has more zeroes."
Kangana Ranaut has become well-known for speaking her mind, and calling out many issues within Bollywood. Now she's taken it up another level as she features in a tongue-in-cheek music video that slams sexism in the film industry.
'The Bollywood Diva Song', created by All India Bakchod (AIB), makes obvious references to various stars from Hindi cinema. From Karan Johar to Shahrukh Khan, no one is spared from the straight-talking starlet.
Kangana also offers her honest thoughts on sexism within the industry, through her straightforward chorus of: "Because I have vagina re."
While some of the issues she addresses may appear controversial, that hasn't stopped the video turning into a popular hit. Released on 11th September 2017, the YouTube video has already generated 670,000 views!
'The Bollywood Diva Song' begins with Kangana Ranaut starring as 'Priya', the lead actress of a film. However, her director only recognises her when she calls herself the "love interest" of the hero. He even dismisses her criticisms of his script, calling her "cute".
Once the lead actor makes his entrance, in a parody of Shahrukh Khan's infamous entry in Kabhi Khushi Khabhi Gham, the director quickly changes his tune. The prodigal son i.e. the hero, has arrived. When he gives his opinion, the director accepts it and even praises him for his sensitivity.
This first begins the video's look at the unfair treatment actresses receive compared to actors.
Watch Kangana Ranaut in 'The Bollywood Diva' video here: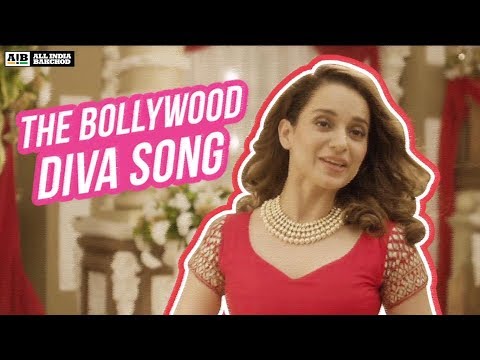 Kangana Ranaut begins her song, referencing her stance on Bollywood throughout and her refusal to conform to the stereotypes placed on her. She is tired of doing "thumkas" and kissing the hero's ass. She wishes for her role in films to be more substantial and to shatter the ever-present glass ceiling.
She also pokes fun at how directors disregard her opinions because of her gender, saying in her chorus:
"Na sunte meri because I have vagina re. (You don't listen to me because I have a vagina)"
Following on, she refers to a Times of India article on Deepika Padukone. The newspaper notably published images of the actress' cleavage without her permission and prompted a huge backlash on social media.
In addition, Kangana and AIB appear to poke fun at SRK. The actor regularly credits his lead actresses first, yet they still receive a lower wage than him. Hence, the lyrics: "Put your name before the hero's. Still your paycheck has more zeroes."
Kangana Ranaut continues to deliver blows to Bollywood. From calling out the large age gap between actors and actresses to a marriage ending their careers:
"Ho main toh hun kitni young young, Is buddhe ke sang, Buzurg hai mera piya, It's almost paedophillia."
She also makes a big reference to nepotism and her infamous interview with Karan Johar, saying:
"Papa ne tujhko launch kiya ve! Main boli toh tune taunt kiya ve, Tu karti victim play."
Indeed, Kangana has often suffered from many mocking her, even at prestigious events such as the IIFA Awards 2017.
From watching the video, it seems clear that the Indian film industry still holds strong prejudices, and so does the media, who accuse her of being "mardaani"and "ballsy".
Her response: "Brave hona kab mardaani hua re? Aurat hoon, Mere balls kahan re? (Why does being brave mean I'm manly? I'm a woman, where are my balls?!)"
However, the song ends with Kangana's character called a "diva", eventually being replaced with another actress. A move that seems to mock her ex, Hrithik Roshan, who allegedly asked for her to be replaced from the film Aashiqui 3.
It seems that Kangana has had to put up with a lot during her time in the Bollywood film industry, but she continues to fight back.
Judging from AIB's 'The Bollywood Diva Song', the star is far from disheartened however, as she continues to flourish in her career.
In fact, these scandals have pushed her to voice her opinions, making Kangana one of Bollywood's more inspiring, outstanding actresses.