"I feel this film represented me on many levels"
Porn is a billion-dollar industry globally but does it represent diversity and inclusion? Kali Sudhra, a porn performer and co-director of The Saree Shop tells us more.
Porn to most people is a plethora of sexual acts available as films to watch (or view as images) of sex performed by porn actors who are mostly caucasian.
Also, these stars are usually vetted by film companies for physical attributes that portray what sex or people having sex 'should look like'.
Typically, for men, this is large penises and macho builds, and for women, fake boobs and slim bodies, willing to do anything. Anything else tends to get categorised into other fetishes.
In hardcore porn, most sexual acts are usually related to dominance, mostly by men with totally submissive women or by women who play a dominatrix role, literally treating men like pets.
But how close is all this to the real world of sex and pleasure amongst those who do not fit into this showcase of what porn typically is?
Yes, there are genres of porn related to race and specifics such as Black, Latino, big boobs, oral and so on. But what about representation in porn of South Asians?
Usually, when this is portrayed it is tokenism and rarely with a porn actor of South Asian descent. Films featuring such scenes are often staged with non-Desi women wearing a bindi and ethnic clothes.
This is exactly what Kali Sudhra felt when she first entered porn:
"One of the reasons I got into porn was because I could not relate to a lot of the things I was seeing on camera.
"Because there was nothing that actually represented me, as a South Asian woman."
In an exclusive chat with DESIblitz, Canadian born, Kali Sudhra, who is of Indian and Dutch heritage, reveals how she is trying to combat this representation of South Asians in porn.
The Saree Shop
The Saree Shop is a film produced by Erika Lust Films, as part of its XConfessions series.
Erika Lust is an award-winning filmmaker who decided that porn needed a more sex-positive approach, with sexually intelligent narratives, relatable characters and realistic hot sex.
Her focus on female pleasure, cinematic values, diversity, and an ethical production process, have helped to change how pornography is consumed.
The Saree Shop, is an adult film, co-directed by Kali Sudhra and Erika Lust. It also stars Kali Sudhra and male adult performer, Kajal in the lead roles.
Kali hopes this film and its storyline will spark interest in better representation of South Asians in porn:
"I really was interested in the idea of doing this film about sarees.
"Because I love the whole process of seeing women going to buy sarees and lehengas with their friends and that it was such a cool and like bonding experience.
"And then I thought it could be cool to add in this fantasy and kind of like sexy element where you know, you find somebody cute that works at that shop.
"So, basically, Mehrunisa, that's my character, has this really sweet sassy interaction with Kajal who is the shop attendant and later on turns into my fantasy."
The film was a first-time experience for Kajal, the male performer in the film, and it was certainly not how it looks on the outside as he describes his role:
"It was also my first time working in a porn movie. From the outside, you probably have a different idea of what actually works and maybe a lot of emphasis on the sex and everything.
"But all of my day was going on like rehearsing the lines and trying again and again and again.
"So it's different from what people think of what porn is, like sex just a small part of it."
This depicts Kali's character as a modern Desi girl wearing a t-shirt and jeans in the saree shop with her friends.
She finds herself swirled into this sexual fantasy with the shop attendant, which is then enacted in the movie.
Kali found that she clicked with Kajal as a performer and found the sex scenes to be tender, something she feels is needed in porn, saying:
"I felt Kajal's character was super interesting because I like that they were really shy and in the film and then something that clicks.
"I was really happy to meet Kajal who is a queer performer. They are amazing.
"The sex scene was so tender and I really think it is important to have in porn to show tender moments.
"Doesn't always happen for me in porn."
"I mean sometimes there isn't the connection between performers and that's okay too. That happens. We have to be professional and we're porn performers. It's our job.
"But this was really an extra added bonus that there was this connection. Kajal is a wonderful person to work with."
Kali says the script albeit in English did have some comical Hindi lines written for it, however, they did not work out:
"I didn't write the film in Hindi obviously because it's not my mother tongue.
"Although there were some funny little lines we did have there in Hindi. Unfortunately, it didn't work out. Hopefully, for the next film, we can include that."
Being a person who is bold, Kali was very happy with the saree she wears in the film, saying:
"The saree that was chosen was just a colour that I love and felt represented me, which was a bright and bold colour.
"I feel that I can be quite a bold person. So, yes I feel this film represented me on many levels."
The adult movie is available to watch on Erika Lust Film's website and other reputable porn platforms.
South Asian Representation in Porn
Commercial porn is mostly produced in the US and Europe. The big companies in this space are going to produce products for their target audience that is mostly white.
But with the consumption of porn growing in countries like India and Pakistan according to PornHub, it does make a case for more representation of South Asians in porn.
It is much easier for performers of South Asian heritage who live abroad to appear in porn movies.
Sunny Leone is perhaps the most famous example of a porn star that is of Indian roots. But to negate her reputation as an adult star, she moved to India to pursue a career in Bollywood.
Similarly, there are other South Asian descent actresses in porn such as Anjali Rai, Sahara Knite, Anjali Kara, Neela Sky, Maya Bazin, and Priya Anjali Rai who mainly perform in western porn videos.
But are times changing? Should there be more representation of South Asians in porn to help with diversity and inclusion?
Kali Sudhra, as an activist, writer, sex educator, director, and performer, is keen to promote South Asian representation in porn.
She wants The Saree Shop to act as a catalyst for the South Asian diaspora:
"I feel this movie is really important for the South Asian diaspora because we never really see ourselves represented in cinema in an accurate way, especially, in erotic cinema.
"High time to change these horrible stereotypes about South Asian folks."
"And also I think it's really important within porn we make space for South Asian people because we are really highly underrepresented.
"When we are represented the biggest most important thing is that we are Desi or South Asian."
Therefore, it's evident from Kali Sudhra's views that more representation in porn of South Asians could increase the diversity and inclusion in the industry.
Of course, this does then pose the question of choosing such a career involving adult and sexual themes.
As to whether this would be a choice people from the South Asian diaspora would happily opt for remains to be seen.
Because sex and everything associated with it is still largely seen as taboo in society, despite high numbers of porn consumption in South Asia.
According to PornHub, India has seen tremendous growth in users, both men, and women. The use of sex toys and amateur porn in India are other areas where huge increases are seen.
Therefore, it is definitely a growing market with demand increasing.
Watch our full interview with Kali Sudhra: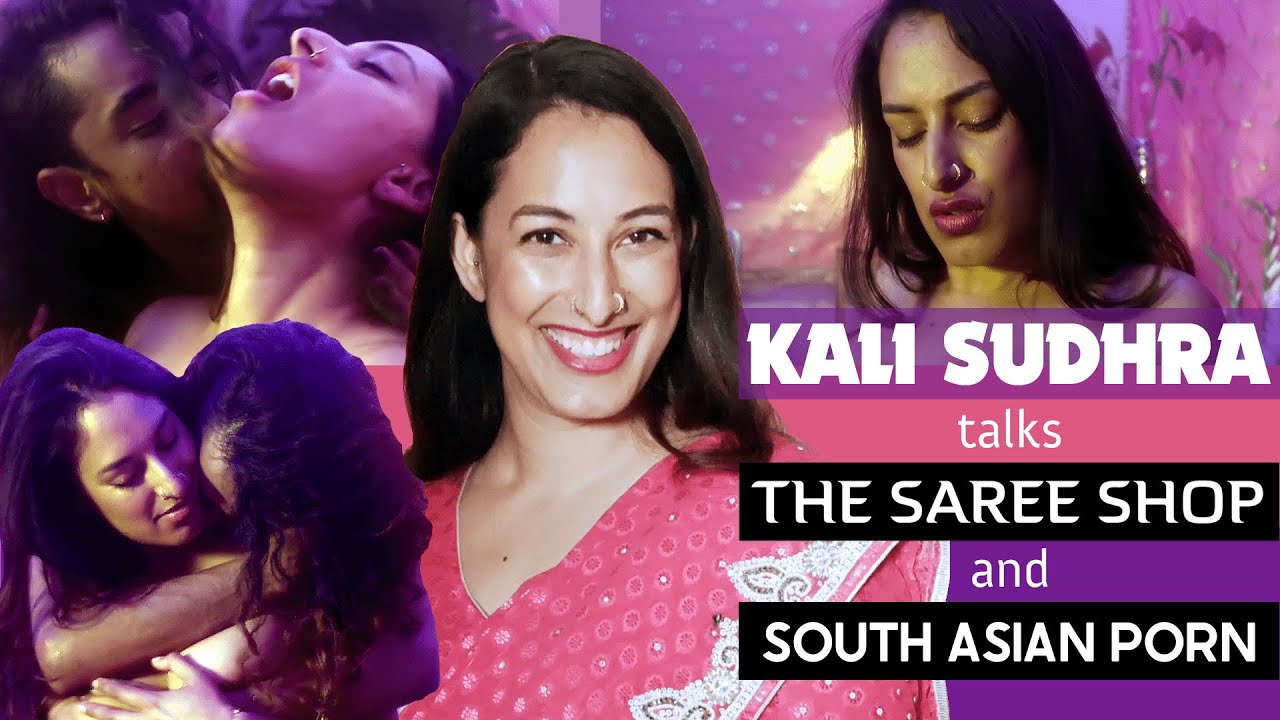 Sexuality Dialogue
The importance of sexuality and body image is very dear to Kali Sudhra, especially within South Asian communities.
She strongly feels more needs to be done to open up dialogues and conversations about the taboo surrounding this.
She hoped The Saree Shop can help this difficult conversation:
"I really hope that this film can open up some dialogue about South Asian sexuality."
And also we can start having difficult conversations about the impact of colonisation on our sexualities and on our body images:
"I think it's important to shed the shame we have been carrying around for so long and are able to embrace our sexualities and to have open conversations with our friends and families about that.
"I know it's not something that happens overnight but I hope that it is a step in the right direction.
"And I hope it encourages other people to get out there and make their own content."
Talking about sex and sex education within South Asian communities has always been a challenge.
It is not an easy hurdle to jump over without meeting resistance and backlash, especially since it is seen as immoral and 'western' to those against such discussions.
Therefore, whilst Kali's intentions are clear; how South Asians will react to her vision may take lots of time and understanding, despite, India being the home of the Kama Sutra.
Identity Struggles
As with many who belong to two different cultures but are born in a western country like the US, Canada, or the UK. An identity struggle does impact their life.
Homelife, upbringing, cultural roots of parents and grandparents play an important role, along with the environment they are living and participating in outside of the home.
This leads to difficulties in ascertaining a true identity and often either force a choice of one or the other, or a hybrid existence.
Kali Sudhra has experienced this in her porn profession as well, along with her personal struggle of not belonging to one culture or the other.
"As a South Asian actress, I do come across a lot of hurdles that other white performers would not experience.
"For example, I get fetishised a lot. So, all about my race is the most important thing to people.
"I kind of feel this strange connection to my identity because I don't feel Indian enough and don't feel Canadian enough, obviously.
"So, I'm in this weird in-between space.
Kali is constantly asked where she is from and "where are you really from?". This leads to a lot of frustration on her part.
"I know people don't have bad intentions but it doesn't mean that your intentions don't do harm."
"These are questions my white counterparts never have to answer."
"And I feel it's another way of asking, 'What kind of brown are you?' you know.
"I think that we need to rethink why we are so adamant on asking that question, why it's so important?
"And if we are going to ask this question if we can do it in a more respectful way."
Kali reveals that in messages to her she has people just sending her one-liners with "random countries" trying to ascertain her identity.
"That is exhausting and it kind of makes me feel like an object and not a person."
Kali explains that she is far more than just being an identity such as an 'Indian' person.
She lives as a complex person, "who does activism, writes, who directs, who performs, who's silly, who's a Gemini, who loves to eat, who loves to be on her bicycle and plays roller derby!"
Working with Erika Lust Films
Kali has worked as a porn actress in many other films with Erika Lust Films in her XConfessions series including Gender Bender (2018), a film she adores.
"It was the point I started to collaborate with Erika. In that movie, I was able to collaborate with how I wanted the look to be for my character.
"I was able to suggest a big part of the film for me which was the packing c**k.
"Which for those of you who don't know is a flaccid penis you can put in your underwear, if you're transitioning or you just want to wear a packing c**k.
"Also to depict non-heteronormative sex and to show two people f***ing around with their gender, playing around with it any way they wanted to.
"And that's what I do in my real life. I feel that movie was like second-skin to me.
"I really didn't have to act because it was me being myself."
Kali performs in the black and white film with Dante who she feels is an amazing and talented cast member.
She felt totally comfortable acting with him and how they were playing with their gender as a fluid portrayal.
Other films Kali has starred in include Faithful Dogs (2019), Female Pleasure Circle (2019), The Intern: A Summer of Lust (2019), Everyday Turn-Ons (2019), The Kettle (2018), and Sex With Friends(2018).
Looking Ahead
Besides acting, Kali is working behind the scenes, supporting other women, and has other interesting projects in the pipeline:
"I've been doing a lot of other things apart from performing. I've been getting into filmmaking. I've also been writing a lot.
"I'm doing a lot of advocacy right now for sex worker rights in Europe.
"I have another book in the works and I do have some other films that I cannot tell you about as I don't want to ruin or spoil anything!"
For her latest news, you can catch Kali active on her social media to show her support.
On Twitter, where she posts most, she is known as Kali_Sudhra, and on Instagram, kali.sudhra. She is also on OnlyFans as Kali_Sudhra.
Kali Sudhra is keen to see changes in porn and how it is perceived, and The Saree Shop is a step she has taken to try and start this change.
There is no doubt that we will see lots more of Kali Sudhra as she embarks on this growing journey to create more ethical, diverse and inclusive adult content.