"If I were living in this society, I would feel much more confident as a woman."
In a world where patriarchy remains a dominant way of life in both the East and the West, a new production from Kali Theatre has created quite a stir. A British Asian play, The Husbands, centres around a strong female character called Aya.
Aya rules the town of Shaktipur in India. In this setting, hierarchy, power and influence are controlled by women; men are made submissive while females rule supreme.
Directed by Janet Steel, The Husbands transforms conventional ideas of gender representation and radically turns them on their head. It is a deep-rooted matriarchal community set in rural India. As writer Sharmila Chauhan explains:
"The community is about 50 years into the future, and this is a time where there are not enough girls for the number of boys being born, and so women have had to marry more than one husband."
While an interesting concept to bring to life, what makes this female empowerment play stand out is that Aya has two husbands and is about to take on a third.
Here we come face to face with common concerns of South Asian culture, only now we are dealt a role-reversal. Can a woman hold so much power over common men?
Played by talented actress, Syreeta Kumar, Aya is the head of both the political sphere and the domestic sphere. Her 'husbands' played by Rhik Samadder and Mark Theodore, naturally become submissive characters who live, breathe and devote themselves entirely to her.
Speaking about his character, Rhik explains: "I'm a very self-sacrificing diligent, quite an aesthetic, very self-disciplined character. I am very supportive and believe in [Aya's] philosophy, the ideas behind her community. So I believe in what she's doing."
Syreeta adds: "It's a very different world. It's made me think a lot about when I talk to my one husband about this, and I think actually that it would make him feel very insecure. It's just made me think how different I would be if I were living in this society, and I think I would feel much more confident as a woman."
But this is not a play about women seeking the upper hand, instead it is about bringing our preconceived notions of gender placement to light. Are women truly inferior to men or do they deserve the same kind of equality? If men are allowed such graces of power and influence without question, then why not women?
In India and South Asia, issues of gender equality are hugely worrisome, particularly where there has been a long-standing preference for boys as opposed to girls. Sex selection, abortion and gendercide, while illegal, remain rife in rural communities. In The Husbands, the consequences of less females has led to an over-population of men, and women are now scarce. As Janet says:
"I do hope that it makes all people think about what's in store for the future and if people continue to do this, there will be a great imbalance in males and females being born, and that is a terrible thing."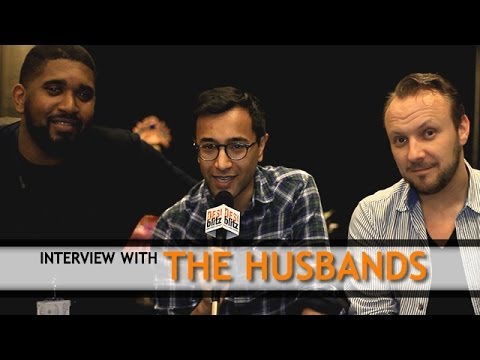 "I wrote The Husbands also as an exploration of the complexity of love, intimacy and trust between one woman and three men where gender differences and expectations are amplified. In a sense this play is as much a warning as an allegory for the fate of women in the West today," Sharmila adds.
Thus the play also highlights an interesting insight in the power of love itself. It is the husbands' devotion to Aya that allows her to do what she wants – compromise here is made on the part of the males rather than female.
The Husbands clearly offers audiences a different take on gender relations. Here Aya is able to assert her own authority as a woman and female power illuminates.
Even with the role of South Asian women evolving so much over the years, as they become more independent and in control of their own lives, opinions and perceptions of them still remain the same.
The Husbands therefore seeks to counter such perceptions. Women are no longer inhibited by their sex – they are able to achieve the same as men, if not more. And for the East in particular, this is a very apt play.
While this play does deal with deep-rooted issues surrounding the British Asian community, the popularity of theatre among the community remains an issue even today.
Kali Theatre is a long-running production house that brings British Asian and South Asian theatre to life.
A common question faced by many play makers is whether British Asians are going to the theatre enough. But as Janet Steel explains:
"It's true that in the greater numbers of the wider types of theatre that maybe they don't go and see things because it doesn't speak to them, they don't identify with them, there are no brown faces in the productions.
"Theatre in South Asia is a huge community thing. It's a thing that everybody gets involved in, and I think it should be the same thing here."
Of course with the rise of compelling and meaningful productions now emerging from the British Asian theatre scene, things are beginning to change and more and more of the community, particularly younger generations are seeking out innovative social plays like The Husbands.
The Husbands, courtesy of Kali Theatre will be on tour until March 22. For more details, or to book tickets, please visit the Kali Theatre website.