"Fate has accidentally made me a comedian, so it's up to fate to decide where I go from here"
57-year-old IrShad Shaikh is a man of many talents: a salesman, comedian, and the "world's worst impressionist".
Hailing from Ilford in Essex, IrShad was one of the few to make it through the audition process of the popular ITV talent show, Britain's Got Talent.
However, the smooth-talker did so after receiving four red buzzers from the judges.
It seems that despite failing to convincingly impersonate the celebrities he was supposed to, IrShad has the unique ability to make us laugh.
He surprised both his family and himself: "No one at all knew or saw my act, actually no one ever thought I could do comedy including me, so I have even shocked myself."
In a special chat with DESIblitz, IrShad tells us more about Britain's Got Talent and his comedy hopes for the future.
What prompted you to apply for Britain's Got Talent (BGT)?
Just for a laugh. One day I woke up and said I wanted to do something different in my life beside my normal sales routine.
So I applied [not] knowing I will ever get to be on TV and to my shock and horror I was called to audition in front of the judges. That's why I said in my audition fate got me to BGT.
Your day job is sales. When do you have time for comedy?!
I have never done comedy in my life, never performed. So you could say it was a world exclusive since it was me, YouTube and the mirror, except my wife, no one knew I was going on BGT (even she did not really see my act just the mirror).
All my family and friends were in total shock, they still are, they cannot believe it. To be honest nor can I, all in disbelief including me.
Why and when did you get into comedy?
I didn't know I was into comedy, I am not a comedian or any kind of performer.
I applied for BGT not knowing what act to perform, so I had to really think what I was going to do as I have no talent at all.
However, I am famous in my family in making weird sounds, so I checked on YouTube some impressions and tried to copy them and create this silly act.
Which comedians inspire you?
Jim Carrey and Citizen Khan.
What do you think of Desi/Asian comedy versus Western comedy?
They both have [their] own style.
What makes IrShad laugh?
Not many people can make me laugh. But if anyone can then they are great (maybe me appearing on BGT).
What did you enjoy about the BGT experience?
[I've] never been in a studio or on stage or even being filmed. So it was a fantastic experience to be facing camera and audience first time.
What's next for IrShad Shaikh, will you be pursuing to do more stage comedy?
Fate has accidentally made me a comedian, so it's up to fate to decide where I go from here. I would love if some producer offered me some role in TV/Film here in the UK or even Bollywood. I am available if anyone interested.
"I also want to help the poor, probably something like Comic Relief. So if any charities want me to perform, I would love to do charity work."
Watch IrShad Shaikh's Britain's Got Talent audition here: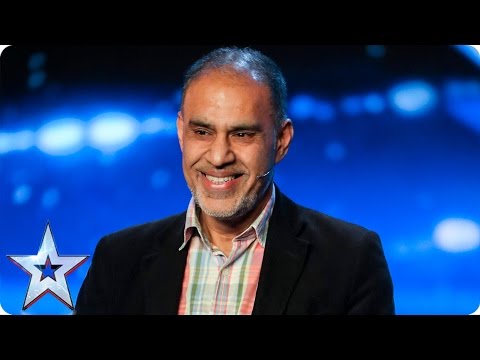 Simon Cowell notably said of Shaikh following his audition: "You are, I'm not kidding here, the worst impressionist we've had on the show in 11 years."
However, fellow judge, David Walliams countered by saying: "There's a market for the world's worst impressionist and you could be that!"
"Fate" brought IrShad Shaikh to Britain's Got Talent, and it seems "fate" may also set him upon a new career path. Could we be seeing a lot more of IrShad Shaikh and his comedy impressions? We shall just have to wait and see!
The Britain's Got Talent semi-finals are on every evening at 7.30pm on ITV.