"I wanted to bring another purpose to Bollywood dance by tackling a relevant issue."
The impressive dance group 'London School of Bollywood' (LSB) tasted success as they qualified through to the semi-finals of the eleventh series of 'Britain's Got Talent' on Saturday 27th May 2017.
With a crew including 16 members, actress and judge Amanda Holden told the group which is aged between 18 to 26: "You are through to the next round!"
LSB could not help but scream with joy.
Feeling ecstatic over this achievement, performer Shamina Pathan tells DESIblitz: "It has been an out of this world experience and journey being a member of London School of Bollywood.
"We couldn't have asked for anything better than having the opportunity to portray our magic on such a prestigious platform! Could say it's a dream come true."
On 29th April 2017, the Bollywood dance group performed to 'Chikni Chameli' from Agneepath, where lead dancer Shiva Raichandani took centre stage – dressed as a female and performed exceptionally as one. He certainly gave Katrina Kaif a run for her money!
In fact, the act was so well-received by the judges that David Walliams, Aleesha Dixon and Amanda Holden could not help but give LSB a standing ovation, while Simon Cowell was also dazzled by the colourful and high-energy performance.
Discussing his experience on stage, Shiva mentions:
"The experience has been surreal! We are incredibly fortunate and humbled. Working together with a group of brave, talented and kind dancers to perform on platform like BGT was in itself a major feat, but to have been able to do it with a concept as beautiful as ours felt even better."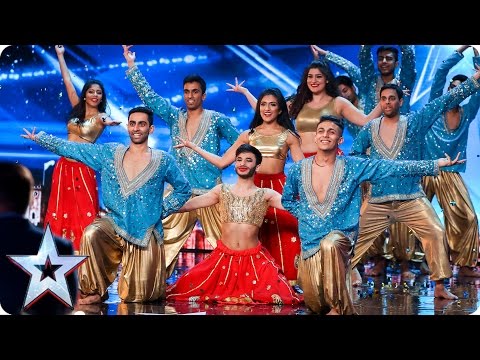 This dynamic performance has been choreographed by Prasanth Palliath, who seems to be interested in presenting gender fluidity through Bollywood dance. So how did he come up with this idea?
"In the U.K there is a perception that Bollywood dance is an expression of 'fun' and only that. I wanted to bring another purpose to Bollywood dance by tackling a relevant issue. It is our hope that this act will permit other gender fluid persons to be themselves."
He adds: "I wanted this act to explicitly challenge gender stereotypes in a melodramatic Bollywood way. At the same time I wanted to maintain the technicality and excitement of the dance."
From this fresh and unique twist, it seems as though that London School of Bollywood is about taking Bollywood beyond its traditional gender roles and embraces the idea that a star can come from any background.
Following their performance on BGT, it shows that a man dancing in a skirt and with make-up on isn't (and should not be) an unusual point.
Shiva even mentions: "Everyone expresses their gender in unique ways, there is no fixed way and it's about time everyone started looking beyond the gender binary that is too often imposed on us.
"Whilst it is so incredible to celebrate our unique qualities through the vibrancy and energy of Bollywood, it's important to remember the less colourful reason for why this performance is necessary."
As for further plans post Britain's Got Talent, Prasanth tells us:
"We hope to take the act and the message across the world, with the view that it could help others feel comfortable in who they are."
The finals of BGT takes place on 4th June 2017 and will be telecasted on ITV.
DESIblitz wishes London School of Bollywood all the very best for the finals and their future projects.