"I am super happy with the response"
Indian singer Dhvani Bhanushali has been accused of copying the classic Pakistani song 'Gagar', originally by Alamgir, with her latest track.
She released her new track, titled 'Mehendi', has different lyrics.
However, the tune and melody seem similar to the one which was recreated by Umair Jaswal on a Pakistani singing show in 2020.
Jaswal himself took to his Instagram Story to call out Bhanushali, tagging prominent artists who were involved in the making of 'Gagar', including Alamgir.
He also wrote a sarcastic caption which read:
"Come on… this is fine too."
Despite the plagiarism allegations, 'Mehendi' quickly gained popularity and became the most viewed song on YouTube within 24 hours of being released, accumulating over eight million views at the time.
It currently has 24 million views.
The song beat K-Pop singer Lisa's new single 'LALISA M/V' which took the second spot and fellow Indian singers, Asses Kaur and Jubin Nautiyal who came third place with their track 'Raataan Lambiyan'.
Many netizens showed their appreciation for the song.
Dhvani Bhanushali has not yet responded to the accusations but she did speak about how happy she was with the response to her latest song.
She said: "I am super happy with the response everyone has given us for 'Mehendi'.
"It is a really special song for me as it's the first time I have launched it on my channel.
"We have given our heart and soul to the song and so glad audiences have loved it.
"It's a team effort and I want to thank all my fans for their constant support."
"I promise to keep doing my best always."
Indian singer Brham Darya also recently came under fire after he was accused of copying the music video from a Pakistani song.
The music video for his new song, 'Mood Happy', was released in September 2021, but social media users were quick to point out that the music video for the Punjabi track looked extremely familiar.
They soon found that the music video was almost identical to the video for Pakistani musician Shani Arshad's song 'Ki Jana' and appeared to have been copied from frame to frame.
The musician behind 'Gagar', Alamgir Haq, is a Pakistani singer-songwriter and guitarist considered to be one of the pioneers of pop music in the country and is therefore often referred to as 'Baba-e-Pop'.
Watch 'Mehendi' by Dhvani Bhanushali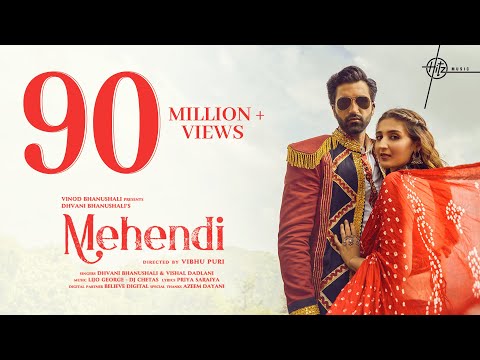 Watch 'Gagar' by Umair Jaswal