"Hrithik has the ability to go higher than what I can imagine on paper"
Hrithik Roshan and Ashutosh Gowarikar team up once again for Mohenjo Daro, an epic tale about a civilisation in the prehistoric Indus valley.
The incredible actor and director duo introduced the film to London media in July 2016 at a press conference.
During the ancient civilisation of the Indus Valley, in 2016 BC, the evil greed of a man is about to destroy one of the oldest cities in the ancient world, Mohenjo Daro.
A young indigo farmer, Sarman (played by Hrithik Roshan) enters the city and meets Chaani (played by Pooja Hegde), predicted to be the Origin of a New Society.
Sarman, in his attempt to win Chaani's love, uncovers the secrets nobody was ever supposed to know – about Chaani, Mohenjo Daro and about his own past.
The film stars Hrithik Roshan and debutant Pooja Hegde in leading roles. Like many of Ashutosh Gowarikar's previous films, A.R. Rahman has composed a melodious soundtrack.
Hrithik admitted that it took him only five seconds to agree to do the film: "It was one of the most entertaining scripts I've read. It didn't concern me that it was prehistoric or about the Indus Valley.
"What concerned me was that it was a beautiful story which brought a smile to my face. I love the romance in the film, the kind of action that Indian cinema has not produced until date.
"My level of excitement was at par with my level of fear of how will we achieve this. But that is a place I love to be. It's one of my best films that I have done."
After the success of Jodha Akhbar, this marks the second time the filmmaker actor duo were working together: "There was trust and faith. We were far more comfortable taking more risks and he pushed me more," added Hrithik.
Hrithik also revealed how Ashutosh was happier making this film: "Seeing the rare sight of [Ashutosh] doing the Charleston step during the shooting of this film is symbolic of how good this film is."
When asked about how much Hrithik had to prepare, he replied: "Half the time as an actor, we're imagining the character and even the character opposite us. But Ashutosh actually builds the world for you, so when I entered the set, I was entering Mohenjo Daro. I did not need to read books or pictures, I did nothing – he did all the work.
"For an actor, it's an extremely comfortable situation to be in – for me, I really believe that actors are just the paint. It is the painter who uses you in a different way and he creates."
However, Ashutosh said that Hrithik deserves far more credit for bringing so much into Sarman: "I could write up to a point but beyond that, he had to create.
"He had to bring dignity and grace to the character and keep it strong, powerful and romantic. Hrithik has the ability to go higher than what I can imagine on paper.
"The most fascinating thing that be it Krish or Akbar, he just makes it believable and not only his own character, but exudes so much of his own energy that everything around also starts becoming believable. He has taken Mohenjo Daro several notches higher than I could have imagined."
Ashutosh also revealed how it was his wife who helped to find debutant leading lady, Pooja Hedge: "For quite some time, we were looking for the right choice who can have dignity and grace and hold a shot without saying a single word.
"It had been a task until Sunita spotted Pooja in an ad. We called her in and did a couple of scenes with her and she was extremely sharp on the uptake. The director wants the actor to understand what they want to convey, adapt it and give it body – this came very naturally to Pooja."
As expected, music of the film is exceptional. But Ashutosh has been careful to ensure that the songs reflect the period that the film is set in. Music has been composed by A.R. Rahman, while the lyrics have been penned by Javed Akhtar.
The melodious song, 'Tu Hai', praises the river Sindhu (Indus River): "In my studies, I realised that these are times when they believed in the elements [land, water, earth, fire] so the river became a big life line," explains Ashutosh.
Watch the incredible trailer for Mohenjo Daro here: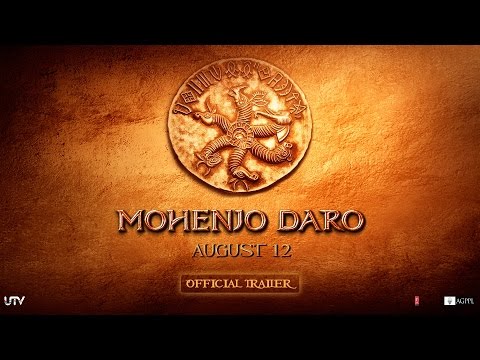 Ashutosh also spoke about his reasons behind choosing this civilisation: "This civilisation is something that is there in our school books but we haven't really known about it.
"In the Mughal Empire, there's a lot of information on it but what we did not know is what exactly happened between Jodha and Akbar.
"Even for Mohenjo Daro, we know the existing sites and the civilisation but we don't know what kind of people live there and what are the manners and morals of that society. Filling in the blanks was very exciting. The story is based on all of the excavation facts and took the help of a lot of archaeologists.
"There would be many times that I would come into contact with this civilisation – museums I would be enamoured by seeing the artefacts or when I was doing Lagaan, and stumbled upon an excavation site in Bhuj, so for some time, I kept feeling like I must make a movie on this."
Mohenjo Daro has been mostly shot in Bhuj, Gujarat, where the cast stayed there for 6 months. Hrithik said that this was the most challenging aspect of the film.
When DESIblitz asked the actor director duo about what is next for them, Hrithik laughed and said: "Ashutosh cant go more prehistoric than Mohenjo Daro so now he's going to the extreme opposite – future and space. He's going to make me a comedy film in space – its never been done and that's why he's going to do it."
Mohenjo Daro is a film not to miss if you enjoyed the likes of Jodha Akhbar and Lagaan, as well as any Hrithik Roshan flick!
Mohenjo Daro releases from August 12, 2016.