"We have to be shernis every day. I still have to fight still to this day in a male-dominated industry."
Hard Kaur, the first ever Indian female rapper, has embarked on a journey into music direction and production, releasing her first self-produced track 'Sherni' on her own label Future Records India.
DESIblitz met up with the vibrant and fun-loving music artist to find out more about her latest music and going solo.
Through the years Hard Kaur has done the impossible by making it as an established artist, in India, as a woman, who has an infectious love for hip-hop music and rap.
From a life which has seen many hardships to a Bollywood career, which today allows her to set up her own record label, Hard Kaur is out to prove that the title of her latest song, 'Sherni' is what it takes to survive.
Born as Taran Kaur Dhillon in 1979, in Kanpur, Uttar Pradesh, India, after losing her father in the 1984 Sikh Riots, she left India in 1991 with her mother and came to the UK.
Talking about her earlier days of struggle she says:
"I've not come from a privileged background, I've come from a very very f****d place in one way because we weren't that rich when we were little. I remember after my dad died my mum had to wash people's dishes for us to have three rotis."
It was being in the UK that sparked her love for hip-hop and her passion for making music as a female rap artist.
Being based in Birmingham she often travelled to London to make her songs. So, any money she earned by doing remedial jobs she used to kick-start her music career with an emphasis on rap and hip-hop vibes.
"I've seen days where I've had to sleep in really messed up you know… Call it hooker hotels where I locked myself inside and put the suitcases up against the door. Just because I had to record and didn't have that much money."
However, the UK was not her destiny to make it as a popular artist but it was to be in India. Rapping and singing on Bollywood songs such as Tali, Move Your Body, Rola Pe Gaya, Sadda Dil Vi Tu and Char Baj Gaye, all have made her a household name as the one and only famous Indian female rapper.
Her aim has always been to promote authentic hip-hop and rap to Indian audiences and to increase the awareness of this genre of music. She herself is a huge fan of many true hip-hop artists:
"Growing up, I'm the biggest fan of Busta Rhymes. To me, he was like one crazy MC and totally different to everybody else. And 'Woo Haa' [Busta Rhymes song] is something that I'm going to remember for a long time.
"I'm a big fan of KRS-One. You know he was like a mentor and what he was always teaching through hip-hop was really really necessary to understand the reality of hip-hop."
Explicit lyrics are part of hip-hop and rap culture. Her track Sherni contains such lyrics. When asked if these are necessary?
"I don't really look at explicit lyrics as something bad or good. I look at it as a form of expression. So, it's just an exaggerated version of something you say. That's rap for you. You know that's how we express ourselves as MC's."
When writing songs, Hard Kaur needs to maintain lyrics to keep audiences engaged:
"Lyrically, I always like to do something fresh. So, yes, I'm known for a lot of party songs in Bollywood but every time I do a song, I got to make sure it is different to the last one I did."
Is rap a growing music genre in India we asked:
"There's a lot of people who understand rap in India. They haven't had the platform until now. Through Bollywood, you sugar-coat it. I wanted to educate India about rap music, about hip hop, so you sugar-coat it, make it sweeter and put more notes into it and introduce it to the crowd. And now everybody knows what rap is, even a rickshaw walla will know what rap is."
So, why produce a track like Sherni as your first production?
"You know it was kind of needed. Something like this was really important. Especially, if we look at the fact at what's going on in India and surrounding countries."
"I wrote this song four years ago just around the same time as the Nirbhaya case happened and the Delhi rape scene. And a lot of people said you should put this out – 'Kitna Sahi Hai'. And I was like this is so wrong of you because inna bura kuch hoya, I'm not going to take advantage of that and release a song on it. So, I kind of left it
"Then I took it out in the end 2014 and made the beat and worked on it a little bit."
Her friends from different backgrounds encouraged her to put the song out. So, she finally decided it was time for the 'Sherni' to be unleashed in 2016.
"There are so many reasons for putting this song out. I still get posts where I have to read that a girl was mistreated because she was wearing a skirt or whatever and it's still happening.
"It's 2016, you got the latest cars and the latest phones and latest everything else but you need to change your mentality. "The 'Sherni' word itself – I want girls to be shernis and stop putting up with any crap that's going on."
Watch our exclusive video gupshup with Hard Kaur (Warning – this video contains explicit language):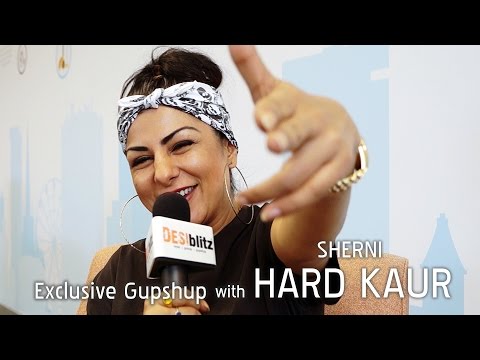 Talking about being a 'Sherni' herself, Hard Kaur says:
"We have to be shernis every day. I still have to fight still to this day in a male-dominated industry. When you walk into a room and you are female, you have to always constantly prove yourself of what you are capable of."
The song certainly does not shy away from ensuring Hard Kaur's message about what being a strong and proud woman should entail.
One of her career highlights has to be her appearance on Coke Studio India, performing the track 'Kattey' which has had over 6 million views on YouTube. Talking about this experience, she says:
"You know I call it one of my highlights. Coke studio is important not just for me but for everyone who has done it and wants to do Coke Studio, and I'm talking about Coke Studio India and Pakistan. I mean what level of production is Coke Studio Pakistan! It's amazing."
But it does not just stop with her. Hard Kaur is on a mission to help and support other artists. She is a strong believer in working together and supporting each other. Talking about the UK music scene she says:
"Okay in India, we've got a big scene. In the UK, it's a very much like 'I, I, me, me, me' and because we are so segregated we need more unity here. So, then the industry grows. And I believe there is plenty of money in the jackpot for everyone and we should all work happily next to each other."
Hard Kaur feels that going independent and setting up her own label, Future Records India, will give her the opportunity to help develop and nurture new and hidden talent:
"It's all about working with each other and helping new people. Obviously, I've got my thing but then if I can help people understand the business a bit better and help their career, it's good for everybody and you get to enjoy new music!"
On a fashion note, when asked does she like wearing Desi clothes, she says:
"I hardly ever get to wear Indian clothes. When you wear a sari you have to walk a certain way. When I go to weddings I will wear it but it's about comfort. When I wear Indian clothes I can look pretty and sit there but I can't run around!"
Being a woman who came to the UK from India under difficult circumstances, struggled to realise her dream and then returned to India to make it come true, Hard Kaur shows that determination, dedication and direction, can all contribute to success.
But now she shows, that the experience gained will give her the chance to keep on doing what she loves but also widen her musical horizons not just as an artist but as a producer and mentor too.
DESIblitz wishes Hard Kaur all the best on this next chapter of her musical journey!