"I loved his story as it was so contemporary and he is a fantastic director."
PK is a film that sets out to win over hearts.
Aamir Khan takes on yet another unique and innovative role with this sensitive social commentary film.
Alongside him is another actress, well-known for her quirkiness and boldness: Anushka Sharma.
An unconventional and eccentric personality both onscreen and off, it seems Anushka and Aamir are the perfect Jodi for this tongue in cheek comedy.
Directed by Rajkumar Hirani and produced by Vidhu Vinod Chopra, the cast and crew of the film have stayed pretty tight-lipped about PK and its plot and characters before release.
PK is about a man who questions God in a God-fearing society.
Aamir will be in an avatar that we have not previously seen before: one of a peculiar individual who seems to struggle to fit into mainstream Indian society, and conform to a mindset that is expected of him.
Both in character and performance, Aamir has certainly had to adapt himself to the role. At a recent press conference with DESIblitz and other media, Aamir Khan, the lead actor of PK, tells us:
"It is one of the toughest roles I've played and getting into the reality of character was pretty challenging."
"He doesn't blink so I had to do all my scenes without blinking despite wearing lenses. However, that was one of the easier challenges! You'll see in the film what the other challenges are.
"The character speaks Bhojpuri so I had to train and get the phonetics of Bhojpuri right. I needed to memorise all these lines phonetically with a Bhojpuri expert-this process took around 3-4 months to make the lines my own."
"Biggest challenge was getting into the head of character and the physical aspect is for the visual, and I think getting into the head was important."
On the other side we see the character of Jaggu, played by a young and happy-go-lucky Anushka sporting a boy cut.
In an exclusive Gupshup with DESIblitz, Anushka tells us: "I play a journalist."
When we asked her what appealed to her most about being part of the film she said: "It was definitely the chance to work with Rajkumar Hirani. I loved his story as it was so contemporary and he is a fantastic director.
"I think you learn a lot on a subconscious level, you pick up on things that the other actors are doing and the experiences you have every day on set. It was a nice crew to work with."
Perhaps one of the main things that stands out about Anushka in this film is her amazing short hair. As she explains:
"It was actually a wig that I would put on everyday. But I would love my hair to be that short in real life, it has had a great response and I hope it is a great trend."
On working with Aamir she says: "I have always respected him. He is very diligent and sharp and it was a pleasure to be opposite him in this film, he adds so much to each and everyone's performance."
The film sees the extraordinary trio of Vidhu Vinod Chopra, Rajkumar Hirani and Aamir all together again to recreate some of the magic that was 3 Idiots. As Aamir explains:
"Raju is the force behind the film as a writer and a director. The film could've been made without me in it but not without Raju. He is conveying something important he wants to say and what he wants to say is something very big but he chooses the vehicle of humour."
"An interesting thing that happened to me which was different in other films is that Raju and I had planned what I would do in the scene, but once the camera was rolling, suddenly I realised that I wasn't doing what I had rehearsed. Although different, both Raju and I liked that it happened."
The film also stars Sanjay Dutt, Sushant Singh Rajput and Boman Irani. Ranbir Kapoor offers a small cameo appearance as an alien. As Aamir explains:
"PK has been a really amazing experience not only working with Raju and Abhijat, but also with the whole cast. Anushka is a wonderful and very focused co star.
"Sanjay Dutt brings so much warmth and has amazing energy about him – it's a strange mix between someone who appears very strong and vulnerable at the same time. I grew really fond of him."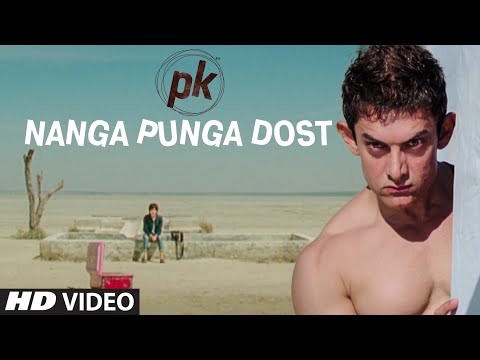 This project has been one that has been close to Aamir's heart having been in the works for the last 4 or 5 years, and he hopes that fans will react to it well:
"[It was a] story that moved me, made me cry, made me laugh and made me ask questions to myself. I found it a very emotional experience reading the script-I hope all of that comes out through the film."
Luckily for Aamir, the response to PK has been phenomenal already, having earned approximately Rs 30 crores on its opening day. We shall all be now eagerly watching how Aamir fares against his other fellow Khan's for the top film on 2014.
An unmissable film, PK released in cinemas from 19th December, 2014.