"Having a voice on a character lets you hit those emotional beats a lot better."
After what seems like years of rumours and speculation, Bethesda finally revealed the development of Fallout 4 at their E3 press conference in June 2015.
What was more surprising was the announcement of a November 2015 release date, which is now just around the corner.
In a year that has already welcomed several groundbreaking sequels, like Batman: Arkham Knight and Halo 5, this is likely to be the biggest game of 2015.
Not only because it is a beloved franchise set to release its first game on the new gen consoles and PC. New mechanics and quality of life changes are being made, too.
Official information announced has been kept minimal in order to avoid spoiling the game experience for avid fans.
Whether you are a long time fan or a first time player, we have everything you need to know about Fallout 4.
The Familiar Fallout Staples
Fallout 4 is the sixth game in the Fallout series (including Tactics and New Vegas). It retains some of the series' staple mechanics.
The familiar perks and S.P.E.C.I.A.L. systems are making a return. S.P.E.C.I.A.L. is a set of player statistics that determine their base attributes and what they can manipulate in the environment.
Perks are modifiers that have specific effects in the game world. In Fallout 4, perks will be organised by the seven S.P.E.C.I.A.L. attributes they represent.
There are seventy base perks, one for each rank of S.P.E.C.I.A.L., with multiple tiers of each resulting in 270 perks in total.
The Vault-Tec Assisted Targeting System (VATS) has been slightly adjusted to allow wasteland wanderers a greater deal of precision in combat.
Where VATS in Fallout 3 completely stopped time, it will only slow down time in Fallout 4.
This design should stop the game from being too easy, while still giving players a tactical edge over their opponents. The faction system is still present, with at least three factions revealed.
The Commonwealth Minutemen are new to Fallout 4 and receive mention in the hit mobile game, Fallout Shelter.
The Railroad is a group of renegade androids that appeared in Fallout 3, while series favourite The Brotherhood of Steel also marks its return.
The Trophy list has also confirmed the player can once again be a complete monster by reverse pick-pocketing a live explosive into an NPC's inventory, causing them to explode.
The New Fallout Mechanics

What is clear from the E3 presentation is that Bethesda are not content with making a carbon copy of Fallout 3.
For the first time in the series, the player character will be fully-voiced. Voice actors have recorded over 110,000 lines of dialogue, with 13,000 lines for each of the two leads.
Lead designer, Todd Howard, says the decision to have a voiced protagonist is the centre of a big debate during the game's design:
"Having a voice on a character lets you hit those emotional beats a lot better."
He also attempts to create a balance between player choice in an open world environment and telling a big story in which the player is emotionally invested.
As a result, the game will have a more dynamic dialogue system compared with previous entries.
The player will also be able to leave any conversation whenever they want, and engage in multiple conversations simultaneously by simply walking away.
And the best part is that you will can jump right back into them without retreading old dialogue.
There is an in-depth customisation and crafting system in the game. Weapons and armour can be crafted and modified using materials found in the wasteland, and can also be named.
Crafting materials are categorised into their base components and can be obtained by dismantling any item in the game, meaning that everything you pick up has a use.
Fallout 4 also has a settlement building element, in which players can build a house from scratch.
They can design it in any way they want and expand it into a settlement which NPCs and Merchants will eventually join.
Moreover, players can interact with multiple settlements, develop relationships between them and with individual companions.
There will be optional second-screen functionality within the game, using a smartphone app, which will allow players to use their Pip-Boy menu on the fly without needing to pause gameplay.
Check out its gameplay exploration video here: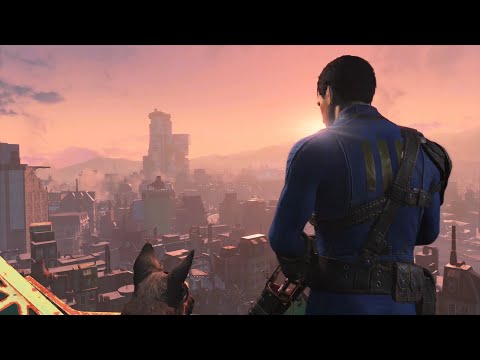 Howard confirms in an interview the creation toolkit will not be available at launch, but will be released on PC in early 2016.
Mod support will be made available for the Xbox One version of the game, with that for PS4 being next in the plan.
Given the huge modding community for Bethesda's games, Fallout 4 will likely be no different.
As the next massive, open role-playing game, it will be played and talked about for years, just like Bethesda's last release, Skyrim.
Add in a huge modding community and new mod support for consoles pending, it will continue to be fresh long into 2016.
Fallout 4 will release worldwide from November 10, 2015 for PS4, Xbox One and PC.