Lara Croft is 'now mentally prepared to fight fire with fire'.
Following the success of the reboot in 2013, Rise of the Tomb Raider is set to take Lara Croft into her first tomb raiding expedition.
Microsoft, Crystal Dynamics and Square Enix are pulling out all of the stops to deliver a 'cinematic survival action adventure'.
The story follows Lara one year after the first game, with the supernatural events in Yamatai being covered by an organisation called Trinity.
In an attempt to prove what she experienced was real, Lara makes it her mission to find truth in the myths of the world – in particular the 'Divine Source'.
This sequel is different and darker to its predecessor. In search for answers in this game, she is affected psychologically by the events in Tomb Raider.
We see this in her character growth. She is more assertive, aggresive and willing to do whatever is necessary.
As writer Rhianna Pratchett says, Lara herself is 'now mentally prepared to fight fire with fire'.
One of the main goals of this game is to 'create rich, believable environments that are grunded in reality'.
This is done extremely well through new techniques, such as physical-based rendering which, despite being used in film for years, is relatively new to the gaming world.
Mark Oliver, the visual effects artist, states these techniques 'allows artists to accurately simulate real-world materials and lighting conditions'.
This is shown through how the surfaces reflect and refract light and works to create a realistic environment, as Lara treks through mountains, snowy terrain and inside the tombs.
It all comes together to create a visually realistic landscape that truly enhances to the gameplaying experience.
Lara also reacts to her environment throughout the game. She shivers when it is cold, or gets dizzy and her vision blurred when she is seriously injured.
Her clothes are seen to detect her physical surrounding, such as collecting snow, staying damp when swimming and becoming bloodied through combat.
Full-motion capture is used to emulate real human facial expressions on Lara.
The focus on realism is obvious in the finite details, like how snow falls on her eyelashes, scars from the previous instalment and pores in the skin.
Kam Yu, the lead character artist, comments enthusiastically about how this all works to 'deliver a belable and lifelike Lara Croft'.
The extensive effort to bring her to life is impressive, such as her hurried and impulsive movements or her teeth chattering in the cold.
The way her hair moves and reacts to the environment, such as swaying from the sides, is meticulously portrayed.
Lara's pony tail is an iconic element to her look, and the believable movement is acheived with up to 30,000 strands used to make her hair respond realistically to the physics of the world.
Criticisms of the prequel focuses mainly on the lack of tomb missions and excessive amount of violence throughout the game.
In response to this, the developers have introduced more tomb raiding missions as well as some secret additions.
The combat system has also been upgraded to create new and dynamic ways to evade enemy detection.
This includes sneaking through bushes or rooftops, swimming underwater, new ammo crafting and grenade systems.
This guerilla-focused combat system offers players the choice to engage with their opponents, alongside a range of stealthy alternatives.
According to the game's director, Brian Horton, 'combat is taking an evolution toward choice space', enabling players to tailor the journey to suit their individual needs.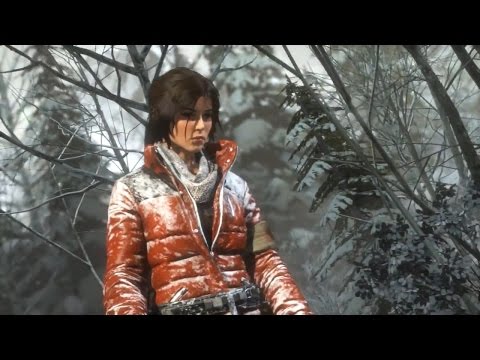 On the whole, Rise of the Tomb Raider is looking to deliver a whole new kind of survival action adventure.
The new guerilla-style combat system coupled with the option for stealth is well-directed and creates an experience reminiscent of Uncharted and Metal Gear Solid.
The extremeley high level of attention given to the graphics of this game is looking to create a timeless and realistic gaming experience, that brings Lara to life before the gamers' eyes.
Rise of the Tomb Raider will be released in the UK from November 13, 2015 for Xbox One and 360. Other platforms can expect a 2016 launch.