"The new MINI Convertible is open-top driving without compromise."
The cutest cabriolet on the market is back and bigger, full of innovative new tech, including an impressive electric 3-in-1 soft top roof.
Lucky car fans get a first glimpse of the Mini Convertible 2016, debuting on the opening day of the Tokyo Motor Show on October 28, 2015.
Called the 'F57', this third-generation car comes in three models and even has the option of having a massive Union Jack flag woven into the roof.
Check out some of the all-exciting features of one of Spring 2016's most sought-after cars!
Exterior
On the outside, the MINI Convertible isn't much different from the 2009 model.
It is however larger – 10cm longer, 4cm wider and 3cm taller to be precise.
Made from BMWs high-strength steel, the MINI benefits from a 3cm longer wheelbase, which means better leg room for passengers.
It has 25 per cent more boot space than the old drop-top at 215 litres (35 litres extra) when the roof is closed, and 160 litres with the hood down.
The car maintains its iconic bubbly looks and is almost certainly marketed towards a female audience.
The acoustic insulated soft fabric roof is the most notable difference, being a lot quieter and smoother than before.
It takes 18 seconds to retract. As well as being fully open and closed, it comes with a third option of remaining 40cm open to act as a breeze filtering sunroof.
Interior
Inside the Mark 3 MINI Convertible comes a whole new stylish look as well as a number of useful features.
This includes parking sensors, Bluetooth connectivity, reversing camera and a beautiful 6.5-inch media control screen as standard on all models.
The 'Mini Connected' functionality allows the car to send notifications to owners' smartphones when rain is on the way.
It also links up to social media feeds, online music and much more.
David Duncan, Vice President of MINI for the Americas, says: "The new MINI Convertible has a great balance of playful personalisation and sophistication. It's open-top driving without compromise.
"The bespoke levels of customisation set it apart from other convertibles on the market, while the front wheel drive BMW architecture and engines make it fun-to-drive and practical in any driving conditions."
With safety in mind, the rear seatbelts are fitted with 'invisible rollover protection system' to open in a fraction of a second to protect passengers.
A handy hatch door fitted in the middle of the rear seats for access to the boot will no doubt help to create a more clutter-free experience for back seat passengers.
Performance
The first of the three models is made up of a 3 cylinder 1.5-litre petrol engine.
This entry level MINI Cooper Convertible is capable of reaching 0-62mph in 8.8 seconds, with pricing beginning at £18,475.
The mid-range MINI Cooper D is a 1.5-litre diesel and the most efficient, giving a healthy 70mpg and will cost £20,225.
It is also the only model free of road tax emitting CO2 emissions of 100g/km.
The MINI Cooper S is the high performance model with a 2-cylinder 2.0-litre petrol engine, reaching 0-62mph in just 7.2 seconds, and is priced at £22,430.
All MINIs are powered by BMW Group engines and come with six-speed manual transmission gearboxes as standard, although a paddle-shift automatic gearbox option is also available.
Driving Assistance Package options are available, offering smart sensors to help parking in those tight spaces.
Take a look at the MINI Convertible in action here: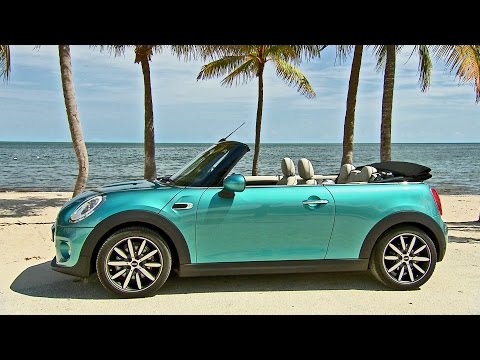 The 2016 MINI Cooper Convertible will be available in the UK from March 2016.