"How incredible would it be to become one of the first human Mars explorers and see it with my own eyes?"
Ever since the famous moon landing of 1969, many have often dreamed of venturing into space. But with the Moon now ticked off the list, Mars has become the next target. A planet on which Lacuna Passage takes place.
This upcoming space exploration game offers you the ideal experience to venture into the Martian landscape.
Created by Random Seed Games, players can not only explore the Red Planet, but also see if they actually survive in outer space.
Feeling akin to recent film The Martian, Lacuna Passage first tests players on their survival skills with Sandbox mode.
Showcasing a stunning open-world area, players will get a taste of what to expect with the highly-anticipated Story Mode.
DESIblitz had a chance to take a look at the game. But first, let's chat with Lacuna Passage's game developer, Tyler Owen.
What inspired you to create Lacuna Passage?
When the Curiosity rover first landed on Mars [in 2012], I was sitting on the couch with my wife watching the live stream.
I kept thinking about how incredible it would be to have the controls of that rover and drive it anywhere I wanted. Or take photos of my favourite Mars landmarks.
Even better, how incredible would it be to become one of the first human Mars explorers and see it with my own eyes?
I realised then and there that the only way I was likely to experience anything close to that in my lifetime would be to make a game about it.
What were your key aims behind creating the game's Survival Sandbox?
Our primary goal has always been the Story Mode. But we saw an opportunity to really harness the power of an Early Access to help us get feedback on many of the gameplay systems and survival mechanics that will form the backbone of the game, by debuting them in a Survival Sandbox first.
We want the game to be shaped by players. We want them to have a big part in helping us decide the future of the game and what it can be. That's why we have a link to our Feedback Forum directly in the main menu of the game.
How did your team create such stunning graphics in Lacuna Passage?
I guess you could say it's part of why it has taken us this long to get to a playable version for Early Access. From the beginning, the inspiration for the game came from wanting to explore a realistic version of Mars. So that meant I had to maintain a standard of quality that could stand up to even some AAA titles.
It's certainly not easy for a small indie game developer to achieve. But luckily I was able to recruit some excellent artists who were just as enthusiastic about my vision of a realistic Mars exploration game.
But we're not done yet. The graphical fidelity of the game will keep improving over time.
Did you encounter any difficulties during development?
I think we set extremely lofty goals for ourselves. We have constantly had to reassess our progress and decide if there are things we would have to cut in order to complete development. But thankfully we haven't really needed to do that.
So far all of our development decisions have only been made by asking if a change would be best for the game.
We've had to delay because of that, but I think our fans will see that so much work has gone into the game. We have never compromised on our vision. I'm extremely proud of what we've accomplished so far with such a small team.
What has the fan reaction to the game been like so far?
It has been really humbling. Whenever you make a game you always hope that you aren't the only person who wants to experience the thing you're creating.
"Indie developers tend to make games that they would like to play. So it's always a thrill to see people who also want to share that experience and they are attracted to the same things about the game that made you excited to work on it in the first."
Our Kickstarter backers have been giving us great feedback throughout development and our early beta tests have been extremely positive. But I can't wait to see the reaction when we hit Early Access.
Can you tell us what fans can expect with the upcoming Story Mode?
Currently, with the Survival Sandbox, I tend to put the emphasis on the "sandbox" aspect of that. It really is more of a playground for all the mechanics that will eventually be in the Story Mode.
Your only true goal right now in the Survival Sandbox is just to see how long you can survive while exploring a realistic Mars.
But in the Story Mode, you will have much more clear goals and a mystery to uncover.
Namely, you are investigating the disappearance of the first manned mission to Mars. The Story Mode will truly put you in the shoes of an astronaut in one of the direst situations you can imagine – being stranded on another world.
Watch the Early Access trailer here: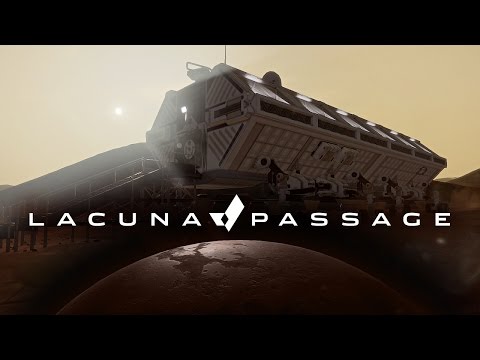 DESIblitz had a chance to experience the Survival Sandbox and what it entails. Users play an astronaut arriving on Mars, tasked with locating habitats scattered across the map. With an easy-to-understand tutorial, Lacuna Passage presents a solid control system.
Combine this with an in-depth interface, players can keep a good track of their equipment levels necessary for venturing on the red planet. It also provides you with a scanner for tracking, the time and your direction on the map.
This is ideal considering survival acts as a key theme throughout the game.
In addition, the habitats contain valuable items inside. They provide consumables necessary for your health and stations where you can craft and salvage items.
They also serve as the hub to recharge all your equipment's vitals, providing you have first repaired them.
During our look at the space exploration game, the graphics and music really stand out.
Lacuna Passage really captures the atmosphere of the Martian landscape, giving you an almost realistic portrayal. With its calming, soothing soundtrack, it shines as a beautiful indie game.
Overall, this early glimpse into the game shows the ultimate way to experience Mars. And with a thrilling Story Mode approaching, we can't wait to what Random Seed Games will bring to the table.
Find out more about the game here.
The Early Access for Lacuna Passage will become available on 17th May 2017.