"we go through a situation where we have to explain to our parents for our partners."
Sonam Kapoor Ahuja will star as a closeted lesbian in Ek Ladki Ko Dekha Toh Aisa Laga (2019).
Directed by Shelly Chopra Dhar, the film, set in Punjab, tells a love story that transcends gender, caste and creed.
Sonam stars alongside her father, Anil Kapoor for the first time. He will play her on-screen father in the film also. Wanting his daughter to tie the knot, he feels very upset after hearing her secret.
Rajkummar Rao features as someone close to Sonam and may develop feelings for her.
The veteran actress, Juhi Chawla will play Sonam's on-screen mother. This will be her first main role in a Bollywood film since Chalk n Duster (2016). 
The release of the film will be a monumental milestone for India's LGBTQ+ community.
A Queer Perspective
Ek Ladki Ko Dekha Toh Aisa Laga (2019) is the first mainstream Hindi film to depict a same-sex romance since the abolishment of Section 377; the law which criminalised gay sex in India.
Another dose of LGBTQ+ empowerment, Dhar co-wrote the film with Ghazal Dhaliwal. She is a transwoman who is trailblazing a path for the transgender community.
Dhaliwal incorporated her experiences of how her family reacted to her "coming out" into the dialogue.
She has made it her mission to create positive queer characters as Bollywood has a history of mocking the LGBTQ+ community. In 2016, she told Feminism India:
"Queer and transgender characters still remain a source of humour in our popular TV shows as well as films."
Dhaliwal later adds:
"I would never allow for a co-writer to let homophobic/transphobic humour come into our work."
Previously, Bollywood films have highlighted LGBTQ+ themes. One that springs to mind is the acclaimed Kapoor and Sons (2016).
The performance of Fawad Khan was critically praised as he portrayed a closeted gay man in the film.
Sonam's portrayal may just top that, given the sole focus of the film is surrounding her character whereas Fawad's was a supporting role.
We should expect the character of Sweety to flesh out more. Ek Ladki Ko Dekha Toh Aisa Laga (2019) will be a romance film from an authentic queer outlook.
The Cast
Audiences have been longing to see Anil Kapoor star in a film with his daughter Sonam since her acting debut in 2007. Finally, we are able to see that happen!
Anil could not be any more proud to be working with his daughter. The doting father told the press:
"It has been a wonderful and beautiful experience to work with Sonam Kapoor.
"With her, there is always this thing, she always surprises me, when I see on sets and on screen, I know that she is a true artist because on sets she is someone different and on-screen her different persona comes alive."
Sonam is happy that Shelly Chopra Dhar did select her to perform in a film of this kind with her father. She spoke to the media saying:
"I said yes to (director) Shelly Chopra as I loved the story and I felt this is the film that dad and I should do together.
"I was enthusiastic about the film. I trusted the director, she was clear about the film."
She continues:
"I never found authenticity or idealism in any of the other films. I felt nobody besides me and my father (were suited) to do Ek Ladki Ko Dekha Toh Aisa Laga."
Juhi Chawla reunites with Anil Kapoor after nearly two decades. They last came together in the hit film, Karobaar: The Business of Love (2000).
South Indian actress, Regina Cassandra also stars in the film. Reportedly, she will play Sweety's love interest in her Hindi film debut.
Regina has made a name for herself, starring in Telugu, Tamil and Kannada films.
This star-studded cast is bound to showcase some excellent performances.
The Trailer Overview
Shelly Chopra Dhar presents a unique love story, encapsulated in a stunning palette of colours in this coming of age drama.
The trailer begins with Rajkummar Rao's character, Sahil Mirza, as the director of a play. He tells the story of when he fell in love with a girl, Sweety Chaudhary (Sonam Kapoor Ahuja).
Dreaming of becoming a bride one day, Sweety realises she is not ready. Her father, Balbir Chaudhry (Anil Kapoor) and brother are eager to have her married. However, she rejects her suitor.
We see an adorable friendship blossom between Sweety and Sahil as she confides in him when things turn sour.
Sweety's situation is a little complicated as she has a secret. Her secret causes her parents to turn against her.
A silhouette-like shot shows two women being pulled from each other's grasps by a mob. This suggests Sweety has feelings for a woman.
Reports suggest Regina Cassandra (Kuhu) plays the woman in question.
In the trailer, Juhi Chawla (Chatro) can be seen giving some emotional expressions, along with well-timed comedic moments.
Though the trailer promises plenty of light-hearted moments throughout the film, expect plenty of heartbreak.
Watch the trailer for Ek Ladki Ko Dekha Toh Aisa Laga (2019) here: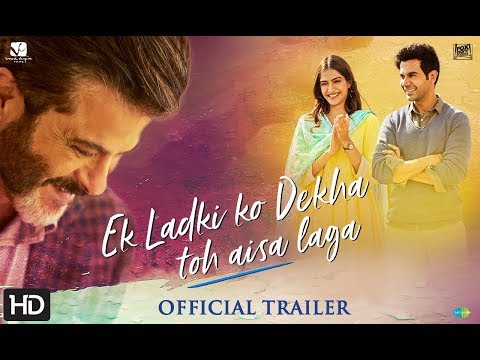 "Rethink the way you look at love"
The cast and filmmakers have got audiences thinking about the ways one interprets love.
On December 24, 2018, the first poster for the film was dropped on Anil Kapoor's birthday. The poster displays a father-daughter moment between Anil and Sonam as he embraces his daughter.
On the release date for the title song, Sonam posted an upside-down version of a film poster on social media with the caption "rethink the way you look at love."
Rethink the way you look at love. #EkLadkiKoDekhaTohAisaLaga title track out today at 1PM. #LetLoveBe @RajkummarRao @AnilKapoor @iam_juhi @VVCFilms @foxstarhindi @RochakTweets @DarshanRavalDZ @guggss @ShellyCDhar @saregamaglobal pic.twitter.com/wopyghlnxh

— Sonam K Ahuja (@sonamakapoor) January 8, 2019
Of course, this film highlights Sweety's sexual orientation but there is a deeper message.
Sonam elaborates the message of the film to PTI:
"It is a love story, it is a story of a bond between a parent and child. In India, we go through a situation where we have to explain to our parents for our partners.
"It is there in our society and culture that we want validation of our parents and their support."
"Their acceptance and support are important."
We should also consider the platonic love Sweety has for Sahil. However, Sahil may want more than just friendship.
Furthermore, the trailer and the posters have the hashtag, #LetLoveBe; encouraging LGBTQ+ to show pride in their identities and for allies to offer their support.
Music

The title song is a rework of the track 'Ek Ladki Ko Dekha' from the film 1942: A Love Story (1993), originally sung by Kumar Sanu.
The song is accompanied by a video featuring Rajkumar Rao's character looking back at his friendship with Sonam Kapoor.
Darshan Raval lends his vocals to the new version of the track composed by Rochak Kohli. Raval's soothing voice and the slow string and percussion instruments warm the soul.
The romantic rhythm leaves the listener swaying as the lyrics express one's love for a girl upon seeing her.
Watch the title song, 'Ek Ladki Ko Dekha Toh Aisa Laga' here: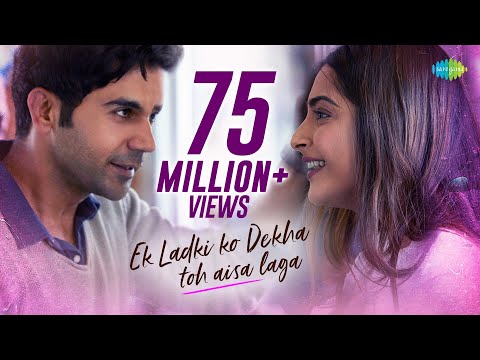 The second song titled 'Ishq Mitha' is a cheerful and foot-tapping number, perfect for a wedding playlist.
It was released on January 14, 2019. A snippet was first heard on the trailer and audiences instantly fell in love.
The song is a revised version of the Punjabi hit, 'Gud Naal Ishq Mitha' which is a rendition of traditional Punjabi boliyan originally recorded by Malkit Singh.
Another heartfelt moment is when the video shows viewers the father-daughter duo of Anil Kapoor and Sonam Kapoor dancing together in a choreographed routine.
The video also shows a possible love triangle forming between Sweety, her suitor and Sweety's love interest played by Regina Cassandra.
Navraj Hans and Harshdeep Kaur provide their vocals to the song.
Watch the of video of 'Ishq Mitha' here: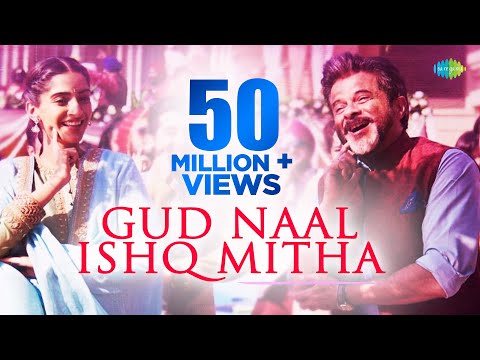 Audience Reception
The trailer for Ek Ladki Ko Dekha Toh Aisa Laga (2019) has garnered praise from Bollywood fans.
The trailer reached global attention especially when it caught the eye of Pink News, the world's most popular LGBTQ+ news site.
Audiences have taken to social media to share their love and support for the film.
A Reddit user by the name of 'EccentricBai' said:
"Loved this trailer. A lesbian love story in a traditional family has a very good scope of emotion, comedy and social message."
Another named Praakriti Bhatnagar went on Twitter, tweeting:
"I've watched the Ek Ladki Ko Dekha Toh Aisa Laga trailer so many times and every time I watch it (also, yes you best believe I'm going to watch it multiple times again before the movie comes out), I'm literally just like"
The tweet was followed by a GIF with an emotional woman mouthing, "wow."
#EkLadkiKoDekhaTohAisaLaga #LetLoveBe @gazalstune
I've watched the Ek Ladki Ko Dekha Toh Aisa Laga trailer so many times and every time that I watch it (also yes, you best believe I'm going to watch it multiple times again before the movie comes out), I'm literally just like pic.twitter.com/5XXLVQ7JRx

— Praakriti Bhatnagar (@Praakriti) January 1, 2019
Twitter user, @himynameisbi was ecstatic to see gay representation in the trailer. She exclaimed:
"IMAGINEEE GAY REP WITH TWO INDIAN ACTRESSES SET IN INDIA IM GONNA CRY"
IMAGINEEE GAY REP WITH TWO INDIAN ACTRESSES SET IN INDIA IM GONNA CRY

— hopeless bisexual ? (@himynameisbi) December 28, 2018
Bollywood is known for remixing classics, often resulting in poor responses. However, film critic, Rajeev Masand commended the title song. He tweeted,
"Not a huge fan of remixes but this new #EkLadkiKoDekhaTohAisaLaga title track is just lovely."
"On loop all morning."
Not a huge fan of remixes but this new #EkLadkiKoDekhaTohAisaLaga title track is just lovely. On loop all morning.

— Rajeev Masand (@RajeevMasand) January 12, 2019
Rajkumar Hirani dropped after #MeToo allegations
On January 13, 2019, reports of sexual abuse allegations against Rajkumar Hirani, who served as a co-producer on the film had surfaced.
A female assistant working with Hirani on Sanju (2018) who accused Hirani sent a detailed email to co-producer, Vidhu Vinod Chopra.
Hirani has been enjoying success with Sanju, which became one of the highest-grossing Bollywood films of 2018.
It was during the post-production of Sanju (2018), the woman had alleged the incidents took place – Specifically between April and September 2018.
In the email, obtained by Huffington Post India, the woman states:
"I remember forming these words on my lips – "Sir. This is wrong…Because of this power structure. You being the absolute power and me being a mere assistant, a nobody –  I will never be able to express myself to you."
The woman recounts the incident, which occurred in Hirani's home-office on April 9, 2019,
"My mind, body and heart were grossly violated that night and for the next 6 months."
Though Hirani denies the allegations, Vinod Chopra Films made the decision to remove Rajkumar Hirani from the fresh credits of Ek Ladki Ko Dekha Toh Aisa Laga (2019).
Stars and filmmakers across the industry were shocked to learn of the allegations.
However, Boney Kapoor defended the filmmaker, telling ANI:
"Raj Kumar Hirani is too good a man to do something like this. I don't believe this allegation. He can never do something like this.."
Actor Sharman Joshi also defended Hirani in a note posted on Twitter with the hashtag #IStandforRajuHirani:
#IStandforRajuHirani pic.twitter.com/ZrM8T9xcpU

— Sharman Joshi (@TheSharmanJoshi) January 14, 2019
Filmgoers are definitely eager to see the father-daughter duo share the screen together for the first time!
In an interview with LatestLY, Juhi Chawla comments on working with Anil and Sonam Kapoor:
"Watching Sonam and Anil Kapoor working together was an unbelievable experience."
"I have worked with Anil in many films but having Sonam on the sets was really an amazing experience. The chemistry they have both on as well as off the sets is fantastic."
Though India and South Asia still hold traditional views towards the LGBTQ+, many will hope it does not become a barrier, especially as times are changing.
The much-awaited Ek Ladki Ko Dekha Toh Aisa Laga releases on February 1, 2019.