This is one dance which surprises everyone at this lavish wedding
A Desi wedding without dance is hardly heard of. Wedding dances are a special moment for the newlyweds and can take many hours to perfect.
Desi wedding dances have definitely evolved from the simple hand-holding and steps to some of the most incredible moves, a couple performs in front of all their guests and family.
The couple's first dance together is so important that many brides and grooms spend hours also choosing the right music which reflects their bond with each other.
The dances are getting more intrinsic, energetic and certainly leave you amazed by the effort put in by the couples to make their dance special.
Some couples are even taking formal wedding dance classes to create something unique and a memory to remember.
Even family and friends take part in classes so that they can all perform a well-choreographed piece with the married couple.
Unorthodox first dances have become a part of weddings recently to provide a light-hearted and fun experience.
The dances reflect the couple's personalities and creativity unveiled on their special day.
We look at seven stunningly different Desi orientated dances performed by couples who have captured the imagination of everyone watching.
Ashif & Sneha's Stunning First Dance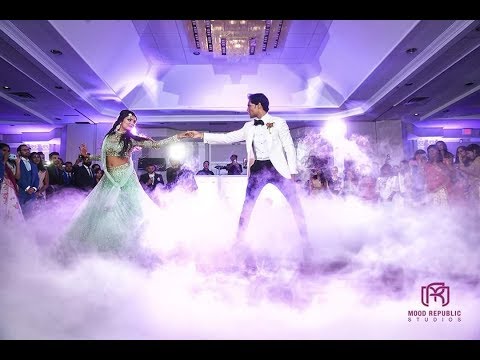 This wedding dance has become quite famous online for its lively moves and creativity.
Millions of people have viewed the video and it is easy to see why.
From the beginning, the video has a professional crew capturing every moment from each angle.
The dance between Ashif and Sneha, who are from the United States, begin quite slowly and very formal, with Ashif leading the dance.
A romantic slow dance shows their close bond with each other at such a special time.
The couple then introduced a fun element to their dance, beginning when Ashif takes off his jacket.
Several upbeat songs provide the backdrop for their well-choreographed fun part of their first dance.
Both are very energetic in their dancing and are in-sync with each other.
The couple's first dance is something which has taken a lot of time to prepare, and the final piece shows.
It looks extremely professional, in terms of the way the video has been created and they are both dancing with all their energy.
Elegance by Andrea for Thomas
This dance looks incredibly professional and slick, especially with the camera work which has gone into it.
Over 16 million people have witnessed Andrea's surprise dance for Thomas.
What is unique about this dance is that only the bride performs it.
She performs her incredible solo dance to Bajirao Mastani's hit song 'Deewani Mastani' followed by 'Nagada Sang Dhol' from the Bollywood film, Goliyon Ki Rasleela Ram-Leela.
It begins with the Desi bride Andrea walking up to the dancefloor without her husband Thomas, who is sitting in front of the dancefloor.
She begins her performance with a slow tempo for her husband.
The beginning of Andrea's dance has the moves to reminice Deepika Padukone.
It moves to the more energetic dance of 'Nagada Sang Dhol', another Deepika dance, where Andrea is clearly enjoying herself.
Towards the end of this beautiful dance, Thomas walks up to embrace his new wife. Amazingly wonderful.
Surprisingly Incredible Moves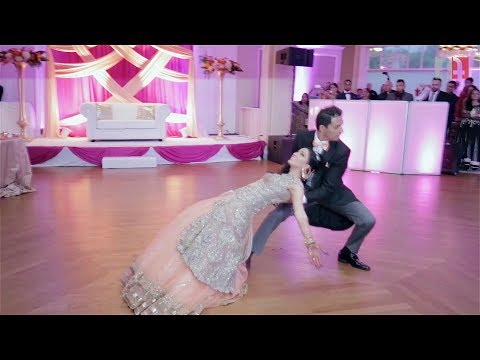 This is one dance which surprises everyone at this lavish wedding.
It begins with an extremely slow pace, one which is very similar to traditional first dances.
The romantic beginning of the couple's first dance is one which represents their close unity to each other.
The first dance then becomes more unorthodox with the inclusion of Riptide by Vance Joy.
They dance to each lyric as if they were telling a story of their love for each other to their guests.
Bhangra music begins playing, further making the dance more full of life.
Both Priyanka and Nikesh are clearly enjoying performing their first dance as is their guests witnessing the spectacle.
Erica and Hersh's Energetic Engagement Dance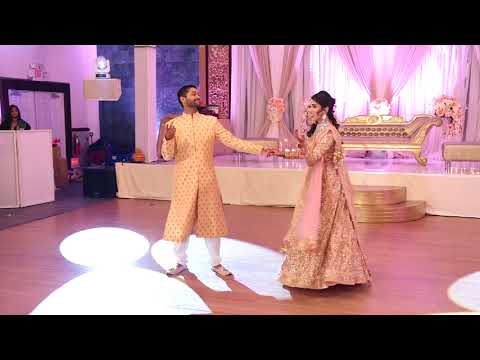 Although it wasn't performed for their wedding, Erica and Hersh, of Houston, Texas, made their engagement one to remember for their guests.
The couple decided to create a dance for their Sangeet.
Erica and Hersh took a different approach to their dance.
They created a dance for their guests which begins with a lot of energy and an enjoyment factor.
Both the bride and groom are clearly having fun dancing with each other perfectly in-sync.
The dance then transitions to a slower number. Both maintain eye contact throughout this segment, which shows the love they have for one another.
Their first dance is the opposite to other dances on this list.
While most start off slow and increase in tempo, this one does it the other way around.
Erica and Hersh showcased their dance as well at their wedding.
Harveer and Sukhraaj are Perfect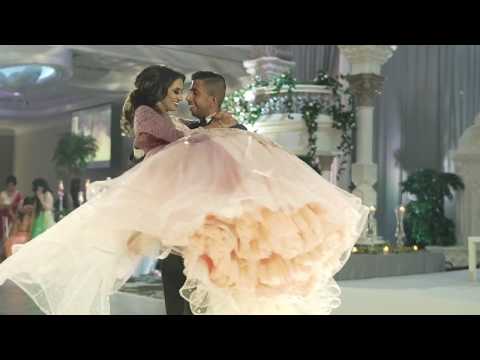 This dance is all about the love between the bride and groom as Harveer and Sukhraaj Kaur show.
With the backdrop of Perfect by Ed Sheeran, this dance is very classic, almost ballroom like as they both follow each step of the routine.
The couple captured their first wedding dance on Sukhraaj's YouTube channel, which has almost one million views.
Their performance was something admired by the guests as they were in awe of the couple's dance routine.
Although Harveer and Sukhraaj's dance is shorter than the others on the list, it is to the point and is one that guests will remember.
Poonam and Kiranjit's Dance of Fusion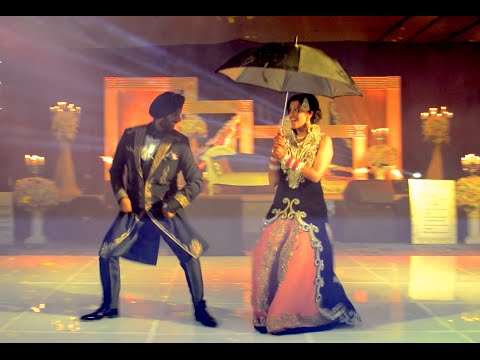 Already established dancers Poonam and Kiranjit created a routine for their wedding reception in Thailand.
They are part of Bhangra Empire, a dance team in the San Francisco Bay Area, who pursue Bhangra and Punjabi culture in their dance.
Poonam and Kiranjit's dance featured a mix of Disney music, Bollywood and Bhangra.
Props were also used, especially when Rihanna's Umbrella played in the background.
Their dance had a number of Western styles, all with a hint of Bhangra incorporated into the routine.
What made this dance so unique is its surprise ending which featured an appearance from the Bhangra superstar, Malkit Singh.
Dennis and Denisa Mix it Up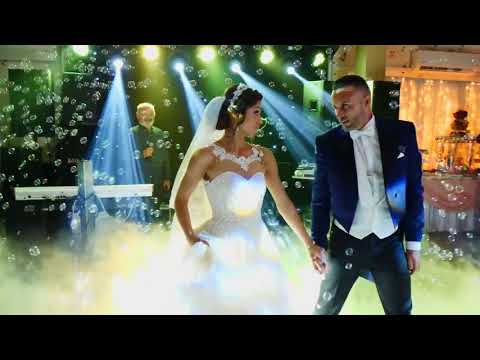 The wedding dance by Dennis and Denisa Thomsen is one which has unique parts to it.
It begins with slow romantic waltzing with the soundtrack of Ed Sheeran's Perfect in the background.
Both of them are in time with each other, only making the dance better.
Towards the end of the ballroom style of dance, the music begins to fade and both the bride and groom return to the centre of the dancefloor.
The dance then becomes a cascade of energy as the Bhangra music begins to play.
Both Dennis and Denisa are full of energy as they perform the fast-paced dance.
Another musical number fades in which then makes for a Latin style of dance.
This mix of dance styles shows the vast amount of time to successfully perform this routine.
These are a sample of totally amazing Desi wedding dances which are performed by the couples.
All of these dance routines are performed extremely well, so kudos to the couples who took the time to perfect their every move.
Getting the dance routines right, especially when so many of their family and friends are watching, is no easy feat but these couples showed it can be done.
Every dance had moments which are unique and will no doubt be remembered and cherished by everyone who watched them.