"When you do 10 seasons, you run out of celebrities"
CEO of Colors TV, Raj Nayak is one of the heavyweights of Indian television.
A prominent figure in the media and entertainment world for the last 20 years, Nayak has paved the way for the future of Indian television with this visionary ambition for bigger and better.
In an exclusive Gupshup with DESIblitz, Raj Nayak tells us more about the success of Colors TV and his plans looking ahead.
Before becoming the CEO of Colors TV, the flagship brand of Viacom18 in 2011, Raj travelled the media circuit working for many top media companies such as Star TV Group and NDTV Media.
Notably it his keen understanding of popular entertainment and television that has enabled him to transform Colors into one of the leading TV channels in India today.
Many of us will be familiar with Colors' top shows that mesmerise and transfix viewers on a daily and weekly basis.
24, the explosive action series inspired by the hit American TV drama enjoys incredible success in India and abroad.
Headlined by one of Bollywood's most recognisable actors, Anil Kapoor, the TV show recently launched its second season in the heart of London.
Speaking to DESIblitz, Raj admits that the show's success has been down to its fast-paced storyline and thrilling production. 24 has truly captured the viewer's imagination:
"We are very pleased, this was one initiative we at Colors took to push the envelope and do a show nobody expected us to do. The scale, the size, the production, and also, completely different to what we do regularly.
"Season 1 was a huge success. And that's probably the reason why we have done season 2. We are very happy with it," Raj says.
Watch our full Gupshup with Raj Nayak here: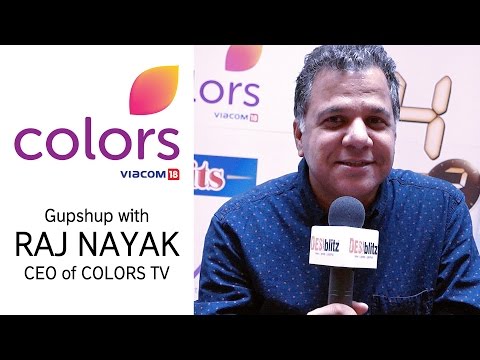 Nayak adds that much of Colors' success owes itself to international viewership. He acknowledges the UK as one of the channel's most loyal fanbases.
This is why the multicultural nation became the perfect spot to launch Viacom's latest TV venture, Rishtey Cineplex, a 24-hour Hindi music channel.
As Raj tells us: "This is one market where we launched a channel before we even launched in India, and that was Rishtey. Then we launched Colors."
Rishtey has become just as popular as Colors, and Nayak admits he is very pleased with the channel's progress so far.
But like any successful CEO, Nayak has an eye firmly placed on his competition.
With television dominating across South Asia, as an increasingly lucrative market, Nayak notes the success of rival TV channels, particularly in Pakistan.
It is no secret that Pakistan's media and entertainment industry is led predominantly by its well-crafted drama serials. Many channels have honed in on the currency of this market and quickly built up a loyal international audience:
But as Raj Nayak admits: "That's the nature of the beast you know, you have to keep competing and hoping that you will win."
Similarly, Raj is not one to stay confined to the borders of his homeland. The UK launch of Rishtey Cineplex is just one of many cards tucked away in Nayak's pocket.
He tells DESIblitz of his plans to improve the quality of programming for his UK viewers, and even introduce regional programming as well. Can we expect a British Asian drama on Colors TV very soon? Audiences will just have to wait and see!
Before we can dream of Brit-Asian inspired programmes, however, Raj Nayak reminds us of the new and improved instalment of Bigg Boss.
Raj has certainly found a winning hand with the popular reality show. Arguably one of the most watched and discussed television shows in India, fans can anticipate a fiery season 10.
Host of the show, Bollywood Bhai, Salman Khan will round up another batch of contestants to live in the Bigg Boss house.
But 2016 promises something different. Notably, non-celebrity contestants will also appear on the reality show:
"We are probably one of the only countries in the world where Bigg Boss is a show where we have spoilt the audience because we only have celebrities in the show.
"When you do 10 seasons, you run out of celebrities, and more importantly we felt that we had to reinvent the show and this time we've left it open to the general public."
It is no surprise to hear that the willingness of the Indian public to appear on the show has been incredible. Raj says:
"I'm happy to say, we crossed over a lakh of people who have uploaded their videos wanting to be part of the Bigg Boss house. It's good because it has created a different kind of buzz for the show."
Let the drama, scandal and human fireworks commence!
What strikes you about meeting the impressive Raj Nayak is his generous nature. Despite working in one of the most ruthless and cutthroat industries known to man, Raj maintains a friendly and down-to-earth demeanour:
"I come from a school of thought where ambition is a very loosely used word. The ambition is whatever I am doing at the moment to do it to the best of my ability and run as fast as you can.
"Don't go looking at the scoreboard and hope that you win," Raj explains.
His cheerful disposition comes from his belief that success is only possible through sheer hard work and faith in your cause. Only then can you hope to achieve the great heights that Raj Nayak has.
Raj Nayak's final words to us? "I love this name DESIblitz, because mein Desi hoon."