"Outside of India, the UK is one of the biggest markets for Bollywood"
Group CEO of IndiaCast, Anuj Gandhi, has announced that Rishtey Cineplex launches in the UK on September 29, 2016.
Rishtey Cineplex is a free TV channel that will regularly air big Bollywood films for viewers to enjoy.
Having worked as media consultant across the Digital sphere in Cable TV, Mobile and Internet, Anuj is confident that Rishtey Cineplex UK will successfully position itself in an already saturated market.
Talking about this exciting launch, Anuj tells DESIblitz:
"We want to give it [the channel] a scale of a different level. Simple things like it won't just be a movie channel, we will also do a lot of wrap around programming around Bollywood. You will get a lot more content than just pure Bollywood movie channel."
Watch our full Gupshup with Anuj Gandhi here: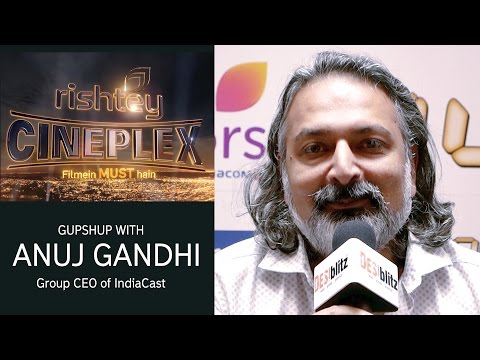 What is also exciting about Anuj Gandhi's new TV venture is that it recognises the vast love for Bollywood by British Asians living in the UK:
"As you know, outside of India, the UK is one of the biggest markets for Bollywood. Both in terms of ticket sales and the revenue it generates. We have this country where a lot of South Asians are crazy about Bollywood and big stars consider London as their second home, and come here very often."
Prior to his ambition for Rishtey Cineplex, Mr Gandhi was the CEO at Den Networks Ltd.
His responsibilities consisted of building India's largest Cable TV company, systems and processes, negotiations and setting up a joint venture with Star India titled 'Star Den Media' services.
His expertise is apt for becoming the Group CEO of IndiaCast.
IndiaCast is a joint venture between TV18 and Viacom. The company promises 'Rishtey Cineplex' to be a movie channel like no other, with a vision of their own and of course, here to survive in the long-run.
Bollywood movie channels like B4U Movies, Zee Cinema, Sony MAX and Star Gold are popular amongst masses, due to the number of films they show in a day.
Rishtey Cineplex, whose tagline is 'Filmein MUST Hain', will compete with these other channels, even more so, as this will be a free-to-air channel without a monthly or annual subscription.
It will be interesting to see how the channel will survive as a free-to-air model!
Furthermore, it has been confirmed that the movie channel will be taking over the EPG slot of UMP Movies (UTV Motion Pictures Movies), despite its high BARB ratings.
Even though most films UMP Movies show are from Viacom, this also begs the question as to why the channel is vacating its existing EPG spot for Rishtey Cineplex UK.
Nowadays, big Bollywood blockbusters are seen on Television simply after months of their silver-screen release.
It is believed that Rishtey Cineplex will also show latest releases since it launched in India with the premiere of Bajirao Mastani.
We asked about the channel's extensive film library, the Group CEO replies:
"We do have a couple of very big libraries coming from very big studios. We also have a deal for the output, meaning movies which are coming in the next year or so."
One wonders as to whether they'll show big banner films from Dharma Productions or Yash Raj Films too, but this also remains a secret!
Regardless of which films are chosen to air, the likelihood is that they will broadcast over five films per day from morning till night. Plus, as per other channels, they will also broadcast programmes around the film and the actors.
Alongside modern movies with superstars (such as Salman Khan, Shahrukh Khan and Aamir Khan, Katrina Kaif and Deepika Padukone) Rishtey Cineplex will also show some old classics.
Although their focus would mainly be on contemporary films. Anuj mentions:
"When we pick movies, we pick those which will relate or viewed by the larger majorities. Some movies which are either classics or really not available, will not probably be on the channel as well."
There are still many people from the elder generation who enjoy watching golden oldies from the 50s-80s, in comparison to today's generation, who prefer contemporary films. Therefore, it will be good to see a mix of old and new.
It's never easy to launch a new channel. Despite being quite busy Anuj Gandhi enjoys taking time out to travel to remote destinations where he can be surrounded by nature, or simply listening to music or reading.
Overall, it is expected that either in-house or external marketing/media agency will manage the advertising for the channel. This will be a source of revenue for the channel.
Rishtey Cineplex UK will be available on the Sky Digital platform on the channel number 797 from September 29, 2016.