"Britain would survive outside the EU but it would be a weaker place"
With the EU referendum closing in, the decision to Leave or Remain in the European Union sits heavily in the minds of many British Asians.
Will they be voting to Remain or Leave?
DESIblitz spoke to numerous British Asians to find out if and why ethnic minorities are supporting either Brexit or Vote Remain.
The EU Referendum
The European Union currently consists of 28 countries; it has created "single market" trade, allowing the EU states to act as one country.
The Union has also created their own currency: the Euro, although the UK still uses the British Pound as its primary currency.
The EU also has its own parliament, which sets rules from consumer rights to environmental changes.
The EU referendum is one of Britain's most anticipated political debates, and many are still trying to maintain their stance and decipher what is truth from myth.
No one really knows what could happen if Britain were to leave the EU and if it would create a more positive or negative outcome.
The main issues in play are:
Immigration and its effect on migrant's benefits and regulation on border control;
The economical strain of being a member of the EU and if the advantages outweigh the cost;
Lack of sovereignty over laws and regulations, especially in regards to global and national business
If the EU free movement policy has too many negative impacts.
What are the main reasons put forward by those who want to leave?
Immigration is the most discussed. Citizens are constantly concerned with the strain on national public services due to ever-increasing immigrants into the UK. The European Union has a non-negotiable law, allowing for free movement of EU citizens.
Leave supporters have, during their ongoing campaign, been accused of racial hatred towards immigrants and other ethnicities.
While UKIP leader, Nigel Farage is not affiliated with the Leave campaign, he further intensified racial hatred after promoting a controversial ad labelled, 'Breaking Point'.
The shocking poster aimed to encourage voters to vote to leave the EU incensed many on both sides of the debate. Even Baroness Sayeeda Warsi, who was a key advocate of the Leave campaign, deflected to Remain just days before the vote, because of the 'hateful' and 'xenophobic' tactics of Leave.
There are numerous British Asian politicians on either side of the fence.
London Mayor Sadiq Khan is trying to fight against Brexit by emphasising the importance of European immigration.
After claiming how Brexit defies all British values, he said: "Britain would survive outside the EU but it would be a weaker place."
Employment Minister Priti Patel claims that the free flow of EU immigrants make it tougher on migrants from the rest of the world to enter the UK; her argument is in order to 'save the curry houses' we must leave the EU, to prevent biased immigration:
"[The] bonus of leaving the EU: we'll be able to design a new immigration system that brings the chaos under control."
The British Asian public have differing views.
Raj, 21, disagrees with Patel's statement: "I am voting IN, as the support we get from being a part of the EU is a good one; it's reassuring that I could go elsewhere to work. I feel we are stronger as a country when we are a part of the EU."
Zain, 22, counteracts this: "In regards to immigration, I don't think we benefit much from the EU. As an ethnic minority I feel the free movement is a one-way street. I would have to think hard if I would integrate well and be accepted into another European country. As a non-white, we have to consider that other European countries are less forgiving towards Asians."
Birmingham MP Khalid Mahmood, who also left the Leave campaign due to the high level of racism involved, stated that he is fearful of immigrants becoming involved in communities that are struggling with housing and resources.
He said: "We don't want an open house. We don't do criminal checks on them. We can't stop certain types of people coming in."
MP Rushanara Ali is against Brexit claiming: "It is no doubt that ethnic minorities benefit from EU membership."
From good business connections to more positive work policies for minorities, she backs her argument with the fact India's prime minister, Narendra Modi supports the Remain campaign, stating: "For his country the UK is 'our entry point into the EU'."
British Punjabi Nathan, 26, believes the supporters of remaining are belittling the British trade. He is voting OUT by arguing that: "Nobody is claiming that trade will suddenly double with India. But being in a position where we can negotiate trade deals to suit our own economy with the wider world is a positive."
Money is a main issue regarding EU membership; the net value spent per week for being part of the EU is approximately £136 million. Boris Johnson, and other MPs backing Brexit, claim public services will benefit from this expenditure instead.
Conservative MEP for Yorkshire, Amjad Bashir, is supporting Leave: "How much better to keep the money we send to Europe to be used where it will make a real difference."
Others argue that this money will not be used on what the Brexit group are claiming to spend it on and that the benefits of the EU membership fee is far more valuable to businesses and trade.
Heena, 19 says she is voting to Remain:
"I don't buy the money argument. They claim all the money will be spent in better places, but you can't guarantee that. I know EU may not be ideal, but it hasn't made Britain collapse."
Here are British Asians we spoke to in Birmingham giving us their views in our Desi Chats special video: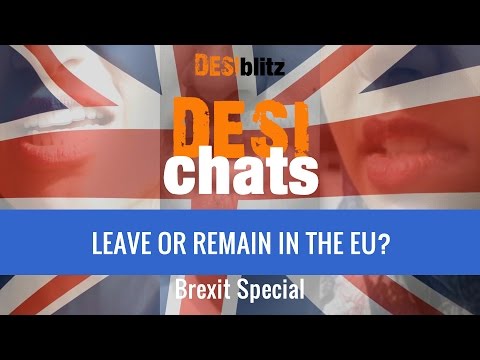 The Confederation of the British Industry report that 78 per cent of businesses would Vote Remain after being satisfied with UK's membership to the EU. Some businesses, especially smaller, local firms, however, do not like the restrictions.
Kaljit, 45: "We need control back; the European Union has their say on a lot of laws which aren't applicable to the UK."
Sirah, 22 says: "If we leave, being involved in the single market is a possibility, but there is a risk of not being able to have a say into their regulations. I'm voting IN, as I think we have better security within the EU and outside of it."
Aran, 23 who supports Remain, says: "If we leave, work policies could change, especially for smaller based firms and personally I don't think that is a good move."
The Brexit Argument to Leave
The variety of debates, some more personal than others, is making the decision a lot harder for many British Asians. Here are the main arguments for Brexit:
Economic costs ~ UK will save approximately 136 million pounds per week.
Trade ~ Brexiters argue that EU's Central Agricultural Policy is wasteful, costly and fails to support local, small farmers and businesses; they believe leaving will improve British international trade, with US, China and India, as they won't be bound to EU laws.
Sovereignty ~ The EU hierarchy is vague to most people; no one knows who is in power allowing the British voice to be lost. Leaving will help create a bureaucracy closer to British needs.
Immigration ~ Leaving will allow the UK to have tighter border control, to ensure those entering the country are contributing to the economy, rather than solely taking from it. This could result in more job opportunities, housing vacancies and better access to public services for British citizens.
The Argument to Remain in the EU
Economic costs ~ the benefits outweigh the membership fee; the EU is one of the world's largest markets and the membership attracts other countries to invest in the UK.
Trade ~ it is easier to make deals when associated with the EU; US and EU and currently negotiating a world trade market, which could hinder Britain if they left. The single market trade is also beneficial and leaving the EU may make it difficult to control Britain's input.
Sovereignty ~ EU laws shape many of the UK's, however, the UK gets their say most of the time; since 1999 only 2% of British ministers have been outvoted.
Workers and Health Rights ~ Many policies which help British workers and food standards, environmental issues and job opportunities have improved with the EU.
Immigration ~ Immigrants in the UK benefit the economy, the loss of them could hinder it substantially. Free movement opens job opportunities for British people elsewhere in Europe and it is argued that immigration to the UK would not necessarily be lessened after leaving the EU.
Opinions are mixed. Many British Asians, especially the younger generation are swayed to stay in the EU, thinking about their future of flexible movement, the positive contribution of immigration and wider trade.
Others are tired of the restrictions and believe the UK can prosper a lot better if we left.
Whilst some British Asians are unsure of how to vote, those who are voting IN are definitely apprehensive of what is around the corner if their opposition wins.
The UK will vote on EU membership on June 23, 2016.