"a human right that is becoming so expensive needs to be spoken about"
New Bollywood film Batti Gul Meter Chalu starring Shahid Kapoor and Shraddha Kapoor is being released on September 21, 2018.
The upcoming Hindi movie is directed by Shree Narayan Singh and will include other actors such as; Yami Gautam, Anna Ador, and Pankaj Tripathias.
This light-hearted drama follows the story of Vimal Bisht (Shahid Kapoor) and his fight for the electricity shortages in India.
Batti Gul Meter Chalu is about bringing the social issue of electricity shortage to the notice of people and to encourage authorities to investigate the inaccuracies of electricity bills.
The emotional trailer of the forthcoming film shows Vimal Bisht (Shahid Kapoor) and his best friend in the village as carefree, hard-working men.
They meet Lalita Nautiyal aka Nauti (Shraddha Kapoor) who is quirky and challenging towards the boys.
Being a breath of fresh air, the two boys and Lalita soon become close friends.
However, throughout the trailer, there are signs that their village is being neglected off electricity.
The ultimate problem is how in extreme cases people can owe utility companies millions of rupees.
Shree Narayan Singh also directed social motivated film Toilet: Ek Prem Katha starring Akshay Kumar which drew a lot of attention to the sanitation problems in India.
The biggest controversial factor of the film was emphasising how over 80% of homes in rural areas of India do not have a toilet.
The director chose to shoot Batti Gul Meter Chalu in a small town in Garhwal (Attarakhand) to give the film a real sense of rurality.
Controversial and real, yet educational, films such as these are what is trending amongst the newer generation of Bollywood fans.
Shree Narayan Singh finds the balance between what Bollywood fans expect whilst bringing light to the serious issues in India.
The release of songs from the film; 'Hard Hard' sung by Mika Singh, Sachet T and Prakriti K, and 'Dekhte Dekhte' by Atif Aslam is a hit already.
Over the years, Shahid Kapoor has become selective about the films he takes up.
The actor has made the conscious decision to play a diverse range of characters.
He's starred in Udta Punjab, Haider, Rangoon and Padmaavat which all have completely different character roles.
Shahid Kapoor stated that he found Shree Narayan Singh's films very realistic.
The actor emphasised how important it is for Bollywood to work with socially relevant films, and for it to include mainstream actors so that the film reaches a wider audience.
"We are not making a documentary. If we make one, it won't reach anywhere. You have to make an entertaining film"
At the trailer launch, Shahis emphasised the point of social message films being so important to the country.
He found Shree's Toilet: Ek Prem Katha the film "almost educational" for him because he did not realise the extent of problems related to sanitation in rural India.
However, this film he feels covers a wider demographic and is more applicable across the country, in small cities, larger ones and villages too.
Especially since electricity bills are increasing and not everyone can afford to pay so "something that is a human right that is becoming so expensive needs to be spoken about."
This is not Shahid Kapoor's first time playing a character which highlights social problems in India.
He starred with Shraddha Kapoor in Haider, a film about the issue of human rights in the state of Kashmir, and an adaptation of Shakspeare's Hamlet.
Udta Punjab was based on the drug menace in Punjab, an issue which is impacting everybody, not only rural places in India.
So, for him to do a film which highlights social problems in the country as an actor is a positive opportunity which could be missed if he did not.
Shahid also mentioned that when they started their schedule for the film in Dehradun, the capital of the Indian state of Uttarakhand, at dinner time, the electricity went off. So, it is genuinely a major problem in India.
Shraddha Kapoor feels entertainment in a film of this kind is what can carry the social message further and said:
"I was very happy when Shree sir offered me the script and the chance to play 'Nauti' in this film. Through an entertaining script, we address a very important issue."
"I hope the issue finds a solution and we can help it. I feel very lucky that through your film you can send out an important message."
Batti Gul Meter Chalu has been produced by Bhushan Kumar, Krishan Kumar, Shree Narayan Singh, Nitin Chandrachud, Kusum Arora and Nishant Pitti.
Watch the trailer of Batti Gul Meter Chalu: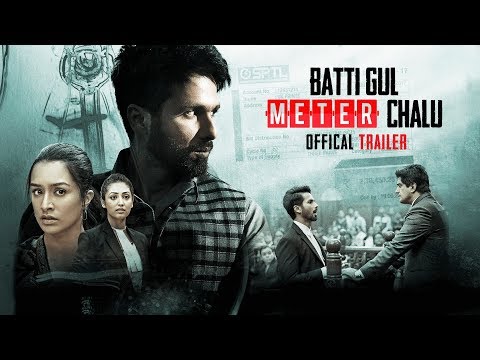 This highly anticipated film will include hit songs, high emotions and highlight a very important issue in India that still needs a solution.