"Salman loved the script as soon as he heard it and suggested that Kangana would be the perfect fit."
'The fresh 'khatti meeti' jodi of Imran Khan and Kangana Ranaut are all set to spice up the silver screen with their fun love story, Katti Batti.
Directed by Nikhil Advani, Katti Batti is one of the most awaited films of 2015.
After a long hiatus from the silver screen, Imran Khan fans are anxiously waiting for the unique love story that will see the loveable hero romance one of the biggest Bollywood actresses.
Riding high on a hat-rick of hit films, Kangana Ranaut has easily become one of the bankable stars in Bollywood. So with a hit jodi like this, it will be interesting to see how the film serves at the box office.
Katti Batti follows the 'anti-love story' of Madhav Kabra aka Maddy (played by Imran Khan) and Payal (Played By Kangana Ranaut). Starting off in college, simple architecture student Maddy falls head over heels for popular girl Payal.
Finally gathering the courage to ask her out, Payal makes it clear that she is only looking for a short-term relationship. Agreeing to her will, Maddy and Payal begin their relationship.
As the years pass by, before they know it, the couple find themselves in a live-in a relationship for 5 years. But just as everything seems to be going fine, Payal suddenly decides to leave.
Having walked out without a word, Maddy decides to find his lost love and get some answers. Will Maddy be able to find Payal? Why did Payal leave?
After delivering a super hit like Queen, Kangana expressed how she was only being offered women centric films. Worried she would be typecast, Bollywood Bhai, Salman Khan came to her rescue.
Suggesting her name for Payal's role in Katti Batti, director Nikhil Advani stated:
"Salman loved the script as soon as he heard it and suggested that Kangana would be the perfect fit for Payal's character.
"Later that night, Salman called Kangana, who was in New York and told her that Payal's character was tailor made for her. As soon as Kangana got back in town we took things forward."
Being different from her other roles, audiences will be excited to see the talented actress in a new avatar.
But even with Kangana on board for the film, Nikhil had to make a lot of script changes in order to get Imran Khan on board.
At the first narration, Imran didn't really grab the essence of the story and rejected the film straight away. However, after much persistence from Nikhil, Imran agreed to hear a second narration.
He said: "Nikhil wanted me to let him narrate the story once more. As I was in a mood of not doing the movie, so I thought what difference would it make if he narrates.
"So I kept delaying it for one or two months. After so many ifs and buts and delaying, when Nikhil came to narrate the story, within 20 minutes I wondered if this is the same story I read before."
Giving his nod of approval Nikhil was finally relieved to kick start his project.
With censorship rapidly becoming a trending topic in Bollywood, directors can never be too sure what is going to be edited from the movie.
During the screening of Katti Batti for the censor board, the cast and crew were surprised with one particular cut of the word 'boob'.
Both confused and amused the filmmakers gave a statement over the surprising censor board decision, saying:
"The film does have some abuses which have been censored. But what left everyone shocked is the way the censors felt that the word 'boobs' isn't appropriate for the film."
Hopefully the censored words won't make a change to the outcome of the movie.
Watch the trailer for Katti Batti here: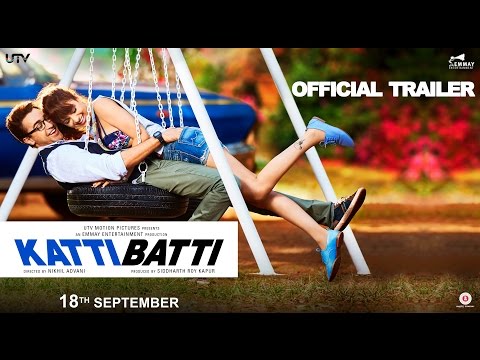 The modern day romantic film Katti Batti has a great mixture of songs in its soundtrack.
Composed by the musical trio Shanker-Ehsaan-Loy, the six-track album, starts off with 'Sarfira', a high energy and peppy track that is perfect for a night out at the club.
Sung by Siddharth Mahadevan and Neeti Mohan, the foot-tapping number is definitely one of the best dance tracks of 2015.
'Lip to Lip' is a cute and romantic track that reflects the vibrant and young relationship between Payal and Maddy. 'Sau Aasoon' is another favourite from the album. The heart-touching number expresses the distance between the two loves.
The film has seen a mixed response so far. While film critic, Komal Nahta, tweeted: "#KattiBatti disappoints big time," many B-Town celebs sang the film's praises:
All the best @nickadvani Kangana and the charming Imran.Heard some really cool stuff from people who watched #KattiBatti,gonna catch it tom

— arjun rampal (@rampalarjun) September 18, 2015
Biiiiiiiiiig luck and love @nickadvani for #KattiBatti…. Made me smile through my tears…And can we have multiple copies of maddy pl?! ?

— Aditi Rao Hydari (@aditiraohydari) September 18, 2015
So #KattiBatti has been seen and enjoyed.. @nickadvani congratulations .. heartbreaking romance ..

— Huma Qureshi (@humasqureshi) September 17, 2015
Can Kangana's blockbuster luck continue with Katti Batti? We shall have to wait and see.
Are ready to experience this modern day anti-love story? Katti Batti releases from September 18, 2015.