"I pledge to spread the message of Vogue Empower by dedicating my latest album, Raunaq, to this campaign."
Known as the Mozart of Madras, and the winner of two Oscars, two Grammy awards, a BAFTA and a Golden Globe, A.R. Rahman returns with the release of his new album; Raunaq: Conversation of Music and Poetry.
The album is Rahman's first studio album in over 5 years and sees an excellent mix of traditional sound and beautiful melodies that this Indian music maestro has become globally known for.
Rahman first made music for Bollywood films way back in 1992, and has continuously made successful songs that are catchy and touching.
Incredibly, he has become even more popular outside of India, with musical scores for a number of British and Hollywood films that have won him many awards.
Rahman's new album holds collaborations with Lata Mangeshkar and K.S. Chithra, as well as other leading artists such as Shreya Ghosal, Mohit Chauhan, Shewa Pandit and Jonita Gandhi who also feature on the songs which A.R. Rahman has composed.
Kapil Sibal, a former union minister of India and lyricist helped write the lyrics for the album.
The tracks of the album describe the social state of India through the poems Sibal had written. Initially Sibal wrote 25 to 30 songs and poems, but Rahman chose the current 7 on the album.
This album is a result of Sibal's poetry to which Rahman has composed and provided visuals. Rahman takes on the role of a storyteller as he narrates for the music video, 'Aa Bhi Jaa'.
The album which was first unveiled by Bollywood star Salman Khan on February 27, 2014, has been dedicated to #VogueEmpower which is a social awareness that highlights women's empowerment currently ongoing in today's society:
"I pledge to spread the message of Vogue Empower by dedicating my latest album, Raunaq, to this campaign," Rahman said at the music launch in September 2014.
Rahman later explained: "I met Kapilji at a party, and he showed me some lyrics that he had written. So, we agreed to work together on an album [on women's empowerment], and that is how Raunaq came about.
"When we heard of the Vogue Empower initiative, we felt very strongly about it and thought it was the perfect one to associate our album with. As artistes, we have a sense of connection to what is necessary, and music is the right tool to take the message to people."
Rahman believes the entire album and more specifically the song 'Laadli' shares the same causes with Vogue Empower, saying: "The album echoes the significance of the cause, women's empowerment, with the song and video, 'Laadli' created in collaboration with Kapil Sibal and Lata Mangeshkar."
Speaking about working with Lataji on the song, Rahman says: "She is magical. I am amazed that she can sing so beautifully even at this age [85].
"I remember, I had come back from an international project for a day to record the song with her and since she wasn't keeping well, she didn't feel like recording it. I travelled back to resume the project and waited for three-and-a-half months to do the song with her."
Rahman adds that the song also features a special music video:
"Besides composing and singing tracks in the record, I had also suggested making a video of the song 'Laadli' to Bejoy [Nambiar] Although the visuals are simple, it gives out a strong message."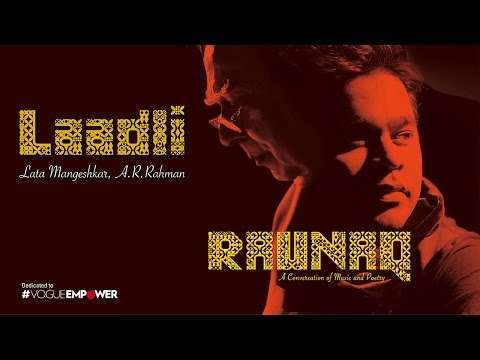 This album is beautifully unique, as each of the songs tell a separate story which Rahman insists can be individually enjoyed.
The compelling and moving album is dedicated to women, and presents the journey of women through a 'Conversation of Music and Poetry', which will leave you with a varied amount of emotions.
The list of songs on Raunaq: Conversation of Music and Poetry include:
'Laadli' – Lata Mangeshkar, A.R. Rahman
'Sach Kahoon' – K.S.Chithra, A.R. Rahman
'Geet Gaaon' – Jonita Gandhi
'Kismat' – Shreya Ghoshal
'Aa Bhi Jaa' – Jonita Gandhi
'Kho Jaayein Hum' – Shweta Pandi, Jyoti
'Khatta Meetha' – Mohit Chahuhan
The album is already digitally available, and will be released in CD format from October 31, 2014.