"I have dismantled this pole – this pole of oppression"
It's the end of an era. The Mindy Project has aired its finale and with it, we say goodbye to a groundbreaking show.
Starring Mindy Kaling in the lead, the show has proved to be a cult hit with fans around the world. It is also a major step-forward in showcasing a woman of colour as a romantic leading lady.
Not only that but The Mindy Project is revolutionary in showing a Desi-origin woman unapologetically loving food, choosing her career over love, having a child before marriage and interracial dating.
As Mindy Kaling highlighted on her Twitter:
Six years ago I created a show called #TheMindyProject and got to play the lead. Not the sassy friend or nagging wife. It completely changed my life. 117 episodes later, it's ending, on my own terms. That's so rare, and I just want to say how grateful I am. Love forever, MK ??

— Mindy Kaling (@mindykaling) November 14, 2017
With the finale of The Mindy Project, the plot and its cultural significance have come full circle.
We first met the loveable character of Mindy Lahiri making a dramatic exit from her ex-boyfriend's wedding on a bike, which she rides into a pool and ends up in jail. Now, she's the owner of a successful fertility clinic, a mother and vaguely responsible.
It's incredibly hard to write and produce a great finale. Yet Kaling manages it by giving her character the happy ending she's always dreamed of.
Of course, Mindy's reconciliation with Danny (played by Chris Messina) is far from smooth. But after both personal and professional growth, the finale's references to the pilot give us hope that everything will work out for our beloved Mindy Lahiri.
With this revolutionary series, Kaling has pushed the romantic comedy genre into the 21st century. With that in mind, DESIblitz celebrates some of the best moments of The Mindy Project over six seasons.
'Frat Party' (Season 1, Episode 23)
"I have dismantled this pole – this pole of oppression."
Mindy's stand-out moments come when she promotes a forward-thinking attitude towards the women of today when it comes to their sexuality.
The 'Frat Party' episode immediately stuns with some hilariously awkward shower sex between Mindy and her romantic interest, Casey (Anders Holm). She's similarly unapologetic when rejecting her dentist ex-boyfriend, Tom (Bill Hader) and mentions her other relationships since.
However, she's careful to differentiate this from non-empowering experiences. Mindy's mentee, Katie (Francia Rasia), invites her out to a frat party.
In a great bit of Kaling's classical physical comedy, Mindy attempts to tear down a stripper pole while accidentally imitating a routine. Nevertheless, her efforts resonate as she encourages Katie to favour her brains as well as beauty in the search for love.
Still, all the adults, including co-workers Morgan, Jeremy and Danny (Ike Barinholtz, Ed Weeks and Chris Messina), become involved in a fight between Casey and Tom over Mindy. With some bizarre smack talk, the adults hilariously prove that they're no wiser than the teens at times.
Office Christmas Party (Season 2, Episode 11)
It was hard not to audibly scream the first time watching this scene … or the one after!
Despite Mindy's machinations to charm lawyer Cliff (Glenn Howerton) at the office party, she loses her sexy Santa Baby moment.
She instead slinks away to drown her sorrows with the help of her wine bra. Thankfully, Danny takes this chance to cheer her up with his Secret Santa present for her.
Here, the perennially grumpy, guarded Danny Castellano performs the most amazing dance ever to Mindy's musical obsession when joining the practice – Aaliyah's 'Try Again'. Mindy mirrors our gleeful surprise by her visible transition from confusion and incredulity to joy and amazement.
The romance of the softly glowing fairy lights just adds to Danny's sweet thoughtfulness. And the couple's hug and almost kiss are enough to satisfy every rom-com lover.
"Danny and Mindy" (Season 2, Episode 22)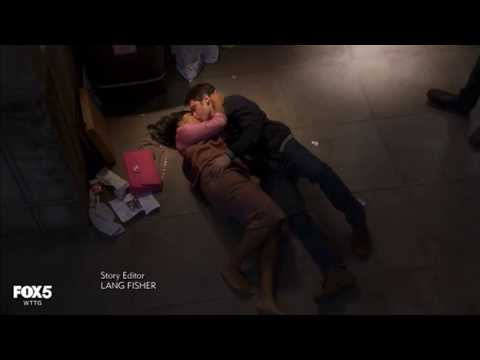 Everyone will remember the incredible image of Danny and Mindy lying on the top floor of the Empire State Building kissing and talking about the future.
However, this is also a great moment for making fun of rom-com clichés. Of course, the lift of the Empire State Building would be out of service for poor Mindy.
Mindy is notoriously unhealthy, seeming to survive on a diet of bear claws and cheese. When she considers wearing Fat Steps trainers as 'exercise', over 100 floors is like climbing Everest for Danny.
Bruce Springsteen is a firm favourite of Kaling so his voice soundtracking Danny's run to just miss Mindy on the top floor is also a great piece of television.
"The Devil Wears Lands End" (Season 3, Episode 5)
The presence of Shonda Rhimes and Niecy Nash should sell you on this episode alone. However, all twenty minutes are a joy from start to finish.
The B-plot almost steals the show with Jeremy helping Peter (Adam Pally) win his Dartmouth alumni beer pong competition.
Armed with a faux frat-bro accent, Jeremy takes his childhood talent of throwing ice into his father's drinks without getting too close to face off against Rimes. Against a slo-mo of 'Turn Down For What', Peter heroically sheds his old, unwanted nickname "Leftie".
It originates from his girlfriends always leaving him for his friends at Mindy Kaling's own alma mater. Instead, he wins the admittedly no better "Diarrhoea", but at least this matches Jeremy's new persona of "Barf" better?
"Decision 2016" (Season 5, Episode 1)
Love triangles are a tried-and-tested conflict in the rom-com genre. Still, that doesn't mean they don't need an update.
The now single-mother Mindy has the decision of reigniting her passionate and dramatic relationship with the father of her child, Danny. Alternatively, she can choose the love of new co-worker, Jody (Garret Dillahunt), promising wealth, stability and grand, romantic gestures.
The show subverts this paradigm for Mindy to choose herself. It may be tough for Mindy to be alone because of her son and her constant search for love.
Yet it's amazing to see a romantic heroine refuse to settle out of desperation. She's inspiring in preferring to prioritise her drive to make her fertility clinic a success.
"Hot Mess Time Machine" (Season 5, Episode 8)
The 'Groundhog Day' trope is an age-old sitcom staple. Yet, The Mindy Project does it justice here in showing real character growth.
We all love how vocally selfish Mindy can be to fight against notions of the ideal, subservient woman. She's the first to walk away from a gross conversation with Morgan or refuse to share her food. Nevertheless, that doesn't mean we want her to behave like an egotistical monster.
Mindy must learn to stop her flaws from repeating the same day after her breakup with Ben. After drunkenly kissing her ex, she has to work past her instinct to yell excuses. Instead, she learns to listen, appreciate and support Ben even when he considers relocating to St. Louis.
We find ourselves extremely proud of Mindy and more than a little amused by her discovery of comic books and Star Trek thanks to Ben and his nerdy interests.
"May Divorce Be With You" (Season 6, Episode 3)
As the loveable dude-bro, Peter tells us:
"If you can find a weird girl whose weirdness matches up with your weirdness, I wouldn't let that go."
This is True Love for us too. Tamra and Morgan come in second in proving this, but Mindy's co-workers, Jeremy and Anna, must take first place.
There is something so lovely about the restrained and proper Anna declaring her love for Jeremy via the song 'If I Could Turn Back Time' at Mindy's divorce karaoke party.
This may be a rom-com favourite, but the serenade taps into Jeremy's characterisation. After gushing that his life is finally becoming one of his beloved musicals, he joins her before ending the song with a kiss.
It's sweet to see the uncool pair find their happy ending in a manner so suited to them.
There are so many moments we could have chosen from this hilarious show. Honourable mentions include everything from Mindy waking up as a man to experiencing the pressure for mothers to be perfect. But Kaling has done an incredible amount for the rom-com genre.
The Mindy Project shows a woman having a baby before marriage and rejecting her son's father when he attempts to quash her dreams. Then she continues to remain single rather than settle for a stable but sparkless relationship.
Getting married and then divorced, she shows the trials of dating, relationships, being a mother and having a career.
In fact, we could dedicate an entire article to her killer wardrobe alone!
Most importantly, Mindy Lahiri taught all of us that in times of doubt, call on your warrior name like Beyoncé Pad Thai.
The Mindy Project is truly a fantastic show and will be missed. However, we can't wait to see what Mindy Kaling will do next.