"I still love sci-fi even though it didn't love me back"
The hilarious Mindy Kaling joins a dream team of Oprah Winfrey and Reese Witherspoon as the iconic 'Mrs' trio in the upcoming Disney adaptation of A Wrinkle in Time.
The cast is led by rising star Storm Reid, who previously starred in the Academy Award-winning film, 12 Years A Slave, as Emily.
Ava DuVernay brings to life the much anticipated Disney film adaptation of the novel of the same name by Madeleine L'Engle (1962).
She has set a record for becoming the first woman of colour to direct a nine-digit budget film with $103 million (£73 million).
A Diverse Sci-Fi Fantasy Film
A Wrinkle in Time shows Meg Murray (Storm Reid) travelling the universe with her brother Charles (Deric McCabe) and her friend Calvin (Levi Miller). Together they attempt to rescue Meg's father (Chris Pine), an astrophysicist, who is being held captive on a distant planet.
The trio are assisted by three "astral travellers", Mrs Who (Mindy Kaling), Mrs Which (Oprah Winfrey) and Mrs Whatsit (Reese Witherspoon).
Just from its first look, the film is incredibly promising. Presenting a science-fictional adventure with stunning and colourful visuals, and a cast rich in ethnic and gender diversity.
In particular, Mindy Kaling, the Desi representative of the cast, plays Mrs Who. She is the only character to speak in riddles. Thus providing Kaling with a challenge as she struggles to speak in her own words.
Elaborating on her role at the D23 Expo, Mindy said:
"This is a character who only speaks in the wisest sayings and it crosses all cultures, all continents, all centuries, and I learned a lot."
Kaling is known for sitcoms like The Office (The US version) in which she served as an executive producer, writer and actress. As well as her own creation The Mindy Project where she played the role of Mindy Lahiri, a character inspired by her late mother.
She has long been an advocate of better ethnic representation on screen. And has regularly spoken about how she has had to create her own roles to find work.
The acclaimed actress also expressed how the lack of ethnic representation spans all genres of Hollywood films. Including the world of science-fiction and fantasy, which is where A Wrinkle in Time sits.
Speaking at a press conference, Mindy revealed:
"I was saying I love sci-fi and fantasy growing up. It's a weird thing to grow up and to love a genre and a fantasy of things, to know that it doesn't love you back because it doesn't show anybody that looks like you ever in it."
"And we were joking yesterday that in some of these fantasy movies and films, it's like you can imagine worlds and planets. And this planet has six moons around it, all these creatures. You can't imagine putting in a black person or an Asian person?
"It's cool to be part of this movie because you can think that the 8-year-old version of Mindy Kaling, that chubby, friendly, Indian girl with big glasses can be like, "oh we are being represented" and I still love sci-fi even though it didn't love me back."
The film was shot in Los Angeles, California and multiple locations in New Zealand that provide us with some the most beautiful scenes.
The soundtrack also features seven original songs, by the Iranian-German composer, Ramin Djawadi. Artists featured include DJ Khalid, Demi Lovato, Sia, Kehlani, Chloe x Halle, Freestyle Fellowship and Sade.
With this movie, Disney proves once again that they are willing to represent people from all corners of the world and make an improvement with their franchises.
The corporation has had previous successful outings with the likes of Black Panther (2018), Star Wars as well as their cultural animated films, Moana (2016) and Coco (2017).
Filmmaker DuVernay revealed: "Mindy Kaling told me on set that she didn't have any young female minority characters to look up to when she was growing up … now our youngest generation won't have that problem."
With this live-action role, Kaling is another prominent Desi actor in film's largest company to be proud of, having seen Riz Ahmed in Rogue One: A Star Wars Story (2016). We will also see Naomi Scott as Princess Jasmine in the live-action Aladdin adaptation, set for a 2019 release.
Reactions to A Wrinkle in Time
Although A Wrinkle in Time has received a mixed response, many film critics have praised the movie for its ability to celebrate the imaginative mind in such a carefree and universal way.
David Erlich of IndieWire writes: "It almost doesn't matter that the movie is too emotionally prescriptive to have any real power, or too high on imagination to leave any room for wonder.
"DuVernay evinces such faith in who she is and what she's doing that A Wrinkle in Time remains true to itself even when everything on screen reads false."
Alonso Duralde of the Wrap adds: "Awash in bold colours, bright patterns and ebullient kids, director Ava DuVernay's new take on A Wrinkle in Time dazzles its way across time and space even if it doesn't quite stick the landing."
https://twitter.com/dave_schilling/status/971248122012856326
.@WrinkleInTime is a movie full of love, heart & magic. It's a universe of wonder. The Wizard of Oz, Pete's Dragon, Alice In Wonderland and more rolled into one. Kids will love it. Great movie for kids & their parents. Congrats, @ava @stormreid @Oprah @RWitherspoon @mindykaling pic.twitter.com/XT9ZUyf6Vf

— Marc Malkin (@marcmalkin) March 7, 2018
Very emotional after seeing #WrinkleInTime. All I can say is @stormreid is a powerhouse! brought me to tears!! RUN TO SEE THIS FILM!!! Thank you @ava and Disney for giving little girls everywhere a superhero. #BeAWarrior

— jurnee smollett (@jurneesmollett) February 27, 2018
The film was screened during the 90th Academy Awards. Jimmy Kimmel and a group of celebrities bursted into the theatre handing out free concessions.
In late February 2018, America's "largest racial justice organisation", Color of Change, announced they would be teaming with AMC Theatres to send underprivileged children to see screenings of the film for free.
A similar move by celebrities in sending underprivileged children to see the Marvel hit, Black Panther (2018).
Watch the trailer for A Wrinkle in Time here: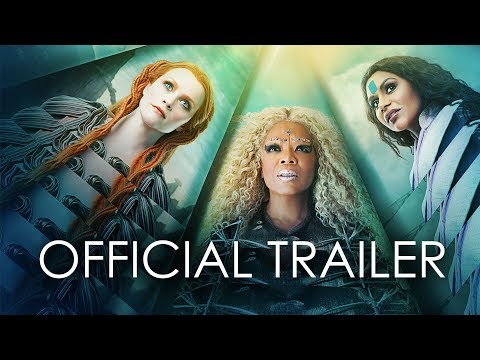 Interestingly, this movie marks Mindy Kaling's first on-screen appearance after giving birth to a baby girl, Katherine.
The actress has seen her career soar following her success with The Mindy Project.
Her latest project is Champions which she co-created. The sitcom premiered on NBC on 8th March 2018.
She also has a role in the upcoming Ocean's Eleven all-female spinoff, Ocean's 8 as Amita. Alongside Sandra Bullock, Cate Blanchett. Anne Hathaway, Awkwafina, Sarah Paulson, Rihanna and Helena Bonham Carter.
The film will also feature an extensive list of celebrity cameos. Including members of the Kardashian-Jenner family, Zayn Malik, Serena Williams and more. The confirmed release date is 8th June in the US.
A Wrinkle in Time will release in UK cinemas from 23rd March 2018.