"I wanted to bring international attention to LGBTQ issues in India"
A film which raises social issues in India, 5 Weddings, is a production starring both American and Indian stars.
The story follows an American journalist, played by Nargis Fakhri, who travels to India to cover the five main ceremonies at Indian weddings, and falls in love with her vibrant surroundings.
This romantic comedy features Shanie Dhaliwal (Nargis Fakhri) playing the journalist who uncovers a spectrum of clashes in culture and taboos associated with transgender communities in India, known as Hijras.
Alongside Fakhri, Rajkummar Rao, of Newton (2017) fame, plays Indian cop Harbhajan Singh, Golden Globe nominee Bo Derek plays Mandy Singh Dhaliwal, and Academy Award nominee Candy Clark plays Claudia Burrel.
The movie is directed by Namrata Singh Gujral, a female Indian American filmmaker and actress.
Gurjal found it important to highlight the issues that Bollywood fail to address and sought out the responsibility to do so with 5 Weddings, saying:
"I've always focused my films on subjects that drive social awareness with entertainment. With this film, I wanted to bring international attention to LGBTQ issues in India."
Despite her heritage being Indian, the character of Shanie is certain she is not the right person for the job, highlighting the fact that she's from "Orange County" (California) but her editor insists that she goes.
In hopes for a promotion, Shanie travels to India only to end up enthralled with the transgender dancers, commonly known in India as Hijras.
This unexpected fascination with Hijras inspires her to write her article on the inequality issues and the mistreatment that the Indian transgender community face.
The exciting culture unifies Shanie with her Indian heritage as she continues to bond with her homeland and discover more.
However, further complications arise for Shanie as she falls in love with officer Harbhajan Singh whose job is to shadow her story and keep her from exposing the truth about transgenders.
This is the second Hollywood project for both Indian actors Fakhri and Rao.
Rao is seen in the London and Birmingham Indian Film Festival 2018 premiere Love Sonia alongside Frieda Pinto, and Fakhri featured as a villain in blockbuster movie Spy (2015) with Melissa McCarthy.
Identifying with her character, lead actress Nargis Fakhri says:
"I love how Shania is American but has a multi-ethnic heritage and is forced to connect back with her roots, which ultimately becomes life changing for her.
"My life has an almost identical story."
Female director and filmmaker Gujral believes that both lead actors have the potential to develop their success in acting to Hollywood, adding:
"I'm happy to see how Raj's path as an actor is so exciting right now. With 5 Weddings, I am thrilled to present him in a totally different avatar.
"This is her [Fakhri's] best work to date. She will blow you away"
Interestingly, the film was supposed to be made in 2008 with Namrata Singh Gujral and Punjabi singer/actor Harbhajan Mann in the lead roles.
However, due to a battle with cancer for ten years, Gujral chose to direct the film instead with Nargis playing Shanie Dhaliwal and Rao playing Harbhajan Singh, whose character was originally called Rahul.
Academy Award nominee Candy Clark believes that the movie draws parallels to My Big Fat Greek Wedding with its romantic storyline of a successful woman who inevitably falls in love with a humble man or her home country.
Watch the trailer of 5 Weddings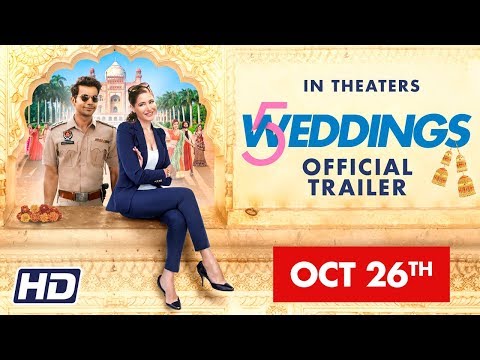 This vibrant romantic comedy is set to hit theatres globally including Australia, Malaysia and Poland as of September 21, 2018.