"I knew of the hijras and was always curious about them"
Bollywood actress Nargis Fakhri is gearing up for the release of her second Hollywood project, 5 Weddings, a romantic comedy with a strong social message.
5 Weddings follows the character of American Journalist Shania Dhaliwal (Nargis Fakhri) who travels to India to cover the colourful and vibrant Indian wedding ceremonies.
During her research, She discovers clashes in culture and taboos which associate with transgender communities in India, known as Hijras and their role in weddings.
The film also stars Rajkummar Rao who plays Harbhajan Singh, a government liaison officer who is assigned to shadow Shania whilst she is reporting for her story.
Other actors in the film include Golden Globe nominee Bo Derek plays Mandy Singh Dhaliwal, and Academy Award nominee Candy Clark plays Claudia Burrel.
In an exclusive interview with DESIblitz, Nargis Fakhri shares her thoughts on the social message of the film and why she chose to play the role of Shania Dhaliwal.
What attracted you to the role of Shania Dhaliwal?
"I felt that I was reading a part of my own life when going through the script.
"I really felt connected to the character and just knew that I could really bring a lot to the role."
Much like her character Shania, Nargis also made the move from America to India, starring in Imtiaz Ali's Rockstar (2011) alongside Ranbir Kapoor.
As well as shedding light on the radiant Indian wedding ceremonies, 5 Weddings also has a sub-plot which delves into the lives of the transgender community in India.
Known as the Hijra, the transgender dancers have been instrumental in Indian wedding ceremonies for years.
In the film, Shania becomes fascinated by the Hijra and wants to learn more about them, to the displeasure of Officer Harbhajan Singh, who has been instructed to keep her story censored.
What was your prior knowledge on 'Hijras' before doing the movie?
"I knew of the hijras and was always curious about them and their lifestyles and lives.
"So this was a very interesting project in that sense."
The Hijra community is officially recognised as a third gender in countries in the Indian subcontinent.
The word 'Hijra' is translated into English as 'eunuch' or 'hermaphrodite' which is the irregularity of the male genitalia.
As social issues are being represented within the film, Nargis told DESIblitz about how important it is to talk about stigmatised subjects.
With the message behind 5 Weddings, could there be any backlash?
"I don't think there will be a backlash.
"If so then I just feel people are being a little ignorant and lacking compassion for others and that has nothing to do with me or the film but with the person who feels a certain way.
"Filmmaking is what can actually bring forth the social issues we face in society, and it's our jobs to bring forth those issues to the public.
"I like when I can watch a film and can learn something from it.
"I think it's important that we have knowledge and are shown what is going on in the world."
Global Citizen Nargis is a keen advocator for social issues, having previously worked with Ketto, an online crowdfunding platform, raising money and awareness for social issues including education of the girl child in India.
What social causes are close to your heart?
"I try to participate in bringing awareness to various social causes, but my focus is more on women empowerment and preservation of our environment and animals."
5 Weddings boasts an impressive ensemble cast of both Indian American and Indian actors. Nargis told DESIblitz about the excitement and fun she had when doing the film.
What did you enjoy most when shooting this film?
"I enjoyed working with my co-actor and director.
"The entire team was a delight to work with.
"Also working on an English speaking film in India was a delight."
"We were always laughing during the film because everyone had a great sense of humour."
How will fans react to the film?
"I actually think fans will like this film.
Besides the social messages Namrata bring forth, the film is a fun and light-hearted film."
Can we expect wedding bells for you soon?
"As much as society has pushed into our minds that getting married is an important part of life, I feel like it would be nice to get married someday but it's not a priority."

The soundtrack of the 5 Weddings includes melodic song 'Na Chah Ke Bhi' which is sung by Vishal Mishra and Shirley Setia.
Mika Singh has lent his vocals for upbeat, peppy track 'American Beauty' also featuring Prakriti Kakar, Miss Pooja and Kaur Sisters.
5 Weddings has all the ingredients for a fun film, with a love-story between Nargis and Rajkummar's characters, social issues being explored and a fusion of Indian culture and American culture.
Watch the trailer to 5 Weddings: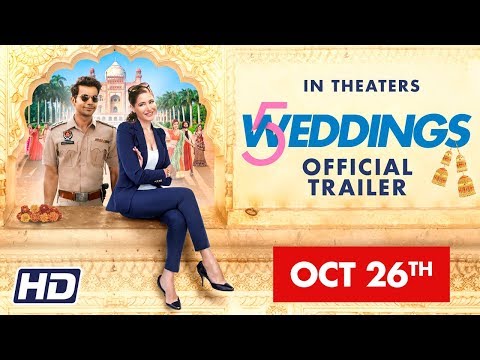 Catch Nargis Fakhri in 5 Weddings which releases from 26th October 2018.