"Shooting Makhna was a thrilling experience."
Yo Yo Honey Singh has taken over the charts with his latest single Makhna which delivers a strong Latin American flavour in the video for the song.
The upbeat song has become a huge favourite among fans as it combines contemporary Indian music, Punjabi and English rap lyrics with underlying Latin tones.
2018 was a great year for Honey Singh as he delivered many catchy songs such as Dil Chori and Chote Chote, both from Bollywood film Sonu Ke Titu Ki Sweety.
It seems the music director and songwriter has carried his success into 2019 with Makhna, which was released on December 21, 2018.
Honey Singh is known for showcasing new talent and taking Indian music to an international level, Makhna does both.
Makhna features a number of talented artists such as Third Degree Originals and Singhsta.
The song's popularity provides a platform for these musicians to showcase their contributions to the track.
Honey Singh continues his trend of putting India on the worldwide map, by filming the music video for Makhna in Cuba.
When creating the music video, the team wanted a carnival look so they decided to shoot in a Latin country. They initially thought about Puerto Rico and Columbia before deciding on Cuba.
Directed by Spanish director Daniel Duran, Makhna took seven months of creative planning before the shoot.
Talking about the song and making the uniquely inspired video, Honey Singh said:
"Shooting Makhna was a thrilling experience. I love exploring new places and I felt Cuba was the perfect location to shoot the song.
"It took me seven months to prep for the song and it gives me immense pleasure to see the kind of response it has been garnering.
"I also found new young talents for this song, like a 15-year-old."
The music video is full of vibrancy and colour in every scene and when accompanied with the lyrics, there is a distinct carnival theme on the Cuban streets and a touch of a beach party.
Yo Yo Honey Singh said:
"Makhna has a very celebratory vibe and is shot against a carnival setting bringing in the party mood.
"The Latin and Spanish flavour of the song adds to the quirk and celebration making it a perfect pick for the festive season.
"It has been extremely overwhelming to see the tremendous response of the audience to my comeback song.
"It is the love of the audience that keeps me inspired to do better every passing day."
It also features Yo Yo Honey Singh playing it cool as he tries to get with the girl he likes.
Makhna with its welcomed popularity will be surely heading towards passing 200 million views.
Watch the music video for Makhna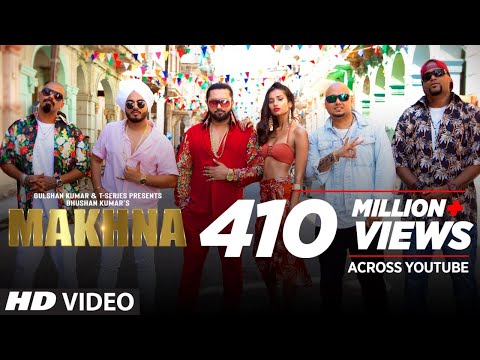 On the real love and marriage side of things, on January 23, 2019, Honey Singh shared a throwback photo of his wedding to his wife Shalini.
It was to mark their eighth wedding anniversary to each other as he took to Instagram to showcase the occasion.
Honey wrote: "Wish me n my wife 'Happy Shaadi Day to us."
As soon as the picture was released, fans wished the couple and the post quickly reached over 570,000 likes.
Yo Yo Honey Singh went through an episode of mental illness after his huge rise to fame in Bollywood. Most know it was due to his extremely busy schedule, exhaustive travelling and non-stop commitments to recording and performing.
It can be said the Yo Yo Honey Singh was a pioneer in establishing rap music in India at a highly popular level stemming from his very early anthem hits like Lakh 28 Kudi Da.
It was not until 2015 until he made his initial comeback after his absence for some time from the Indian music scene. Thereafter he's been busy releasing new songs, performing with Bollywood stars, reviving old ones and making music again.
Physically, he does look different from the past with a more bulkier build and a change in hairstyle for Makhna. But most are classing this song as his real comeback to regain his status.
Makhna has already become a massive hit and no doubt this offering from Honey Singh will only become bigger as the year goes on, along with his new releases to hit the scene.