"I would run home from school just to swing around New York City"
Superhero video games have become ever increasingly popular especially in the 21st century.
With the highly anticipated release of 2018's Sony PS4 exclusive Spider-Man, it would be a perfect time to outline the best incarnations the video game market has brought to us so far.
There are many variations of superhero video games brought before us. A number of which have been inspired by the likes of the Grand Theft Auto or the God of War series.
Majority of superhero video games are released as tie-in's to compliment the films of the same name. However, there has been particular titles that have been inspired by the comic books themselves, providing original stories exclusive to players.
With a long list of titles to consider, let's check out DESIblitz favourite superhero video games.
X-Men Origins: Wolverine: Uncaged Edition (PS3, Xbox 360, PC)
Developer Raven Software decided to take a different approach to Wolverine's previous portrayal in video games, making it a hack and slash action adventure. The game included blood and gore that was missing from the film, resulting in the game being a rated R.
Yash an Indian gamer on Reddit says that even though it was "not objectively one of the best superhero games but it's my personal favourite. Wolverine is my favourite superhero and it was so cool to see the character done justice".
Even Yash agrees that the game was "Bloody af!!" and that "It was so damn satisfying to play that never got boring for me."
Yash also highlighted how he appreciated the fact that Hugh Jackman reprises his role from the films in the game.
Pointing out "90% of the time he's screaming, but it's badass nonetheless" and being
"just a damn fun mindless action game."
Wolverine finally aged to achieve his iconic 'berserker rage' as represented in this game in 2017's Logan.
Spider-Man 2 (PS2, Xbox 360, GC, PC)
Spider-Man 2 was another video game based on the movie of the same name. The game was notable for being the first ever Spider-Man game to swing around New York City freely.
Sukhdeep a gamer in the UK agrees to say even after completing the main story:
"I would run home from school just to swing around New York City, doing errands just as delivering pizzas or stopping random crime events."
The game is one of the best Superhero games released. It is continuously compared to when audiences look to upcoming Spider-Man video games.
Spider-Man Web of Shadows (PS3, Xbox 360, Wii, PC)
Now, this may generate some controversy, but many can argue that Web of Shadows is a very underrated video game. It features all the great components of Spider-Man 2 while redefining the combat and swinging mechanics.
The game also has an original storyline not based on a motion picture or comic book.
Umesh Bhatt from Pulse Pixel Ltd, UK, felt that the game was his favourite superhero video game.
One reason was that Spider-Man was one of his favourite superheroes from a young age. A popular choice amongst other South Indian audiences.
The second reason was that he felt that the game portrayed similarities to a "superhero version of Rockstar's Grand Theft Auto, with the free mode swinging and interactivity with other people and objects".
Batman: Arkham Asylum (PS3, Xbox 360, PC)
The Batman Arkham video franchise has become an increasing huge franchise since 2009.
Many South Indians agree that it managed to innovate what people perceive as the definite Batman video game.
Harsha a Reddit Indian gamer appreciated what the developers Rocksteady accomplished in the game and says that he "Loved playing as Batman".
This was a feat that had not been accomplished in a Batman video game prior to the release of 2009, with the addition of taking into account Batman's comic lore and insightful rogue's gallery of villains and using them in innovative ways to set them up for future sequels.
Saints Row 4 (PS3, PS4, Xbox 360, Xbox One, PC)
Saints Row originally started off as a GTA clone, yet developer Volition has been insistent on creating over the top gameplay with their sequels which they achieved with the fourth instalment.
The fourth game focused heavily on giving the protagonist superpowers instead of focusing on the street level action as the previous instalments did.
This proved to be successful as Siegel an Indian Reddit gamer argues that "If you were expecting another GTA clone, you expected wrong".
He says the game has to be:
"Hands down, one of the best character customization sliders in any single player game."
He did take into account that the inclusion of superpowers did make the game "far removed from the rest of the series". The superpowers would 'negate any need for traditional methods of traversing'.
Yet beyond that still argues that it is a "mechanical sound game where all the powers work in tandem perfectly".
Siegel concluded by saying that "Heck, it's the best Superman game. And it doesn't even have Superman".
Marvel vs. Capcom 3: Fate of Two Worlds (PS3, Xbox 360)
The Marvel vs. Capcom series is a crossover fighting video game. It takes the best characters from Marvel: Spider-Man, Wolverine, Hulk; with the best characters from Capcom: Street Fighter, Mega Man. The combination of both led to an innovative franchise proven by continuous instalments.
Ashan Herath a gamer from the UK argues that the third instalment "brings the crazy level of fighting from Street Fighter and pairs it with Marvel Heroes".
He also says that the style of fighting was easier than other crossover games such as Injustice where because:
"It is easier and more fun to just pick up and play for some insane action fights".
We hope you enjoyed this list of superhero video games.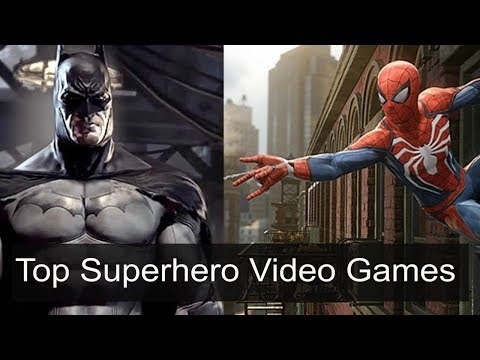 If you feel that we missed one of your favourite superhero video games we shall try and include it next time! In the meantime, try these games and see what you think!
Loading ...