One of the best shooter campaigns we've played in years
Titanfall 2 is a first-person shooter with two different major styles of gameplay that mesh incredibly well.
These two styles can be used within the fantastic single-player campaign and the addictive multiplayer mode.
Fans of shooters need to own Titanfall 2.
A New, Welcome Addition
During the original Titanfall's release, it faced criticism for not having any single-player options.
Taking this on board, developer Respawn Entertainment included a full single-player campaign in Titanfall 2.
Players wouldn't be blamed for worrying that this could potentially be a subpar, tacked on game mode.
Thankfully this is not the case. Titanfall 2's single-player offering is actually one of the best shooter campaigns we've played in years.
Promoted to Pilot
Gamers play as Jack Cooper, a rifleman from the Frontier Militia. During the game's opening, Jack receives a promotion to become a Pilot. This certifies him to use the game's giant robots, known as Titans. The Titan assigned to Jack is named BT-7274 (BT for short).
Since BT has his own artificial intelligence, he's his own character. Throughout the campaign, BT and Jack develop a relationship. This relationship is surprisingly human. It's one of the driving factors as to why Titanfall 2's single-player is so great.
Each mission in Titanfall 2 is super fun due to the fantastic integration of the game's two gameplay styles. When playing as just Jack, gamers will experience a well-designed, fast paced first-person shooter with the addition of parkour. Think Call of Duty with free-running.
Jack and BT can fight side by side or Jack can jump into and pilot BT. This results in a slower, but somewhat more strategic style of gameplay. These two modes contrast each other incredibly well.
Pilot vs. Pilot
The awesome multiplayer modes really highlight Titanfall 2's tight controls and smooth gameplay. It brings over the same great gameplay from the campaign. Players are now pitted against other players and computer-controlled enemies at the same time.
Titanfall 2's multiplayer also includes a deep unlock system and player customization with custom loadouts. This allows for a wide array of play styles.
In addition, Titanfall 2's developer Respawn Entertainment have stated that future content, such as new weapons and maps, will be completely free!
This is nice to see in the gaming industry. In the past, developers have charged players for map packs and season passes. This usually results in the division of player bases. So well done Titanfall 2!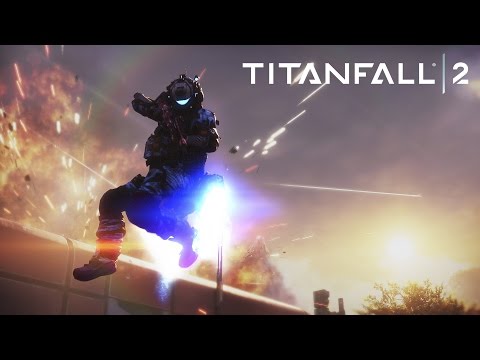 Full of Variety
Overall, Titanfall 2 is a fantastic gaming experience. The single-player campaign that focuses on the interesting relationship of Jack and BT is fun and varied.
This, along with the fast-paced, deep multiplayer mode results in a game that we'll still be playing for the foreseeable future.
For those who have an interest in shooters, get Titanfall 2.