"The purpose of Situations is mostly to make sure the player gets comfortable with specific mechanics."
With the first major release in the series in seven years, Rainbow Six: Siege is Ubisoft's biggest multiplayer game of the year.
A tense, fast-paced first person shooter with a strong emphasis on teamwork and environmental awareness, it will provide a unique experience.
The ambitious game will aim to redefine tactical action in the genre.
DESIblitz looks at how the game plays and what to expect in the post-launch period.
Gameplay
Rainbow Six: Siege is a multiplayer-focused title, considered to be the spiritual successor to the cancelled Rainbow Six: Patriots.
Players take on the role of an operator from the counter-terrorist unit of the Rainbow Team – an elite force made up of members of the British SAS, American SWAT, French GIGN and others.
Tasked with diffusing a series of sieges instigated by the mysterious White Masks, players have to cooperate with their teammates and plan ahead in order to survive each encounter.
Nine maps are made available at launch. They are small and claustrophobic, with a number of destructible elements that allow for a variety of tactical approaches.
The game runs on the AnvilNext 2.0 game engine, used in other Ubisoft titles such as Assassin's Creed: Syndicate and For Honor.
Various Modes
Replacing Campaign mode in Rainbow Six: Siege is Situations mode.
Situations acts as a part-tutorial, part-puzzle mode in a series of 11 challenges that pit a lone player against groups of enemies, that require different kinds of tactics to take on effectively.
Animation director Scott Mitchell says: "The purpose of Situations is mostly to make sure the player gets comfortable with specific mechanics."
Situations will lead smoothly into the game's focus: multiplayer – a tactical take on the traditional team death match.
Five players assume their roles on the Rainbow Team, while five others are the White Masks.
The White Masks are tasked with seizing a hostage and securing a location, reinforcing their stronghold and preparing a variety of traps to help defend their location.
The Rainbow team is tasked with taking out the White Masks and rescuing the hostages.
The basic PvP mode takes place in three-minute rounds, with a short period during which players can plan their attacks before the round starts.
Players can breach walls and ceilings to surprise their enemies, or flush them out with flashbangs and gas grenades.
At launch, the game will have a choice of 21 operators, 10 for each side and a customisable 'recruit' operator who can be used on either team.
Each operative will have a specific loadout and skill set for combat, so players will have to work together to get the most out of their abilities.
For example, the Thermite operator carries explosives that can breach reinforced walls, while the Pulse operator has a device that can detect opponents through walls.
There are a number of difficulty settings for all modes, including 'realism' where all shots are one-hit-kills, delivering a tense affair for players.
An additional game mode has been announced, which is a five person cooperative, objective-based horde mode against enemy AI called TerroHunt.
The spectator mode in multiplayer matches differs from similar modes in other games, in that it allows an additional player to join the game as 'audience'.
The camera will allow a player to follow any other player on the map in first and third person, or take a top down strategy view.
Spectator mode is likely to prove popular on game streaming sites like Twitch, giving the game a welcome boost in competitive gaming circles.
Watch the gameplay trailer here: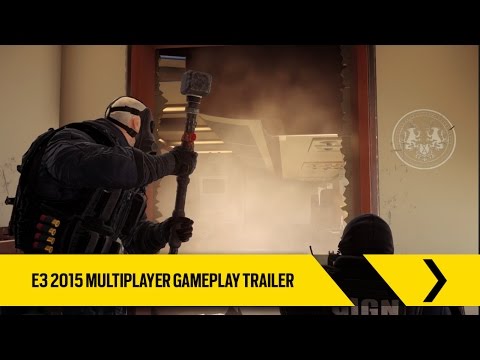 The Year One Roadmap
Ubisoft envisions Rainbow Six: Siege as a long term service and has planned a full year of downloadable content.
Starting in January 2016, major content such as new maps, operators, weapons and game modes will be available for free download.
A season pass is still being offered, even though significant gameplay content is free.
In the case of new operators, around 25 hours of playtime are required to unlock each one.
Alternatively, players can instantly unlock the new characters by using an in-game currency that can be bought with real money.
Purchasing the season pass will unlock all the free content instantly. It will also grant permanent boosts to experience rates, allowing players to rank up faster.
This is comparable to the typical booster packs which can be purchased for a number of free-to-play games.
The 'no paywall' approach to marketing the game is a welcome change from the slew of big budget games, offering empty promises on expensive season passes.
It is a concern for some critics, however, in how much of the game design has been impacted by the freemium design of the season pass.
The presence of a premium in-game currency is something of a sore point for some gamers.
In addition, it has been confirmed that progress in the open beta, running from November 25 to 29, 2015, will not be carried over to the main game.
From December 1, 2015, gamers will be able to experience a distinctive and evolving multiplayer experience.
With a number of major updates expected throughout 2016, we anticipate a long shelf life for Tom Clancy's dynamic Rainbow Team.