"The untold story of forgotten soldiers fighting on a forgotten front."
Battlefield V is the latest in the first-person shooter franchise and releases on Tuesday, November 20, 2018.
It is the sequel to 2016's highly successful Battlefield 1 and fans are eagerly waiting for the game's release.
The game continues on from its predecessor by focusing on World War II.
Battlefield 1 is one of the best games of 2016, with many people praising the unique and refreshing setting.
The intense realism of World War I was a major positive. This is despite many initially stating that a World War I themed game would be a risk.
It was commercially successful and may have even changed the way first-person shooters will be developed in the future.
While much of Battlefield V's gameplay is similar to its predecessor, new features will appeal to fans.
Trailers have already given gamers a preview of intense battles and the immense graphics. This is something to look forward to.
We look at the key features to expect in Battlefield V and if it is as explosive as the previous game when it hits shops.
Single-player mode
Battlefield V's single-player campaign is divided into episodic chapters. Compared to the previous game, they delve much deeper and are more meaningful.
They are appropriately titled War Stories, three of which are available at launch.
Each story is its own unrelated tale, each with multiple missions forming a narrative arc.
Developers EA DICE described War Stories as "the untold story of forgotten soldiers fighting on a forgotten front."
They drop players into France, England and Norway to fight alongside the Allied Forces during World War II.
Players lead a young Norwegian resistance fighter through occupied Norway in "Nordlys". She desperately attempts to rescue her mother and free the country.
In the War Story "Tirailleur", gamers take control of a French colonial soldier from Africa.
He fights for the liberation of France, a country he has never seen before and one which does not accept him.
"Under No Flag" sees gamers play as Billy Bridger, a criminal who is given a chance to redeem himself.
After being released from a London jail, he battles alongside a Special Boat Section unit and takes part in Operation Albumen.
Each location is brought to life, with many buildings beautifully crafted to give players a fully immersive setting.
While other campaigns will release after the game's release, these three promise to have large-scale cinematic moments.
Multiplayer
Battlefield fans will be excited to know that the popular large-scale multiplayer modes are returning.
It is one of the most fast-paced military shooters, fully selling the chaos of war.
EA DICE's goal with Battlefield V is to bring it back to its roots in World War II. This is coupled with modern graphics and new gameplay mechanics that players expect.
Each map is visually stunning, with buildings collapsing into rubble as matches progress.
While there are a number of classic match types to jump into, Battlefield V also has new ones for gamers to enjoy.
The first is titled 'Combined Arms', allowing up to four players to take on cooperative, raid-like engagements with multiple objectives.
It features a risk-for-reward element, with the last objective being the most difficult.
Teams have to decide if they want to attempt the final objective, or if they want to extract with what they have earned so far.
It is a choice that they must make in the heat of an intense battle against the opposition.
'Grand Operations' is a giant 64-player affair played out over three or four individual matches.
Each match influences the next. The first may see one side defending several artillery guns while the other team is trying to destroy them.
Depending on how many guns survive the first match influences the balances of forces in the next battle.
If it ends in a draw, a sudden death battle will be triggered where each player has only one life during the match.
Eight in-depth multiplayer maps will be available at launch, promising heaps of fun.
Battle Royale Mode
The developers also confirmed that Battlefield V will also have a battle royale mode.
While other games like Fortnite are highly popular thanks to this mode, Battlefield V's will be different.
Dubbed 'Firestorm', it enhances battle royale mode by mixing trademark elements like team play, powerful vehicles and destruction with a shrinking playing field.
From the moment your character parachutes down, you and your team wage all-out war against 15 other teams.
The intense battle royale takes place on the largest Battlefield map ever created. You and your team battle to become the last ones standing.
While 'Firestorm' is likely to be the most popular game mode in Battlefield V, it will not arrive in the game until March 2019.
This is a blow for many fans and a risk for the developers as the trend of battle royale games may die down by March.
However, it is one they are taking in the hope of making the mode the best in that category.
Gameplay
Battlefield V features many tweaks, enticing new gamers as well as pleasing Battlefield veterans.
EA DICE aims for a more physical feel to the combat to further immerse gamers in the experience.
The destruction, which was a focal point in Battlefield 1, is amped up and more physics-based.
Many buildings can be damaged, both by gunfire and by crashing vehicles through them.
Rather than collapsing all at once, buildings degrade over time depending on how a projectile or vehicle impacts it.
Parts of the structure also pose a threat to players. Large pieces of debris can fly out of buildings and potentially hit your character.
Also, dangling pieces could fall down so it is best to watch out before entering a building.
However, this is avoidable because, for the first time, players can repair them for cover.
Every player has a toolkit to build fortifications like sandbags to help against enemy fire after they enter build mode.
Shooting has also been developed so that it is more controlled. You can manoeuvre yourself while shooting like aiming 360 degrees while prone.
This allows you to defend yourself from sneaky enemies shooting from obscure angles.
Game engine Frostbite has created the terrain so that it will affect movement.
Soldiers now have to high step through shallow water and may even slip on rocks. Players can feel it in-game and other players will react to it.
In addition, the scenic environment reacts to your movements, with grass parting and rustling as snipers sneak through.
Battlefield V's gameplay changes have made it more tactical because gamers will no longer be able to mark enemies as icons to spray bullets at.
Healing and reviving injured comrades is also more difficult. Both take time and thought before making a decision.
But you can now drag your hurt teammates to safer locations before healing them.
Watch the Official Reveal Trailer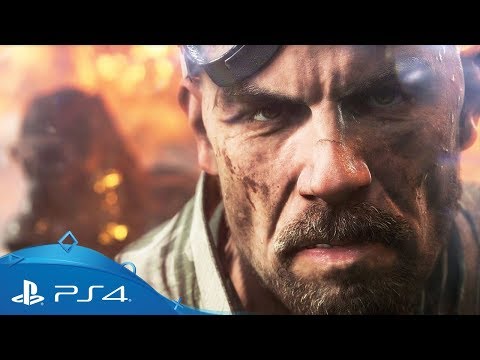 The Battlefield series has always been one of the most successful first-person shooters and the latest will certainly prove why.
It showcases the past of World War II with stunning modern-day graphics to create the best possible gaming experience.
The developers have added more new features for intense realism and to attract new fans that previously would not have picked up a Battlefield game.
The gameplay mechanics showcase the brutality of the actual war which is something future first-person shooters can look at.
It is one which gamers will not have to wait long for. Battlefield V releases on Tuesday, November 20, 2018.