"WrestleMela 2020 will take place from 2020 in AJK"
Shak Khan also familiar as Raja Sony Palwan is a famous UK based wrestler and coach, representing AJK (Azad Jammu and Kashmir) – Pakistan.
Despite being born in AJK, Shak came to the UK at an early age. Shak has learnt wrestling the hard way, taking on the challenge of open fights early on his career.
Bob Barron, a prominent British promoter and manager of Shak, gave him the catchy nickname 'Beast from the East.'
Former wrestling champion of AJK, Kashmir Ali Shan and British world of sport wrestler "Dangerous" Dave Duran (John Palin) have had a major influence on his career
Shak has many accolades to his name. Becoming the official heavyweight professional wrestling and shoot wrestling champion of AJK-Pakistan top the list.
Flying the flag of his country, the Blackpool resident has fought in twenty countries, learning a range of fighting skills and techniques.
In an exclusive Q&A with DESIblitz, Shak Khan discusses wrestling, his inspiration, career highlights and future.
How did you first develop an interest in Wrestling?
I would watch World of Sport Professional Wrestling every Saturday at 4 pm on TV. I was in awe of these sportsmen/characters who had their own kind of fighting style.
Some would break the rules and be the 'baddies' and then the  'goodies' who were clean and competitive unless they had a match up against each other. The crowds would be in a frenzy.
These showmen/athletes would have certain ring names and individual costumes. And I would watch in amazement these professional fighters who would grapple with each other in a ring.
There would be characters such as Giant Haystacks and his rival Big Daddy who actually lived in the same town as me, Halifax, Yorkshire.
Every episode of TV wrestling would keep me on the edge of my seat at home. And I would always tell my family that I wanted to be a professional wrestler.
Growing up, who was your favourite wrestler and why?
My favourite wrestler at the time was Dave Duran who regularly appeared on the World of Sport TV shows.
Dave was a very stocky shaven-headed wrestler with broad shoulders who reminded me of my favourite actor Burt Reynolds.
Dave was a very strong competitor. Despite being about 19 stone, he was agile.
I would watch in awe how he would beat every opponent, often leaving his rival beaten and bloodied in the ring.
What did you know about British wrestling before arriving from Pakistan?
I was only 5-years-old when I left my village Sochani near Dadyal in Azad Kashmir to the UK. I had never seen or heard of this sport.
It would be only another three years later when In would be getting into daily scraps with other kids in school.
"I was bullied in school, but I believe karma helped me to beat up the school bully."
I remember seeing his six other friends carry him off away from me with a bust lip and a bloodied nose.
What are the highlights of your professional wrestling career?
I was trained in the brutal art of prizefighting, accepting open challengers from anyone at the wrestling challenge booths.
I spent the first five years every weekend putting up and also dismantling a ring, getting beaten to a pulp by other senior professional wrestlers.
They would test me in the most painful ways possible to see how rough and tough I was as part of this elite troupe of wrestlers.
After paying my dues, I was the only Pakistani prize-fighter taking on open fights.
Also winning the 1988 Official World Wrestling title belt of AJK- Pakistan during a three -day tournament held in Dubai. I was only 25-years old at the time and won this title of a 20,000 packed crowd.
I also went onto perform with some WWE talent on a trip to Kuwait in 2009.
On fight day what are you normal rituals?
I would start the day with prayers, then spend as much time with my family because my sport of professional wrestling is a very dangerous sport with high risk.
Then I would travel to wherever I was booked in the UK. However, mostly my appearances would be on the international world circuit.
After each match, I would always ask the promoter of the show whether my opponent was in good health and with no serious injuries.
I would always call my family to let them know I was fine.
"Doesn't matter how old we are, I am still a young boy to my mum."
What's your opinion about the risks of competing in the ring?
You could be the strongest and most conditioned wrestler in the world.
But it only takes a simple trip, slip or fall in the ring and you could easily break bones, have fractures, ligament damage, back pain, spasm or sciatica.
So every professional fighter must be in the very best shape and be strong both physically and mentally.
I have had two pints of blood lost because my opponent had got hold of my Arabic sword, which I would carry to the ring. He grabbed it sliced and sliced my forehead open as the sword was extremely sharp.
Thankfully I have not had any serious injuries. I am always in good health, conditioned and train every day.
Finally, what lies ahead for Shak Khan in the future?
"WrestleMela 2020 will take place from 2020 in AJK for the very time in the sport's history of Azad Kashmir."
This will be a live professional wrestling event featuring selected desi wrestlers from Gujranwala to showcase their style of wrestling.
They will not be performing in sand-mud, but compete in a full-size professional wrestling ring.
The main event will be me (16 stone weight – unbeaten/present AJK Heavyweight Champion) vs The Road Warrior Dave Duran (20 stone weight unbeaten/most feared wrestler) in a 12 x 5 wins match.
The winner will receive the Official Rustam-AJK-Pakistan 'Gama Pehlwan' World Title Belt. If I am the winner I will also become the official heavyweight professional wrestling champion of AJK-Pakistan.
At this event, there will be a public collection for small donations from the spectators, with proceeds going to the KORT charity of underprivileged children.
"WrestleMela will be held annually in different areas, towns and cities of Pakistan."
I will also open a pro-wrestling academy to teach desi wrestlers so that they progress from amateur to the paid professional level.
Those that stand out, showing dedication and big hearts, will be signed by my profession – Pakistan Championship Wrestling Promotions.
Watch highlights of Shak Khan in action here: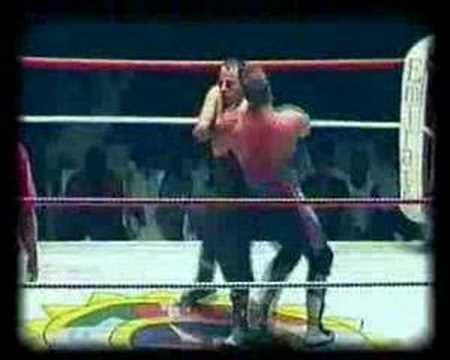 In the ring, Shak Khan had a tendency to use strength for overpowering his opponents.
He would then attempt to slow them down using some lethal submissions such as armbars, leg locks and chokeholds. He got to learn the latter from his mentor Dave Duran.
The most bizarre wrestling place for Shak is the ice rink at Blackpool Pleasure Beach, which was quite cold for someone wearing nothing but a pair of trunks.
The spectators in the rink were wearing their hats, gloves and scarves, yet it was scorching hot weather outside.
During a thirty-year illustrious career, Shak has always remained positive and determined. He has never given up on his dreams, goals and ambitions.
As a true sportsman, Shak Khan is giving back to the wider community. He offers training, coaching and mentoring to youngsters who genuinely want to learn the ropes of wrestling.
There is nothing stopping Shak Khan, as he continues to grow the sport wherever he can.