"I'd rather pay more for a drink that's better quality"
The name Seedlip is certain to become increasingly familiar to drinkers and non-drinkers alike. The high-quality brand that appeals to many is offering their third spirit in the collection, called Grove 42.
The brainchild of Ben Branson after a sickly-sweet mocktail, the impressive nature inspired company have become pioneers in a range of non-alcoholic distilled spirits.
Seedlip spirits feature in UK's most esteemed Michelin-starred restaurants and top-rated bars. The Edgbaston Hotel in Birmingham is closely working with the brand.
The latter has the accolade of the best cocktail bar and hotel bar in Birmingham – so they know their drinks. With distinctive and high-class branding, Seedlip spirits nestle perfectly in the bar's extensive drink selection.
Equally, whether sipping it with a simple soda or experimenting with a more complex cocktail, Seedlip adds something special to a non-alcoholic drink rather than acting as a replacement.
Evidently, this is the reason why the award-winning British Asian chef, Aktar Islam, stocks them in his upscale Indian restaurant, Opheem, alongside many other excellent restaurants.
Tommy Matthews, the winner of 'Emerging Bar Tender of the Year' at the Class Bar Awards 2018, also believes Seedlip are onto something good.
We live in an age when alcohol consumption has decreased in favour of mindful drinking. Therefore, perhaps we will be seeing Seedlip in more and more places and maybe in the Desi household.
DESIblitz takes a closer look at the Seedlip story, range and new Grove 42 spirit.
Sowing the Seeds
Seedlip identifies as a nature company and this is a key part of their story. The unusual name comes from Ben Branson's familial history of farming. Hand sowing seeds use baskets known as 'seedlips.'
After discovering a medical book on herbal remedies, Branson did some experimentation, combining it with his heritage and love of nature. The end result was Seedlip drinks.
The drinks are non-alcoholic but crucially avoid the high-sugar content of mocktails. Rather, the high-quality branding moves away from this to present a range of distilled spirits.
Although distillation evokes the idea of gin, it is essential to understand that Seedlip's bespoke process of distillation does not include the juniper necessary in gin.
They additionally avoid additives after distillation, favouring instead the best and unusual ingredients from around the world.
Furthermore, it is obvious how the company has paid a great deal of attention to branding. In the age of social media, people will want to see how Seedlip products look visibly, along with how they taste.
Slim glass bottles feature the serif font of the Seedlip name. While clever and quirky illustrations take inspiration from the ingredients to form the faces of animals.
Leela, a 24-year-old retail worker, comments on the bottles:
"I like how pretty they are! Something like this would be great to give as a gift as sometimes it's hard to find a thoughtful present for people who don't drink.
"Flowers and chocolate are nice but can get a bit boring or aren't great for people with allergies or on diets.
"Definitely thinking about this for future Secret Santas!"
In short, there is a thought process behind the story and brand of Seedlip. Nevertheless, it is interesting to see how this applies to the drinks inside.
Watch a video on the history of Seedlip here: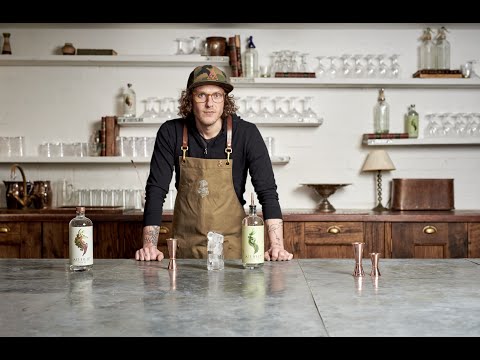 Garden and Spice
The Seedlip range boasts three interesting concoctions that distil six botanicals and spices in copper pot stills before blending and filtering them into eye-catching bottles.
The first, Garden 108, celebrates the English countryside with the freshness of peas, hay, spearmint, rosemary, thyme and lemon hops. It is a veritable botanical bouquet.
In fact, the unmixed version of Garden 108 smells as good as it sounds. Though unusual, the leafiness of the spirit is particularly lovely, best imbued in moderation.
Seedlip then goes on to celebrate something more familiar to the Desi audience, spice. Spice 94 takes inspiration from Christopher Columbus' 1984 'discovery' of the Americas.
While the freshness of Garden 108 is enjoyable in moderation, Spice 94 is moreish. Allspice berries, cardamom, grapefruit peel, lemon peel, oak bark, cascarilla bark feature in the earthier spirit.
It is worth noting that both have a subtlety to their taste. Seedlip drinks will not set your taste buds on fire.
Rather they play well with other drinks like a simple soda as the Seedlip brand recommends. Or, both sprits pair nicely with kombucha for example – another trendy drink in 2019.
Drinkers can enjoy a subtle fizz in addition to kombucha's potential benefits as a diuretic. Alternatively, Spice 94 can form a pleasing twist on the popular Espresso Martini.
This is sure to win fans as 30-year-old Dhroov points out:
"Sometimes I'm not that bothered about having alcohol in a cocktail. It's more for the taste and experience like the foam in an espresso martini.
"I like trying new things but don't necessarily want to wake up with a hangover the next morning."
Seedlip drinks provide all of the experience without any of the headache.
It seems that the third addition to the range, Grove 42, continues this tempting offer.
New Grove 42 Makes A Splash
Grove 42 promises to be no different as it shows a more nuanced take on the flavour of orange. Its natural botanical distillates and extracts create a citrus splash by including orange, blood orange, mandarin, lemon, ginger and lemongrass.
According to Seedlip, more fresh mangoes are eaten around the world than any other fruit. Therefore, mango lovers are sure to relish some of the suggested Seedlip cocktails like Grove Martino.
Thanks to Grove, Mango and Yuzu, it transports taste buds around the world. After all, the latter derives from the Japanese shrub that provides the world's most expensive citrus flavour.
It is this citrus acid that gives a sourness to drinks, balancing the sweetness in the manner that effective seasoning can transform the flavour of food.
Seedlip: The Cocktail Book (2018) is full of other tips and tricks to conjure up cocktails and tantalise taste buds.
Perhaps people can also wow guests with clever pairings of Spice 94 with curry.
However, with such a dearer price tag than some soft drinks, does the price of Seedlip spirits match up to their other benefits?
Healthier Habits
It is not only individuals in the Desi community who abstain from drinking alcohol. Multiple studies are showing increasing young people choosing not to drink.
This is a far cry from the image of the teenage binge-drinker.
Alongside Veganuary, Dry January is a popular choice after the excess drinking during Christmas.
Aakash, a 26-year-old finance analyst tells us:
"For Christmas-time I let loose with all the office parties and New Years, but after that?
"Nah, I'm back to the gym pretty quickly and cutting down on the alcohol helps me shed the extra few pounds.
"Plus, going out in places like London are expensive. It may not seem much but a few weekends of going out adds up and I'm trying to save."
Rajni, a 21-year-old pharmacy student adds:
"I don't feel the need to drink because of my health and to focus on my studies.
"During the first year I did, but even if student drinks are cheaper, it can cost a lot and I'd rather spend that on an outfit!
"Maybe other societies have the pressure like the sports teams, but I can still be sociable and not drink."
With this increased interest in health and wellbeing, it seems Seedlip may have come at the opportune moment for health-conscious consumers.
After all, Seedlip looks to offer something beyond a non-alcoholic alternative or the standard soft drink.
An Inclusive Environment
As mentioned, there is a clear health element to drinking Seedlip. To a degree, it would seem that Seedlip is unnecessary with the prevalence of soft drinks, mocktails or even water.
Yet, a key advantage of the range is its sugar-free, additive-free label. Choosing soft drinks is usually a debate between going for a sugary offering or an additive-heavy diet version.
Plus, it is hardly a treat to be going on a girly night out and find yourself stuck with a soda. 26-year-old lawyer Ruksana tells us:
"I'd rather pay more for a drink that's better quality and seems special. Big brands are everywhere and if I'm paying for a nice meal, I want a nice pairing with it."
She adds:
"Some of my friends are getting married and pregnant now so it's important that everyone can join in. A cocktail-making class would be fun for a hen-do but then leaves friends out.
"Or baby showers are getting popular now and what would make it special if you can't have a glass of champers?"
Indeed, Desi weddings are a key way that brands like Seedlip may cater to the Asian community with Sabby revealing:
"I'm planning my wedding at the moment and want drinks to be nicer than a bottle of Rubicon on the table."
"When I'm paying so much for a venue, I want my guests like my Nani and Dadi to feel spoilt and included. Not drinking an orange juice while everyone gets trashed."
She continues:
"In our culture, we do drink a lot and that's fine. But sometimes I think it wouldn't be as bad if there were better drinks.
"I'd love to do cocktails, but a standard tequila sunrise just has people complaining about their sugars!"
There is clearly an interest in alcohol-free alternatives, especially that cater to the health concerns of the British Asian community. In order to achieve this, the first step may be to create the right environment.
Changing The Way We Drink
For some, drinking is arguably a big part of British culture. British Asians drink for many reasons including to socialise and integrate within society.
However, perhaps it seems that the way people socialise has changed. Consumer demand for craft beers has increased and even supermarkets are cashing in on altered tastes.
Tesco has introduced an entirely alcohol-free section, making it the first supermarket in Britain to dedicate an area solely to drinks which are 0.5% ABV (Alcohol By Volume) and below.
2017 additionally saw Club Soda host the first Mindful Drinking Festival on Sunday, August 13, in London.
Beginning initially as a peer support platform, Club Soda recognised the importance of the psychological barrier with co-founder Dr Jussi Tolvi stating:
"Most of us are probably happy to buy a bottle of wine or a six-pack of beer we've never tried before, as long as it has alcohol in it.
"But it is only once we've tasted a non-alcoholic version, and know that we definitely like it, that we are willing to make the switch and buy it."
Nonetheless, it is important for people's environment to change too and this is where Seedlip comes in.
Besides creating new appealing products, by ensuring they are stocked in bars and restaurants, the brand is part of the wave of change.
Simple changes such as The Edgbaston Hotel incorporating non-alcoholic drinks in its main drinks menu is important. It is a key differentiator as opposed to having a separate section, which almost alienates non-drinkers.
People should be free to choose whether they want to drink alcohol or non-alcoholic drinks.
The advent of companies such as Seedlip is not to discourage people from drinking alcohol, but to offer an alternative option.
Seedlip is evidently catering to a growing demand among British consumers.
Once, it may have been a way to distinguish British Asians from the wider population. Yet, mindful drinking or not drinking is becoming more acceptable regardless of background.
Thanks to brands like Seedlip, a lifestyle choice of not-drinking does not mean missing out on any experiences.
Owing to Seedlip, well-designed and well-made non-alcoholic drinks ensure non-drinkers enjoy great flavours, vibrant social life in addition to the health benefits.
In fact, it is fascinating to see how their motto, 'the art of not drinking,' may create a community that can transcend backgrounds.
A passion for high-quality products and innovative flavours can unite people through events like festivals and perhaps more.
We look forward to seeing how brands like Seedlip continue to meet the needs of Desis and non-Desis alike. We hope for more offerings beyond Grove 42 in the decades to come.
To find out more about Seedlip, check out their website here: