"Within the Asian community, we do not talk. We do not talk about drugs, alcohol, the problems."
The use of narcotics and illicit substances is an ever growing endemic in the West. Easy access to drugs, alcohol and cigarettes have allowed many Britons, both young and old, to revel in their pleasures.
Young Asians born and bred in Britain have also enjoyed the same exposure to drugs as their non-Asian counterparts.
Ready availability of them, depending on who you know, has allowed many to obtain drugs and illegal substances with little effort, whatever their age or background.
Increasingly however, addiction to such substances is becoming more common than ever, resulting in sometimes fatal consequences.
According to a Health & Social Care Information Centre report published in November 2013 (Statistics on Drug Misuse: England 2013), 'around 1 in 12 (8.2%) adults aged 16 – 59 had taken an illicit drug in the last year (around 2.7 million people)'.
In a similar Home Office report, it was stipulated that 'the most commonly used drugs ever used were cannabis (30.0%), amphetamines (10.4%) and amyl nitrite (9.3%)'.
So how do these national statistics compare with the growing community of South Asians living in Britain?
Another Home Office report via the British Crime Survey (BCS), Drug Misuse Declared: Findings from the 2009/10, concluded that Asian intake of illicit drugs was lower in comparison to the White and Black population. It found that:
"Adults from Mixed ethnic backgrounds were more likely to have taken any drug in the last year. Adults from the Asian or Asian British group generally had the lowest levels of last year drug use."
But while national statistics suggest that drug misuse among the Asian community is small, cases of drug addiction is on the rise among British Asians. What factors are responsible for this? And why is there such little awareness of the matter within communities?
It is no secret that as with any controversial topic among the Asian community, whether it be sex-related, disability, or abuse, little is said about serious under-lying issues, with many elders opting to turn a blind eye. Drug misuse is no different.
One British Asian recovering drug user shares his experiences with DESIblitz: "My nightmare began when – I call it the stresses related to family life. Situations that I kind of blocked in, couldn't share with other people. I met up with an old friend, he introduced me to a substance, what I now would call the 'Devil's Drug', which was cocaine.
"At the time it made me feel like all my pain, sorrows, stress had vanished. It made me be able to conquer the world in a better and easier way. I went away and two days later, stress started to occur again and I phoned my friend and went back and used the substance again."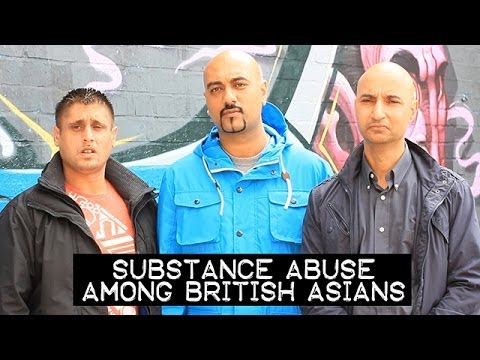 Around 5 million people between 16 and 59 have taken a Class A drug. The Home Office also insists that 'In 2012/13, 2.8% of adults aged 16 to 59 were defined as frequent drug users (having taken any illicit drug more than once a month on average in the last year)'.
"Within the Asian community, we do not talk. We do not talk about drugs, alcohol, the problems," admits the British Asian.
Many Asians become exposed to drugs at a young age, those living in inherently close-knit urban settings to working class families are at greater risk of doing drugs. For the remainder, exposure comes at university and social gatherings. According to the Home Office, 8.5% of their respondents who had visited a nightclub over four times a month were also frequent drug users.
In such social situations, exposure to drugs goes hand in hand with unlimited access to alcohol. For many in the Asian community, the issue of addiction is not with drugs, but rather drink.
One recovering alcoholic who share his experiences with DESIblitz explains that initially he felt repulsed by what he saw around him growing up:
"Well my experience of alcohol is like any Asian growing up really. I grew up around alcohol. But the difference is that at that time, I didn't like what I saw. I didn't like the pubs, so I decided to never drink."
He explains that his choice to stay away from alcohol meant that he was able to concentrate on other aspects of his life, building a successful career and having a family. That level of security and stability eventually led him to start drinking socially. However, this rapidly progressed into binge drinking:
"Before I knew it, I became the person I never wanted to be. It's been 15 years I've been fighting this battle. I am 5 months sober right now. That might sound like a small amount to people. But I feel better in these 5 months than I have felt in 15 years."
Helping those suffering from drug and substance addiction is SUIT (Service User Involvement Team), a recovery-organisation based in the Midlands.
Founded in 2007, it is headed by Drug Service User Involvement Officer, Sunny Dhadley:
"It has been set up to help people who have suffered from addiction whether it is drugs or alcohol, to support their peers, i.e. other people going through similar issues," says Sunny.
Sunny himself admits that he became an addict at a young age, delving into cannabis and heroin while he was at university. He explains that what started as a social activity among friends quickly developed further and became an addiction:
"Substance misuse amongst Asian people is on the rise. Within our Asian community, people don't tend to want to be forthcoming about any problems they're having because of the shame that might come to them within society.
"But I say, 'To Hell with that!', ultimately, this is about people's lives. People need to come forward if they are struggling with anything in their life.
"Just because there are people within your close vicinity that do not understand, or even within your network of friends that don't understand, does not mean that there are not people out there who are willing to help you. The most important thing you need to do is recognise you have a problem."
Drugs and substance misuse is a growing dilemma among South Asians. One only needs to read local news to hear about the frequency of inner-city Asian gangs being jailed for trafficking and possession.
The negative impact that such harmful substances have on the body are not only physical, but psychological and mental health can also come under strain, and in some cases, it can take years to recover.
Many seek the use of substances to avoid and run away from other aspects of their life that they have difficulty coping with. For others, it is a social enjoyment with the potential to go too far. So what can be done to help?
As discussed, Asian's who are victim to such substances rarely have the support of their families or community. Organisations such as SUIT therefore are vital to encourage unity and care among the ethnic community.
If you have a problem of drug or alcohol addiction, or know anyone who might be, please visit the SUIT website for assistance.
Loading ...