"I thought I can beat him. I had the belief in myself."
Amateur snooker player Saqib Nasir from the Midlands continues to set sights on his professional dream.
Saqib was born on February 10, 1993, in Birmingham, United Kingdom. His parents both originally belong to the twin cities of Islamabad and Rawalpindi.
His father Muhammad Nasir who runs the Masters Snooker Academy within the city had a big hand in encouraging Saqib to the sport.
Saqib's mother Flomeena Nasir was always a homemaker. Being the oldest, he has a younger sister and brother.
Saqib left school in year ten, to fully concentrate on snooker. Ever since then, Saqib has not looked back.
Saqib is a left-hand player whose average shot time is around 23-25 seconds. From being more methodical initially, he is playing a more natural game.
Watch Exclusive Interview with Saqib Nasir here: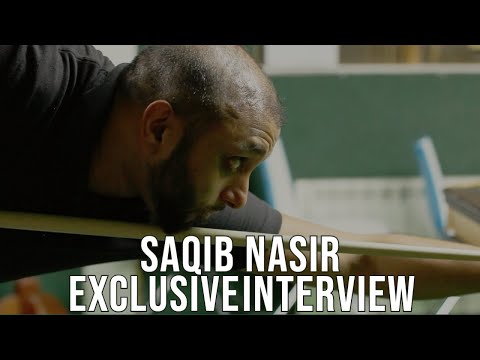 He has participated during the qualifying stages of a few professional tournaments.
In an exclusive conversation with DESIblitz, Saqib Nasir talks about his passion for snooker, mentors, accomplishments and heartache at Q School.
Starting Early and Serious Snooker
Saqib Nasir who plays at the amateur level reveals he got into snooker from the early age of eight. He recalls picking a cue for the first time then, playing on small size tables, around 6 ft.
According to Saqib, his dad felt he was spending too much time gaming. Saqib mentions, his dad having a snooker connection had somewhat of an impact in pushing him into this the sport:
"Basically my dad used to work in this new club and I started getting the passion for snooker. I used to play PlayStation a lot. So my dad got me out of the house.
"[He] started like getting me into snooker and starting playing snooker. So that's how I really got into snooker."
Saqib acknowledges that he began to take snooker serious from the age of thirteen and onwards:
"I used to go to Leicester with one of my mate. I started playing in the big tournaments and started to do well. And then I thought I can actually give this a try."
Hence, this is how the sport of snooker took off for Saqib Nasir.
Mentors, Game and Players
Saqib states that over the years he has taken advice and tips from many coaches. They include former 1979 World Champion Terry Griffiths and famous coach Dell Hill.
Saqib says coaches keep encouraging him and feel that with the passage of time he can only get better:
"With the coaches, they've said to me, 'there's nothing wrong with your technique and game.' They just go, 'you need to play more and more and hopefully get stronger and stronger that way'."
In reply to a question about whether he can make further improvements to his game, Saqib said:
"There's always room for improvement. There's no one perfect.
"I'm working on my game. So hopefully it comes out."
Saqib adds that he is fortunate to practice with many past and present professionals.
These include the likes of Tom Ford (ENG), Hamza Akbar (PAK), Mark Joyce (ENG), Mitchell Mann (ENG), Adrian Gunnell (ENG) and Andy Lee (HKG).
Playing at various academies, Saqib recognises that it is all about the "mind."
Achievements and Victories
As with most amateur snooker players Saqib Nasir has had a few successes under his belt. Saqib modestly pinpoints the 2014/15 English Ranking Series as his first tournament win.
At the age of twenty-two, he beat former English snooker player Michael Wild 5-2 in London to pocket £400.
He went on to pull a big upset, defeating six-times crucible finalist Jimmy White 5-4. Highlighting the famous win against the Whirlwind, Saqib says:
"I thought okay I'm playing Jimmy. He's like a crowd pleaser? He's like one of the biggest people's fans.
"So I thought there's more expectations on him. I just relaxed and played my game and I thought I can beat him. I had the belief in myself."
Saqib has also reached the latter stages of PTC (Players Tour Championship) snooker tournaments.
Earlier, he even made it to the England Under-21's final. He came second best to 2020 World Snooker Championship runner-up Kyren Wilson (ENG).
He also has a high break of 137 during his 4-0 triumph over Andrew Millard (ENG) in Round 3 of Q School 1 (2015).
With Saqib making changes to his cue action and playing more naturally, he has the potential to improve further and succeed.
Q School Heartbreak
Saqib Nasir has gone into Q School continuously since 2011, with him getting better every outing.
During 2020, he was "so near and yet so far." He was two wins away from becoming a professional snooker player.
He lost to Zak Surety (ENG) 4-2 in Round 5 of Event 2 on August 8, 2020. Saqib confesses the experience of Q School is quite challenging:
"It's really tough out there because it means a lot to every single person. So it is really tough, especially playing a short format – best of fives at the start and then playing best of sevens.
"I think you've got to be mentally strong and relaxed to get through, but you need a bit of luck as well at the same time. So it is a tough one, but hopefully, come back stronger."
Reflecting on his emotions of just missing out in 2020, Saqib continues:
"I felt like I lost everything at the time. It's a tough one to take."
Outside of snooker, Saqib is very desi by nature. Saqib tells us that he likes Bollywood films, with Shah Rukh Khan, Salman Khan and John Abraham being his favourite actors.
Saqib also enjoys spicy food, with the chicken tikka masala tickling his taste buds.
Returning to Snooker, Saqib Nasir aims to practice hard, get his best game back and lay the foundation. He will be attempting Q School 2021, with the target of achieving professional status.