"I have to enjoy the song for me to be able to perform well."
British Asian model Sangeet Samra has become very popular after appearing in a music video which went viral on the social media app Tik Tok.
Sangeet meaning music features as the leading model in a fresh take to the every green 90's track 'Tum Mile Dil Khile' (2018).
Indo-Candian Bollywood artist Parichay and Jonita Gandhi of 'The Breakup Song' fame are the singers of this hit song, which has got everyone in a frenzy online.
Famous for the song 'Peene Ki Tamanna' (Loveshhuda: 2016), Parichay was in favour of Sangeet Samra due to her special look and pink hair.
Post-release of the viral track, Sangeet has several offers from the Punjabi film industry, which come under consideration.
Tik Tok has had a big contribution to the success of numerous track that includes the sensational 'Lamberghini' (2018).
The reinterpretation of 'Tum Mile Dil Khile' has followed suit in similar fashion after releasing under the Saregama label.
In an exclusive Q&A with DESIblitz, Sangeet Samra reveals more about her family, music, 'Tum Mile Dil Khile' and Tik Tok:
Tell us about your childhood and family background?
I am from a Punjabi Background. My mum was born and brought up in England and my father is from Punjab.
I have been closest to my grandmother as she is the one that brought me up.  She had a huge influence on me growing up. My mannerism and habits are very much like her.
I was very young when I was sent to a boarding school in India – I was about 10 years old and spent 3 years there.
I returned to the UK at the age of 13 and that's how I learnt so much about the Indian culture, films, and music.
Today, I am enjoying every moment of my professional journey. I have had the pleasure of being a part of some great projects and many good ones to look forward to.
When did you first show interest in music?
I have always been a fan of music since childhood. The very first time I ever performed was when I was 5 years old. I was in nursery and it started from there onwards.
I went on to perform at my school and college. I was quite known in my school for being that girl who was really good at dancing.
At every party, I had to be the first one to show my singing and dancing skills. I literally used to think that I am in a Bollywood movie and everyone is in awe of me even though I was only about 8 years old.
I started off with performing at my nursery as a child, then through school and at college events. Music is a big part of my life. I'm glad that it is so closely embedded in Indian films.
How did 'Tum Mile Dil Khile' happen?
I was approached by Parichay's team and they asked if I would be interested to play the lead.
I knew about Parichay and knew that he had worked with artists like Sean Kingston and Kardinal Official. So he has done quite well in the West and had recently worked with Bollywood actress Nargis Fakhri in a song as well.
"When he sent me the song, I instantly liked it. I am really not a fan of remakes, especially with iconic songs."
I believe that they ruin the original. However, this version of 'Tum Mile' was very catchy and infectious so I gladly jumped on the project.
What kind of Punjabi film offers would appeal to you?
I am very passionate about acting and dancing. Hence, a film with a powerful script and solid concept would definitely interest me.
And if it has good music and choreography that I can dance to, that is the icing on the cake. The role has to be challenging with a good amount of screen space for me to want to work in that film.
I don't want to do a film just for the sake of doing it. Also, a good team and cast play a huge role in the making of a good film. Thus a project with a good combination of these factors would appeal to me the most.
What languages do you speak fluently and which is your favourite?
I learnt how to read and write Punjabi during my time in boarding school. I learnt how to read Hindi too but I struggle with writing the language.
Though I can put words together it is definitely a struggle writing Hindi. I also speak a bit of Marathi, which I learnt during my time in India when I was doing TV commercials. I am not fluent at it but I pretty much understand it.
"But, I speak Punjabi and Hindi very fluently."
Of course Punjabi is my mother tongue so that has to be my favourite language. I also believe that Punjabi overall sounds very cool and respectful.
Which singers do you admire and why?
I really admire Micheal Jackson! His music really touched people's hearts and was so powerful that even during his hardest of times, it still brought people together around the world.
People around the world may not speak or understand a word of English but they all know who Micheal Jackson was. His style of singing, his dance and his appearance was literally owned by him.
You can not see a person wearing a silver glove on the left hand and not think of Michael Jackson.
Even after his death people still remember him as 'The Micheal Jackson'. He left a legacy behind that is still unmatched.
How important is the Tik Tok platform for music?
I think Tik Tok is becoming very big, especially for music. There are so many beautiful songs out there that don't get the visibility that they should. Tik Tok is helping the artists with just that.
A lot of my new followers on IG tell me that they found me after hearing the song on Tik Tok and watching the video on Youtube.
"There are quite a few songs that have become big hits after going viral on Tik Tok."
Artists are getting a much more organic response on their songs through Tik Tok rather than Youtube I believe. People want to be part of the songs they like and there is no better way than Tik Tok to do that.
Who would you like to collaborate with?
There are quite a few talented artists that I would like to collaborate with. But most importantly, the song has to do it for me.
"I have to enjoy the song for me to be able to perform well."
There should be a good storyline too where I have the opportunity to play the character rather than dancing around the cars while the singer is singing to the camera ha ha.
Also, the overall vibe of the project and the team I work with is also very important.
The people you are working with is important because it can help make or break the project. Ultimately, a good song or a film is what matters the most.
Tell us about your unusual hair colour!?
I have always done things out of the norm. I started to colour my hair when I was in high school. However, they were always more subtle as I was still a student and wasn't allowed to do crazy stuff to my hair.
"Pink hair is every young girl's dream hair."
"I was considering it for a very long time, way before pastels even became so common."
But because I was working in TV commercials in India, I could not do it.
So, as soon as I came back to the UK, I went to the salon and came out with a Cotton Candy head.
I coloured it pink way before pink even became common. But now I see so many girls doing it that I might just change my colour into something completely crazy and different.
What are the 3 most Desi things about you?
I could be anywhere acting all calm one moment but the second Bhangra music starts playing, my feet automatically drag me to the dance floor.
I have to bargain when I go to Asian shops, not because of the money savings so much but more because I feel they are trying to fool me and I can't let that pass.
I love to eat and trying out different cuisines whenever I am travelling. But 5 days down, I have to have desi food or I feel out of charge.
If I'm away for more than 5 days, I start searching for Desi restaurants, no matter where in the world I am.
What are your ambitions?
My ambition is to break the preconceived notion that desi girls born and brought up in the west can't act in Desi films!
And the fact that, if by any chance they get a role, they are always put in overly glammed up ones because apparently, they don't look Desi enough to play the girl-next-door.
"I can look as Indian as one can at the same time look completely different."
I would love to do roles in films that people remember me for and I would love to use that fame to raise a voice to help towards animal rights as they give me a lot of happiness.
Watch 'Tum Mile Dil Khile' featuring Sangeet Samra here: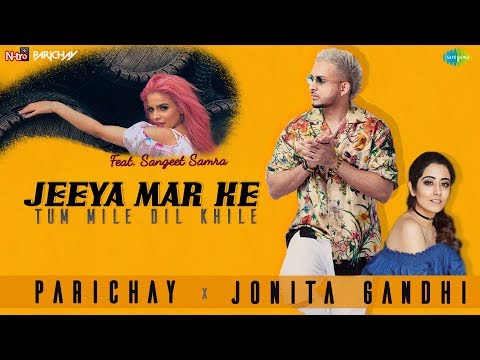 Earlier, Sangeet Samra was the leading commercial model for the Indian beauty soap brand Natur Power.
She has gone onto feature in many other TV commercials. But with her popularity increasing via Tik Tok, producers of reality shows have got in touch with her about participating.
Sangeet Samra has a very bright future ahead, especially with her fan base growing on social media. Reportedly, the rising model will also have a lead role in a music video for a famous British Asian vocalist.
Fans of Sangeet Samra will eagerly be following her career and see what she has to offer in the future.