"I was worried whether I'd be able to convince people that I am a wrestler"
Bhai of Bollywood, Salman Khan is breaking box office records with his Eid blockbuster film, Sultan.
The sports drama sees Salman paired opposite Anushka Sharma for the first time. And the Ali Abbas Zafar directorial venture has been recognised as 2016's most awaited film.
Sultan follows the story of Sultan Ali Khan (played by Salman Khan) a local wrestling champion with the world at his feet as he dreams of representing India at the Olympics.
Known for his ambitious and fun nature in the small town, Sultan comes across a young feisty girl known as Aarfa (played by Anushka Sharma) who has her own ambitions.
However, when the two local wrestling legends lock horns, romance blossoms and their dreams and aspirations become intertwined.
Finally moving forward towards their dreams, their lives take a drastic turn, resulting in the separation of the two lovers and Sultan becoming an underdog.
Losing passion for everything he once fought for the limping horse of the sport has a chance to revive his career. Will Sultan succeed in achieving his dreams? Will Aarfa and Sultan get together? Watch Sultan to find out.
Known for his chocolate hero tag, Salman has really surprised critics and audiences with his new avatar for the character Sultan Ali Khan. Being in the news ever since the film was announced, Salman had to undergo a lot of physical training in order to achieve the skills and autonomy of a wrestler.
Director Ali Abbas Zafar recently claimed that this is toughest role physically and emotionally. He said: "One of the reasons Salman agreed to do Sultan was to challenge himself as an actor, to see whether he can pull it off.
"When I narrated the script to Salim Uncle the first thing he told Adi during dinner was, 'is mein Salman ko bahut mehnat karni padegi'. Now that he [Salim Khan] has seen the film, he is a proud father."
Ali adds that Anushka's character has great significance on the narrative: "The film is about Sultan's journey which is through Aarfa. It is a relationship film, about his professional and personal conflicts, his ups and downs.
"I was very clear that I was not going to compromise on the talent of the actress. Anushka has proved herself as an actress."
Anushka admits that her character in the film required a rigorous training regime: "I got only six weeks to train before my first bout in the film was shot. During this period, I also had to look the part, learn wrestling and speak like a Haryanvi. People have this preconceived notion about the way wrestlers look.
"Everyone thinks they are big, which I am not. I was worried whether I'd be able to convince people that I am a wrestler. So I had to do a lot of weight training and bodybuilding."
She adds that the toughness of her character Aarfa, really appealed to her: "Every time I choose a film, it has to say something different. Characters have to be unique, they should be roles that I have not done before. To do a film in which I look good and has lovely songs, does not give me professional satisfaction."
The Sultan soundtrack has already gathered rave reviews for its melodious music.
Composed by the infamous musical Jodi Vishal-Shekhar, the Sultan album has a great mixture of songs that adds a compelling USP to the film's narrative.
'Baby Ko Bass Pasand Hai', the fun Haryanvi track has an interesting hip hop dance vibe to it. Projecting the energetic fun character of Sultan Ali Khan the song has already become a chart topper. Similar to the party vibe genre are also '440 Volts' and 'Sachi Muchi'.
Sultan is also a love story which means the quintessential love tracks have to be part of the movie. 'Jag Ghoomeya' and 'Bulleya' are both great melodious tracks that touch your heart.
The title track of Sultan is one of the best tracks of the album. Upbeat and having a rocky vibe the song really represents the ethos of the movie, which is to never give up and keep fighting.
Overall, Sultan is a great album, the songs compliment the whole films aesthetic really well.
As expected Sultan's advance booking has received a great response.
Trade analyst Taran Adarsh tweeted: "Craze for #Sultan is UNPARALLELED… Advance booking at all-India multiplex chains BEYOND EXTRAORDINARY… UNHEARD of shows at every screen."
Predicted to be one of the highest openers of 2016, critics are sure that Bollywood ka Sultan will once again break records, and cement his place as the true superstar of Bollywood.
However, director Ali Abbas Zafar is being more cautionary about box office success. He says: "There is a danger of your voice getting compromised.
"If you can retain your voice and still tell the story, that's your struggle and challenge. It is not about the numbers at the box office. Numbers are not driven by a good or a bad film. It is determined by the connection a film makes with the audience.
"There can be a phenomenal film which will not make money he process of making this film was satisfying. I feel Sultan as a final film is better than what I wrote on paper. It is definitely the quickest film I have made."
Watch the trailer for Sultan here: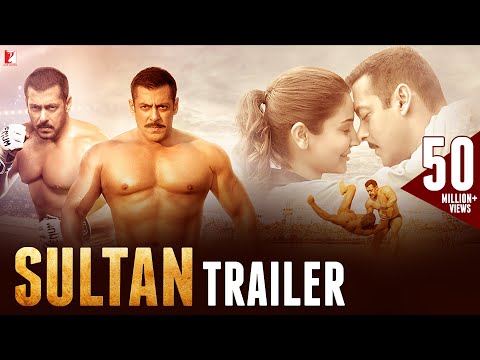 So, are you ready to be part of another Salman Khan blockbuster? Sultan released from July 6, 2016.