"The most difficult part in this film was wearing that langot."
The trailer of Salman Khan's upcoming film Sultan is finally here and it has gone viral on YouTube, collecting close to 4 million views in one day!
Salman enters as the triumphant wrestler Sultan Ali Khan, whose career goes through a dramatic rise and fall after meeting Aarfa (played Anushka Sharma).
The adrenaline-pumping trailer, lasting just over three minutes, is packed with gritty fight sequences and charmingly romantic exchanges between Sultan and Aarfa.
Social media reaction towards the sports drama film directed by Ali Abbas Zafar have been overwhelmingly positive, with fans calling it 'inspiring' and a 'masterpiece'.
Some even draw comparisons with sports drama film made in Hollywood, dubbing it the 'MMA version of Rocky 5' and 'Southpaw of Bollywood'.
Revealing the trailer at a launch event at Film City in Mumbai on May 24, 2016, Salman and Anushka posed for photos and shared their filming experiences.
Anushka, looking fierce and beautiful in a black blazer paired with high-waisted trousers, said she did not use any body double for her stunts and explained how she trained for her most physically demanding role to date.
The 28-year-old actress, who plays a Haryanvi wrestler, said: "I learnt the moves and the technical way of doing it (wrestling). I am very happy that I did it. As of now, if I see wrestling, I will understand how it happens.
"I felt that if I have learnt something, I want to show it properly. I worked hard and I am happy that I got to do it.
"I had a good team of trainers. I was prepared before the shooting started. Luckily, there were no injuries. But injuries can happen if someone is fighting or wrestling throughout."
Of course, she had only good things to say about working with the one and only Sallu Bhai: "Salman is very refreshing person to work with. If you see someone like him, you feel relieved.
"You realise his craze when you work with him which is amazing. He has worked really hard for this film."
Salman also took to the stage and spoke about the biggest challenge for him during the shoot: "The most difficult part in this film was wearing that langot. While shooting for Sultan, I realised what heroines must be going through when they wear a Bikini.
"I recall an incident when I had to wear the langot for the first time. When I reached the sets wearing it, I saw around 5,000 people screaming 'Bhai' and I was like 'Koi chance hi nai main yaha shoot karu'.
"After that, when I was walking from my van to the shooting locations, I was feeling violated. I am never shy to remove by shirt while shooting, but this time I was super shy.
"Some people were screaming 'Aye haye' and all that… That was the most difficult thing but thank God people got used to the visuals."
Watch the trailer for Sultan here: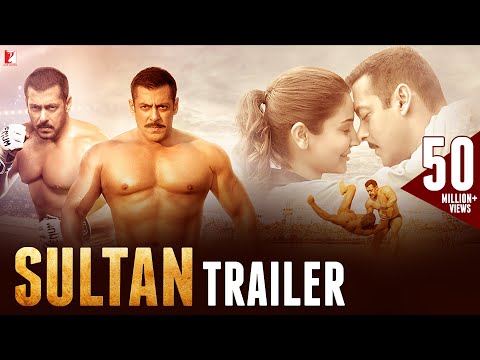 Sultan, also starring Amit Sadh and Randeep Hooda, will open in cinemas on July 6, 2016.