Director Ruben Fleischer promises us "badass action" and "Venom's dark humour."
British Asian actor Riz Ahmed will be playing the antagonist in Marvel Comics and Sony Picture's R-Rated Venom. He will star alongside Tom Hardy and Michelle Williams.
The much-anticipated Venom trailer dropped online on the 23rd April 2018 revealing Riz's role in the film, and the internet loved it.
In 2016, after numerous drafts and negotiations, Sony Pictures had announced that a Venom stand-alone is in development. It will be the fifth Marvel Comics film to be released in 2018 after Black Panther, Avengers: Infinity War, Deadpool 2 and Antman and The Wasp.
Ruben Fleischer is the director. He is known for Zombieland (2009) and Gangster Squad (2013).
Tom Hardy is cast as the titular role of the anti-hero, Venom. Tom is no stranger to comic book films.
He previously starred in The Dark Knight Rises (2012) as the supervillain, Bane. For Venom, he will be playing the journalist, Eddie Brock, the original incarnation of the character. Brock first appeared in the Web of Spider-Man #18 comic in 1986.
Michelle Williams will be playing Anne Weying. She is a successful lawyer and the girlfriend of Eddie. The character first appeared in the comics in The Amazing Spider-Man #375, in 1993.
Riz Ahmed as Carlton Drake
Riz Ahmed will be playing Carlton Drake. A scientist who first appeared in The Amazing Spider-Man #298 in 1998. Carlton Drake is the CEO of the Life Foundation. The company secretly conducts illegal testing on humans involving "symbiotes", an extra-terrestrial life form.
Symbiotes form a physical bond with their hosts. Once bonded, the host gains superhuman strength, agility, speed, and endurance. Another characteristic, they amplify and remember the abilities of their former and current hosts.
2016 proved to be a breakthrough year for the actor overseas. The rapper has made a huge splash in Hollywood. He received an Emmy Award for his role in HBO's The Night Of and was a cast member of the incredible Star Wars Anthology film, Rogue One (2016).
The 35-year-old's appearance in Venom will be the most prominent Desi presence in any of the Marvel Comics' film universes. Drake is originally Caucasian in the comics. Marvel made the decision to cast Riz, of Pakistani descent.
This is a great way to diversify a film, without the worry of playing into stereotypes. Other Desi actors like Priyanka Chopra and Freida Pinto have been known to do this within their Hollywood projects.
Without a doubt, Riz will do this villain character justice, having seen him in Four Lions (2010) and Trishna (2011).
What else to look forward to? Riz announced a BBC drama, Englistan, about a British Pakistani family, covering different generations and decades.
Venom Trailer Review
The trailer begins with the Life Foundation extracting symbiotes from the woods and the appearance of Carlton Drake. Eddie Brock and Anne Weying are in a bar discussing Anne's law firm who work for Life Foundation. Eddie is aware of Carlton Drake's corrupt nature.
During a live interview, Eddie attempts to expose Carlton and Life Foundations for their illegal experimentation which results in the interview being cut short.
Dr Dora Skirth (Jenny Slate), who works for Life Foundations seeks Eddie's help. She takes him to the Life Foundation labs. She explains Carlton's illegal research.
Whilst there, Eddie encounters people who have been experimented on. Somehow, becomes infected himself though it is not quite clear how. The symbiote gains control over his body.
Director Ruben Fleischer promises us "badass action" and "Venom's dark humour." Having seen the trailer, that is exactly what he brings us. In the trailer, we can see Eddie at three different stages. His pre-infected state; when he discovers that he has been infected by a symbiote; and then the transformation into Venom.
At the Brazil Comic-Con, Fleischer revealed some details behind the film:
"We want to stay true as possible to the comics with our film, but our story is primarily based on The Lethal Protector and Planet of the Symbiotes books."
There has been some secrecy in regards to the film. Fleischer also revealed that the set was closed. No visitors or press were allowed.
Could we see Spider-Man?
We last saw a live-action Eddie Brock/Venom was in Sam Raimi's Spider-Man 3 (2007). In this film, Eddie (Topher Grace), is a villain. Eddie is a photographer for the rival company to the Daily Bugle, who Peter Parker works for.
He becomes Venom after bonding with the symbiote. He uses his new abilities to seek revenge after Peter exposes his false images of Spider-Man.
In the new universe in which Venom takes place, it is unknown whether we will see Spider-Man. Sony has not yet revealed anything. As we know, the third live-action portrayal of Peter Parker (Tom Holland) is a part of the Marvel Cinematic Universe with the Avengers.
This is part of a deal between Sony and Marvel Studios. However, Venom is not linked with Marvel Studios.
If any future instalments of Venom are announced, it may be that we see a fourth Spider-Man. Alternatively, we could see spin-offs involving other characters that Sony have the legal rights to. These characters could then be woven into this new Sony Marvel Universe.
Watch the Venom trailer here: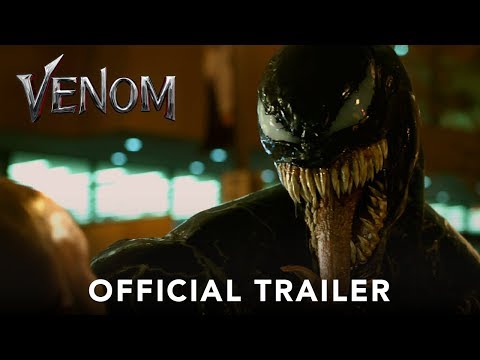 The trailer presents a sneak peak into fight scenes, motorcycle chases, explosions and some witty dialogue. Towards the end, we see the black sludge spread and cover Eddie's body as the iconic Venom takes over.
With the likes of Deadpool and Logan going R-Rated, which proved to be an effective move, how will Venom fare?
Venom releases 5th October 2018.