"The story works with fresh faces, but requires a high level of chemistry and maturity in the performances."
Hasee Toh Phasee promises a funny and modern comedy that audiences have been eagerly anticipating for some time. With romance and Valentines in the air, this is the just the right movie to entertain you and your special someone.
The film sees a new wave of powerful talent from the likes of Parineeti Chopra who is paired against the very handsome and equally talented Sidharth Malhotra.
This new breed of actors have emerged under the careful guidance of top producers Karan Johar and Anurag Kashyap – suffice to say we are in pretty safe hands.
The film is jointly produced by Dharma (Karan Johar) and Phantom (Anurag Kashyap, Vikramaditya Motwane and Vikas Bahl) productions.
It is directed by Vinil Mathew, who has already received much praise from the trailers and cast for his clear focus and attitude to create a fun and heart-warming movie.
Nikhil (played by Sidharth Malhotra) is a young working-class man who believes in the beauty of committing wholly without falling astray to anyone's charm. He is engaged to the beautiful Karishma (played by Adah Sharma).
Meeta (played by Parineeti Chopra) is a hardcore career-oriented girl who combines hard work and fun without the sensitivity that Nikhil possesses. She is Karishma's sister.
Meeta comes back in Nikhil's life just before he is due to get married to her sister. Meeta wants to stay away from her family and Nikhil ends up offering her accommodation with his parents (played by Sharat Saxena and Neena Kulkarni).
It is only when she starts spending time with Nikhil before her sister's wedding that she begins yearning for a companion like him. He also starts falling for her.
The film also stars talented actors like Manoj Joshi, Sameer Khakhar Sharat Saxena, and Neena Kulkarni.
But Manoj Joshi who plays the father has been said to have performed with utmost conviction and the scenes between him and Meeta are said to be fantastic and not be missed.
Speaking about the premise of the film, Anurag Kashyap said: "The story works with fresh faces, but requires a high level of chemistry and maturity in the performances. After spending months, shortlisting various actors, we finalised Sidharth and Parineeti."
Sidharth was heard praising his director Vinil, by saying: "It didn't feel like the first day of shoot because he is so sorted and knows exactly what he wants. He made us rehearse a lot during a two month workshop before shooting began."
Sidharth added that he plays a character who is stressed out, lost and sentimental. Parineeti says that her character was a difficult one. Speaking about her role, Parineeti said:
"I wanted to do something different and I got this movie. The role is not like Ishaqzaade (2012) or Shuddh Desi Romance (2013) because in those two I played very Indian characters.
"This was completely different, I am off (mentally) in the movie and because of that I really had to do a lot of work."
But director Vinil was all praise for the young actress, explaining why he chose her for the role, Vinil said: "The character which Parineeti is playing in the film is very tough. There is madness in the character and the actress playing the role needed to translate that madness on screen.
"Parineeti has that energy and her sense of comic timing is amazing. I thought she would be the right person who could pull off the role."
Hasee Toh Phasee is definitely at an advantage at the Box Office as it will be the only big release that week. Besides the talented cast, the music of the film has been well received. The added bonus that the story is a rom-com just around the corner from Valentines Day, and with the backing of the big production houses, all promises a good opening weekend.
Critics have already praised the film considerably, saying that Hasee Toh Phasee is a refreshing and delightful romantic comedy. The soundtrack of the film is given by Vishal-Shekhar, and the lyrics are written by Kumaar and Amitabh Bhattacharya.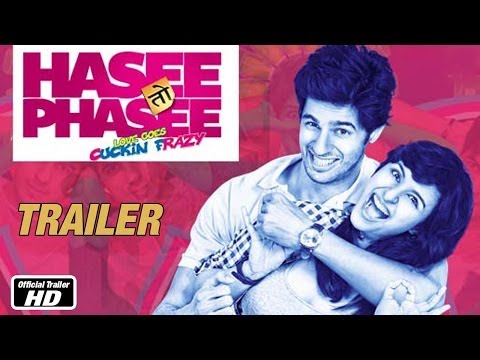 There are a total of six tracks in the movie and with audiences already loving the music, the movie has an advantage to get a good opening week.
The music is very varied from the 'Punjabi Wedding Song' that involves the audience to the retro song 'Shake It Like Shammi' and the 'Drama Queen' number is touted to be played at most parties. 'Manchala' is for those melancholic moments. And those hardcore romantics needn't feel left out as there is also the love ballad 'Zehansaeeb' to enjoy.
Well-known critic and trade analyst Taran Adarsh said: "On the whole, Hasee Toh Phasee is a bright-and-breezy, charming and refreshing rom-com that makes you smile, laugh and gets you moist-eyed at regular intervals. A qualitative film that warms the cockles of your heart. Go for it!"
With Valentines around the corner, it is time to go and indulge in a romantic and family-oriented film with your loved one(s). Check out Haseeh Toh Phasee for a crazy and fun rom-com experience.