"Shaheen's wickets gave us a lot of confidence"
Pakistan demolishes India by ten wickets in the Group 2 opener of the 2021 Cricket World T20 event.
The Green Shaheens, particularly, 'Dhoom Dhoom,' Shaheen Shah Afridi was unstoppable at the Dubai International Cricket Stadium, United Arab Emirates (UAE) on October 24, 2021.
Babar Azam and Mohammad Rizwan were at their supreme best as Pakistan reached the target, with thirteen balls to spare.
The biggest rivalry in the sport was a sell-out, with Pakistani and Indian fans inside the stadium.
Back home in India and Pakistan, as well as across the globe, there was a full house at homes restaurants, cinemas to name a few.
Arrangements were made for special screens at most of these venues as fans were witnessing the key moments of the game.
It was as if the tension behind closed doors was equal to the people in the ground. The heartbeat was pumping for everyone, before and during the match.
Pakistan captain Babar Azam won the toss and decided to bowl first. From Pakistan's perspective, Babar felt dew may come into the equation.
Plus, Babar had also thought that India can bat well under pressure. Marais Erasmus (SA) and Chris Gaffney (NZ) have the responsibility of officiating the tense game.
Bollywood celebrities such as Akshay Kumar and Preity Zinta were in attendance at the match.
Boxer Amir Khan and social media sensation Momin Saqi were all witnessing the night game from 'Ring of Fire' lit up stadium
We present the key highlights of this big game between the arch-rivals at the Cricket World T20 competition.
Shaheen Shah Afridi the Falcon
Pakistan got off to the best possible start, courtesy of two unplayable deliveries by Dhoom Dhoom' Shaheen Shah Afridi.
He first sent Rohit Sharma (0) packing for an lbw golden duck from a perfect in-swinging yorker.
In his next over, Shaheen bowled out KL Rahul (3) through the gate with a magical ball.
Suryakumar Yadav (11) was next to go as wicketkeeper Mohammed Rizwan took a fine acrobatic style catch behind the stumps of fast bowler Hasan Ali.
Wicketkeeper-batsman Rishabh Pant then came into join skipper Virat Kohli at the crease, with India reeling on 31-3.
Pakistan was close to getting Pant out early, but a DRS (Decision Review) review said otherwise.
The original not-out call out by Erasmus was a terrific decision. The ball just went on to miss the bat by the finest of margins, as Rizwan took a good catch from off-spinner Mohammad Hafeez.
However, Pant was eventually out, with leg-spinner Shadab Khan taking a customary catch off his bowling. The googly did the trick for Shadab.
Whilst Kohli was playing well by the situation, utility all-rounder Ravindra Jadeja had a very short stay in the middle.
Jadeja (13) was out off a slower delivery from Hasan, with substitute fielder, Mohammad Nawaz taking a composed in-coming catch at deep-mid-wicket.
Despite, Kohli (57) making a half-century in a difficult situation, he was sent packing to the Pavillion by the Shaheen.
Rizwan caught a gentle catch from a fantastic slower bouncer by Shaheen. Kohli was very upset after losing his crucial wicket in the 19th over.
Fast pacer Haris Rauf who was phenomenal too had his say in the 20th and final over.
Hardik Pandya (11) found Azam at deep cover from a clever slower delivery by Rauf.
India made 151-7, which was relatively ok, considering India was always playing catch up in this game. the dismissal of Kohli was the difference in India getting 7-10 runs short
At the halfway stage, there were no reports of dew, giving no unfair advantage to Pakistan.
Babar Azam the Bravo
Babar Azam and Mohammed Rizwan got off to a flyer for Pakistan, with ten runs from the first over. Rizwan hit a cracking six across the onside to give Pakistani fans a feel of what was to come.
The two then paced their innings very well. In the 2nd over, Babat hit a classic cover drive off Shami.
Babar and Rizwan also had a mixture of technical and big smashes across the park. The opening duo did not have any trouble throughout their innings.
Babar was the first to reach his 50 in the 13th over, smashing a stylish six-off leg-spinner Varun Chakravorty.
Two overs later, Rizwan made his 50, with a 4 off fast-medium bowler Jasprit Bumrah.
From then on, Pakistan became comfortable, as Babar and Rizwan kept walloping and maneuvering the ball.
Virat Kohli was feeling frustrated as nothing went right for his team and players.
Scrambling two runs, Pakistan went on to register a crushing 10 runs victory in 17.5 overs. This is a record between Pakistan and India.
It was also the first time Pakistan won a match against India in a World Cup, including in the global T20 competition.
Babr was not out on 68, with Rizwan remaining unbeaten on 79.
A jubilant, Baba who led from the front during the post-match ceremony said that everything went according to their strategy:
"We executed our plans well and the early wickets were very helpful. Shaheen's wickets gave us a lot of confidence and the spinners dominated as well.
The plan with Rizwan is always to keep it simple. We tried to get deep in the crease and from about the 8th over the dew came in and the ball came on nicely.
A disappointed Virat Kohli was not happy with India's performance, admiring the Green Shirts also.
"We did not execute the things that we wanted to but credit is certainly due – they outplayed us.
"When you lose three early it's very difficult to come back, especially when you know the dew is coming. They were very professional with the bat as well."
Watch Greats celebrating Pakistan's win at the 2021 Cricket World T20: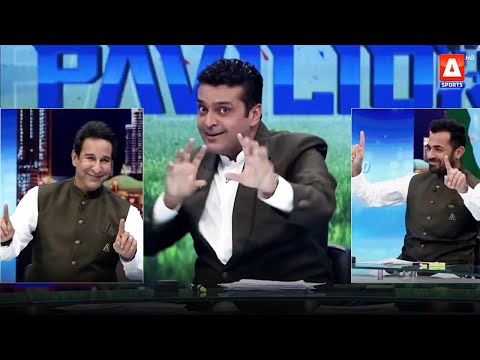 Shaheen Shah Afridi who was deservedly man of the match had a sense of patriot pride. He also gave full merit to the Pakistani openers.
"This is the first time we've beaten India and I feel proud."
"I knew it would be good for us if I got early wickets and that worked out. My idea was to get as much swing as possible.
"You don't get a lot here, but I wanted to get those breakthroughs and gave it 100%. In my opinion, the new ball was difficult to play, so credit goes to Babar and Rizwan."
In the earlier, opening match of the Super 12 stage, Sri Lanka comfortably overcame Bangladesh by 5 wickets, with seven balls to spare.
The Tigers made 171-4 in the Group 1 encounter at Sharjah Cricket Stadium, UAE on October 24, 2021.
In reply, The Islanders easily made 172-5, with the player of the match, Charith Asalanka, top-scoring and remaining unbeaten on 80.
Meanwhile, Pakistan has momentum going into the rest of the tournament. India is on the backfoot, realising that they have to improve for their remaining group games.
DESIblitz congratulates Pakistan cricket, especially Shaheen. The latter has proven that he is a world-class talent.