"The way my career is going with Bollywood, it's amazing. I'm very happy with it."
A force to be reckoned with, Veena Malik is undoubtedly one celebrity personality like no other. Initially a Pakistani model and TV and Film actress, she has since spread her wings to Bollywood and has also launched a promising singing career.
It is safe to say that the newly-wedded Veena has had an amazing 2013. Getting married to her 'soulmate', Asad Bashir Khan Khattak, on Christmas Day was the icing on the cake for the passionate star.
DESIblitz caught up with the beautiful Veena in an exclusive Gupshup to find out more about her ambitions for Bollywood.
The world of Showbiz can be a brutal one for the timid, but fiery Veena has proved time and time again that she will play the entertainment game on her own terms, regardless of what others may think of her.
An established Pakistani Film and TV actress, Veena recalls that she initially wanted to be lawyer growing up:
"Actually, before I got into it [showbiz], the idea was that I wanted to become a lawyer because I was so good with debates and everything. A part of me knew that I was so good at naats and kirats.
"I used to participate in all the dramas which used to happen in school and college, stage plays and everything. So a part of me knew that I might get into this showbiz also."
The switch from Pakistani cinema and television to Bollywood, says Veena, was due to her famous stint on India's Bigg Boss 4 (2010-2011).
Speaking of Veena's presence in the house at the time, her manager Sohail Rashid said: "She has definitely been very popular during the show. She was nominated seven times to be evicted but the Indians voted for her six times which means she has a large fan following over there."
A tough experience for a strong-minded Veena, it was here that Indian audiences appreciated her mettle:
"I think my Bollywood break credit goes to Bigg Boss because once I got out of the house, I was showered with offers from Bollywood and that was the time, I still remember, I signed four to five projects, and it's been amazing, and still Bollywood is responding.
"The way things are shaping up, the way my career is going with Bollywood, it's amazing. I'm very happy with it."
Film-wise, Malik made her Bollywood début in Daal Mein Kuch Kaala Hai (2012) with Jackie Shroff. Art imitating life, she plays the character of a budding actress who wishes to become successful in Bollywood.
Her other venture, Mumbai 125 KM 3D is one that Veena is hugely proud of, being the first Indian film to be shot completely in 3D.
In May 2013, her next film Zindagi 50-50 released where she played the character of Madhuri, a prostitute.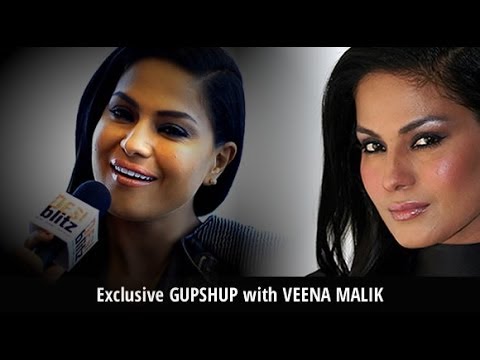 Interestingly, Veena's biggest success to date has been the Kannada feature, Dirty Picture: Silk Sakkath Hot, which became an instant success in South India. Veena engaged in some pretty steamy scenes for the film, showing that she isn't afraid to be controversial.
September 2013, saw her next steamy film release called Super Model with her ex-Bigg Boss co-star, Ashmit Patel, where she notably recalls that she wore 7 different bikinis:
"Selecting bikini's was not a bigger challenge, the bigger challenge was to wear them and make yourself feel comfortable on the screen. It's not that I don't wear a bikini – yes, I do in my private life.
"If I am on a beach, I will definitely go and wear a bikini, I will not wear a salwar suit and jump into the pool. But wearing a bikini on screen and you know through this lens there are thousands of people out there who are gonna watch you, that was a challenge."
But Veena insists she still has a long way to go career-wise especially in terms of where she wants to see herself as a successful actor:
"I am very excited, but the kind of roles that I want to do, the kind of roles I am hungry for, have not come my way till now. But life has just started, everything is new for me, so I hope to get challenging roles, where I can prove myself," she says.
Veena adds that it is the female-centric roles that truly appeal to her – whether a female is the main protagonst or whether the film plot caters to the plight of a woman:
"On the larger scale, I would like to work on films that are more female-centric, which somehow represent a woman's journey. Anything which is substantial, intelligent, emotional and impressive."
Interestingly, Veena is adamant that she does not need big name actors to become a success – she is happy to carve her own name in B-Town, through her own hard work, ambition and sheer determination:
"I don't mind to work with a bigger star once in a while, but definitely, when it comes to my screen presence in the film, I am very particular about that. The amount of work that I should have in the film, I can't compromise on that."
Now a rising Bollywood actress, Veena has also turned her hand at singing, another dear passion of hers. Veena admits that she always wanted to be a singer since she was a young girl:
"I was a good bathroom singer. I always wanted to sing. But it's just that it couldn't happen because I was too busy pursuing my career as an actor, doing a reality show. Finally I decided to give it a try.
Her first single is 'Drama Queen', followed closely by 'Rum Rum'. Both sexy tunes appeal to mass audiences for their Bollywood-esque dance and pop beats and catchy phrases.
Like everything else perfectionist Veena puts her mind to, she will also make sure she does her best in every new project:
"Becoming a singer, it comes with a lot of effort, hard work, practice and all. I'm not actually a trained singer but I had a few classes in 2008 with a very renowned musician in Pakistan. Since then, I just wanted to make a track.
"It took almost a year to work on 'Drama Queen', But later on, things were easier because everything fell into place after that, and second solo of 'Rum…' didn't take that much time."
Now a successful Bollywood actress and singer to add to her growing list of achievements, Veena is on the path to conquer all, and without a doubt, showbiz is in her blood.
In her personal life, Veena Malik is celebrating marital bliss and is now known as Veena A Khan Khattak, but what is definitely certain is that Veena has no plans to slow down her drive and passion to do well in the world of entertainment.