"I was touched and almost in tears to see their faith in me."
Magnificent singer Mujeeb Ul Hassan from Delhi, India has worked his magic for the romantic anthem, 'Harjaiyaan.'
Mujeeb was born in Ganj Dundawara Etah (Uttar Pradesh), India on July 20, 1981, Mujeeb's father, Zahoor Hussain is a farmer, with his mother Zahida Begum being a housewife.
Mujeeb has five brothers and two sisters, He is the youngest of all. Whilst Mujeeb was singing from a young age, later on in life, he began concentrating on film production.
It is quite an entry for Mujeeb into the music world, with 'Harjaiyaan' being his debut track as a vocalist. The video to 'Harajaiyaan' releasing under Zee Music Company has had a heart-wrenching response on YouTube, with over 1.7 million views.
The setting for the song focuses on the mid-80s period of India. It was during the shooting of the film San 84 Justice (2020) that the song was conceived.
Ironically, Mujeeb who is the producer of San 84 Justice went on to sing "Harjaiyaaan.'
Mujeeb was clear in his remit, wanting a passionate track with fascinating words and a powerfully creative vision.
Watch exclusive interviews with Mujeeb Ul Hassan and team 'Harjaiyaan' here: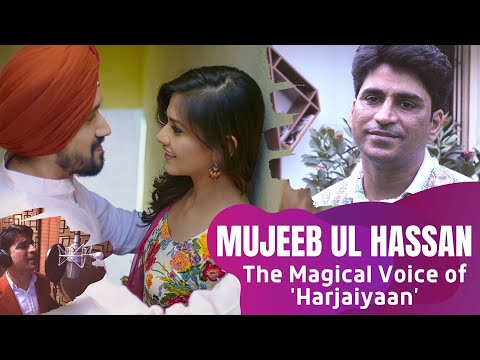 Subsequently, Mujeeb made a call to his close confidante and award-winning director Rahat Kazmi, sharing his ideas. Rahat was shooting in London at the time.
Rahat exclusively tells DESIblitz of how he had to deeply think before coming up with the final lyrics:
"I took a lot of time and struggled with my thoughts at the beginning. Then suddenly words began flowing.
"Finally, I went onto pen down 'Harjaiyaan' on my outdoor breakfast table one fine sunny morning in London.
After the track was ready, music director Aamir Ali took over to work on the melodious composition.
Meanwhile, Rohan Sharma, who was the assistant director of San 84 Justice, was responsible for framing an equally convincing story, carrying forward the essence and romanticising the mood of 'Harjaiyaan.'
Athul Leornado Nandhu also had a very important and key role throughout the making as the DOP.
Upon Aamir finishing the music, Manish Sahhriya had the responsibility for producing and arranging it.
With the song fully complete, a fantastic cast came on board. Making his film debut in San 84 Justice as Ajit, a "free-spirited romantic boy," Ashish Sahdev got the nod for the male lead.
The female role went to Dalljiet Kaur. She became famous after appearing on season 13 of Big Boss during 2019-2020
Mujeeb and Rohan did a grand job in guiding the two actors with their heartful mannerisms, particularly reflecting the targeted decade.
In an exclusive conversation with DESIblitz, Mujeeb Ul Hassan opens up about his early singing and 'Harjaiayaan.' We also have exclusive reactions from Dalljiet Kaur and Ashish Sahdev.
Music and Delhi Influence
Mujeeb ul Hassan reveals that he was very different from other students when growing up during his academic days. Whilst they were into more physical activities, Mujeeb was a singing long ranger:
"As a child, other kids were interested in sports, but I would sit alone and sing. I can say singing was my favourite activity.
Mujeeb came to notice by fellow female students. He recalls his first major performance at college which was nerve-wracking, yet went very well:
"Once I was singing in college and a group of girls noticed. They secretly told the principal and the next day, surprisingly, my name was called out in the assembly to sing a prayer. It was a Sufi prayer.
"My feet were shaking. Surprise again, everyone loved it. They clapped and I got to know that there was a singer inside me."
Delhi has had a big influence musically on Mujeeb. For him it's all up in the air:
"Delhi has been a city of rulers, kings and kings love music. So music is in the air."
It appears that his childhood and the capital city has certainly shaped his musical growth.
Harjaiyaan
Mujeeb Ul Hassan made his vocal debut with 'Harjaiyaan.' He had the motivation to record this track after much encouragement from his team, whilst co-directing San 84 Justice:
"My San 84 Justice team was my inspiration. They literally pushed me from party singing to playback singing."
Mujeeb says he had an "amazing" time when recording the song, especially as his strength lies in the vocals.
Mujeeb states that it was a very emotional moment when film colleagues gave him their vote to sing 'Harjaiyaan.'
"We were on the film set of San 84 Justice sitting on a court. Twenty people around me voted for me to sing 'Harjaiyaan.' I was touched and almost in tears to see their faith in me."
According to Mujeeb, without even pushing the song too much on social media, it has grown organically.
Mujeeb points out that the track has had a phenomenal response, giving one Instagram example saying:
"A famous food lovers page used 'Harjaiyaan' as a background to display their food."
Mujeeb confirms with the success of this track he has had discussions on several other musical projects.
Dalljiet Kaur
Indian actress Dalljiet Kaur saw 'Harjaiayaan' as a wonderful opportunity to expand her range of work.
Coming from a Punjabi background, it was easy for her to slip into the character. From the very outset, Dalljiet was smitten by the song and Mujeeb:
"When I was told that, 'we want you for Harjaiyaan', I was like, 'can I like listen to the song? And the first time I had heard the song, Mujeeb Sir's voice just took over my head.
"I was like, I can't let anybody else star in this song. It had a sense of simplicity, yet a refineness of a voice. It just makes you kind of sway with the emotion.
Dalljiet also acknowledges Mujeeb Ul Hassan for roping her in and the amazing direction of Rohan Sharma:
"I'm just so thankful to Mujeeb Sir for casting me, Rohan Sir to have directed me so beautifully."
Dalljiet went on to further compliment Mujeeb's captivating voice:
"I think Mujeeb Sir's voice is just mesmerising in the entire song.  I think Sir's voice is not going to easily get out. You're going to be in that mode of 'Harjaiyaan.'
It is quite evident that the soothing voice of Mujeeb brought Daljiet to Delhi and be part of this song, which depicts a lot of passion.
Ashish Sahdev
Indian actor Ashish Sahdev who features in 'Harjaiyaan' verifies that the song came to life during the shoot for San 84 Justice.
Ashish tells us that after establishing that it should be a romantic song, everyone on set felt Mujeeb was the ideal choice as a singer:
"Mujeeb being the lead producer of the film, he would tell us how the song would go. He would define the flavour of the song.
"He would sing it for us. While that was happening slowly a consensus started building on the sets that why doesn't he himself sing the song?
"And of course he's a good singer. And, everyone came to realise that, and here we are, he sang the song."
Ashish adds the video to the song had a very similar periodic look to San 84 Justice. He describes his on-screen chemistry with actress Dalljiet Kaur as "the mushy slow love of old times."
Ashish feels everyone, particularly Mujeeb was amazing with his vocals.
He claims the shoot had many interesting moments, including riding a narrow tyre cycle in the soft soil of the fields.
Ashish did have a head start, especially with him shooting for San 84 Justice, playing Ajit. 'Harjaiyaan' is an extension of San 84 Justice character, only that he took romanticism up a level.
'Harjaiyaan' touches the soul and hearts of the audiences. The combination of its earthy sounds and stunning visualisation highlights India's heartlands to the core.
'Harjaiyaan' is available to watch on YouTube along with streaming and downloading via iTunes and Spotify.
Mujeeb Ul Hassan will no doubt have more songs in the pipeline. He also expresses his interest to work with playback singer Shreya Ghoshal and music composer Pritam in the future.