The game still holds its own against more modern titles
In India, there are certain eSports games that competitors focus their efforts on compared to others.
Competitive gaming in India has significantly increased in prominence. The rise of eSports has seen various events being held over the course of a year, with lucrative cash prizes at stake.
Some eSports tournaments have seen prize pools worth thousands of pounds, meaning that competitors can make a living from gaming.
When it comes to the type of games, it isn't just any title.
Professional players have a specific focus on certain games and spend hours every day improving in order to go into tournaments fully prepared.
Some games are often talked about while others are responsible for driving competitive gaming in India.
Here are some of the most popular eSports games in India.
Counter-Strike: Global Offensive
Ever since it was released in 2012, Counter-Strike: Global Offensive has been one of India's most popular eSports games.
When it came out, India was not a big hub when it came to competitive gaming. However, that has changed.
It is a multiplayer first-person shooter which pits two teams against each other.
Both sides are tasked with eliminating the other while also completing separate objectives.
The game still holds its own against more modern titles, mainly due to its established core gameplay and active community.
But on a visual aspect, the title is not as thematically rich as Overwatch. Nevertheless, it continues to have a huge following on the eSports circuit.
One of India's most successful Counter-Strike: Global Offensive players is Ankit Panth, also known as 'V3nom'.
He founded the gaming team, Brutality, and has won several tournaments competitively playing Counter-Strike: Global Offensive.
Dota 2
When it comes to India's most popular eSports games, Dota 2 is one of the first which comes to mind.
This multiplayer online battle arena (MOBA) game features two teams consisting of five players each. The objective is to battle against one another in order to destroy the opposing structure while defending their own.
Players can choose one of more than 100 playable characters to take to the battlefield. Each character has unique abilities, play style and attributes.
The MOBA genre may be frustrating for those who are unfamiliar with the gameplay mechanics but the annual Dota 2 International tournament has huge cash purses.
The 2019 tournament had a total purse of over $34 million, with the winning team, OG, walking away with more than $15 million.
As an eSport, it is extremely popular as the tough competition makes it intriguing to watch.
In India, gamers gave a lot of recognition to Dota 2 when it first came out. Many professional eSports players have Dota 2 as their go-to game.
Two well-known players are Krish Gupta and Amit Malwal.
Both started playing the game as a hobby but when their skill was noticed, they then decided to take it up professionally.
At 17, Krish is the youngest professional Dota 2 player in India. Meanwhile, Amit represents Entity Gaming where he acts as a support player.
In the 2019 Summer Season, Amit and his team won the ESL India Premiership.
Krish spoke about India's expanding gaming scene:
"India is developing in the gaming scene, but still many countries are far more ahead of us, but yes we are on the right track.
"I hope to someday represent my country in the Olympics if and when the sport gets recognised at a global stage."
PUBG Mobile
Not only is PlayerUnknown's Battlegrounds (PUBG) a popular eSports game but it is also played among casual gamers across India.
It is an online battle royale game where up to 100 players are dropped onto a map. The objective is to be the last person standing.
PUBG takes the open-world genre and combines it with the mechanics of a shooter.
In India, PUBG has a huge fanbase with approximately 33 million active users.
As an eSport, India has its own series of tournaments specifically for the mobile version of the game.
Throughout 2020, the PUBG Mobile India Series has been going on and the finals are set to take place on July 4-5. It has a prize pool of Rs. 5 million (£53,800) where the winner will get Rs. 2 million (£21,500).
Notable PUBG players include Naman Mathur, otherwise known as MortaL.
He represented India in PUBG competitions as part of Team Soul before becoming a successful YouTuber.
StarCraft
StarCraft contributed to what eSports is today in India, laying the foundations.
It is a real-time strategy video game series in which players collect resources, construct bases and attack enemies.
Players choose between three factions, each with their own strengths and weaknesses. This ended up changing the face of real-time strategy games.
The franchise is more popular in eastern countries like India but it served as a major driving force for eSports across the world.
It helped establish the notion that professional gamers were on the same level as other athletes.
This doesn't even take into account the prize pools totalling millions of dollars or the televising of competitions.
StarCraft II: Legacy of the Void is one title that fans love. It is a satisfying strategy game and serves as a fantastic conclusion to the StarCraft II trilogy.
Street Fighter
Street Fighter V is arguably the most accessible eSports game for everyone, even casual gamers.
The game is simply two characters in an arena brawling until one person is left standing. The long-running franchise has been a popular one thanks to the super-powered attacks.
While most eSports games are online-based, the Street Fighter series did not start that way. It went from playing against one another at an arcade in Broadway, New York, to a yearly gathering in Las Vegas.
This came to be known as the EVO Championship Series and it was born completely out of the community's desire for organised digital fighting.
As a result, Street Fighter V is one of just a handful of eSports games that gets mainstream airtime. High-profile tournaments are broadcast on ESPN 2 and Disney XD.
On India's Street Fighter scene, Adhithta Mahesh is one of the best. The Chennai native enjoyed the franchise as a hobby before taking it up a notch.
"I started with Street Fighter 3 but at that time, I didn't know much about 2D fighting games.
"Street Fighter 3 started out as a platform and the original Street Fighter games were really really difficult to get into."
"It was a slow learning process but it started to make me understand the depth of 2D fighting games. By the time Street Fighter 4 was announced, I was ready to make that transition."
After meeting other players at the launch tournament, Adhithya met with them every weekend in order to improve his ability.
He added: "It's very, very difficult to keep up if you don't have other people to play with online. That's the reason why Chennai and Delhi have had the edge when it comes to fighting games. It also helps that they have a very similar energy."
Watch a video on the most popular eSports games in India here: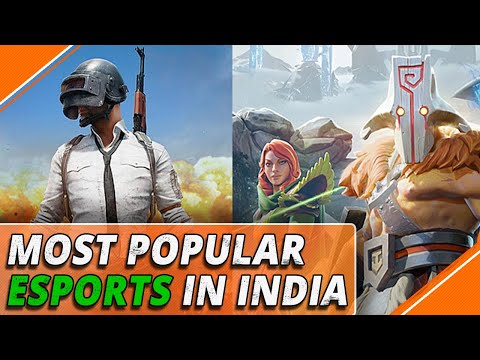 While some of these eSports games are more modern than others, they are all popular choices for professional gamers.
Many eSports players have started off playing these games as a hobby before taking it to a professional level.
These titles also have a large representation of Indian players, showcasing their popularity within a country where eSports continues to grow.