"I have always said that cinema should be used to build bridges"
Pakistani actress Mehwish Hayat has had a meteoric rise to fame, attaining huge success in films. The queen of Pakistani cinema leads the box office, with consecutive super-hit films.
Her films Punjab Nahi Jaungi (2017) and Jawani Phir Nahi Ani (2015) are amongst the highest-grossing Pakistani films ever.
Besides the highly speculative biopic on Benazir, Mehwish has been in the spotlight for her views on Bollywood, along with some interesting future projects.
Born in Karachi, Mehwish was the fourth of five children. Mehwish comes from a family with a creative background.
Her mother Rukhsar is a reputable TV artist herself. Her brother Zeeshan and sister Afsheen are connected with the music field.
Mehwish's brother Danish is also an established model and actor. Mehwish admits growing up she had more tomboy attributes as opposed to pursuing girly things.
Getting the better of her brothers, whilst playing video games gave Mehwish a competitive edge and instinct going forward in life.
She faced the camera for the first time at the age of thirteen during a bubble gum advertisement.
After completing her education, she went full-time into acting in drama serials and modelling for big brands.
She forayed into movies, with the short art film, Inshallah (2009), playing a deglamorized slum dweller.
She then went onto appear in many popular films including Na Maloom Afraad (2014) and Actor in Law (2016) to name a few.
Mehwish Hayat exclusively shared her thoughts with DESIblitz about the Benazir biopic, Bollywood vilifying Pakistan, Pakistani cinema and direction.
Biopic on Benazir Bhutto
Ever since 2018, there has been a growing buzz around Mehwish Hayat possibly playing late Benazir Bhutto in a biopic.
Setting the record straight, Mehwish tells us that there is a non-disclosure agreement in place for a biopic. Thus, she is legally bound not to speak further on this matter.
However, Mehwish did mention what it would mean if she were to play Benazir on-screen:
"As an actress, I am really drawn to the character of Benazir.  To me, she is a real-life, Shakesperean heroine.
"From her carefree days in Oxford to her untimely assassination there are so many shades to her personality. It will be an honour to play her."
She also made a universally parallel observation when explaining the complexity of playing such an iconic leader:
"I think that the challenges are the same as playing any real-life personality. The expectations are always high and you have to make sure that you get every single nuance right.
"I was watching an interview with Natalie Portman the other day about how she prepared to play Jackie Kennedy.
"She actually studied newsreel/TV footage of her to get every single minute detail correct.
"She listened to her speeches and even made sure that she was breathing in the same place as Jackie.
"But it is important to understand that there is a fine line between just mimicking somebody and getting the essence of the character."
Mehwish emphasises that she has always had a genuine interest in Benazir. She describes her as a woman of substance, often breaking many "glass ceilings."
Despite having nothing to do with any specific project, she has read many books on her.
Bollywood Films: Vilification and Peace
Mehwish Hayat has openly accused Bollywood of vilifying Pakistan through films made across the border.
Without specifying any particular films, she states that many Bollywood movies are depicting Pakistanis in a negative light.
She believes promoting mutual understanding for a peaceful future is very important. Mehwish reveals that she is open to any joint-venture, but feels it might be impossible at the moment:
"I have always said that cinema should be used to build bridges and there was so much that we could have done to promote peace.
"I feel that Bollywood really doesn't want to do that. For them, unfortunately, whipping up nationalistic fervour seems to be much more important.
"I would like to say that I would be open to such a venture. Realistically I don't think that there is any chance of it happening.
"There is too much distrust on both sides of the border for it to be possible."
Being neutral is problematic as it can equate to being unpatriotic. Nevertheless, she is hoping to see a fair representation of Pakistan via films.
Naturally, tensions will need to de-escalate before any joint film development takes place.
However, a co-production between Bollywood and Pakistani creatives will go a long way to promote peace in the region.
The likes of Mahesh Bhatt, Naseeruddin Shah, late Om Puri and others have previously been supportive to Pakistani artists.
Similarly, Mehwish has had Bollywood film offers in the past, which she has refused. They include big banner films, starring A-list stars.
Films and Direction
Mehwish Hayat confirms that she will be featuring in the Pakistani film London Nahi Jaunga (LNJ).
The film stars Humayun Saeed in the lead role. The film follows the rom-com genre of Punjab Nahi Jaungi and has the same team that made Jawani Phir Nahi Ani.
LNJ will be full of entertainment, providing something for everyone. Mehwish claims the "character" and "story arc" are two key things she looks out for in a script.
Hence, having depth to her role is vital in comparison to just being a "showpiece" or glamour girl. Moving on, in reply to a question about Pakistani films needing their own identity, Mehwish said:
"The revival of our film industry is in its infancy and still has to find a voice that can truly be defined as Pakistani.
"I think that we are heavily influenced by our neighbour whose films have shaped the perception of our audiences.
"It will take time but like our dramas which have a unique identity, our films will also get there."
Mehwish acknowledges that she sleeps well to relax and recharge ahead of any new film projects,
Watch our exclusive interview with Mehwish Hayat here: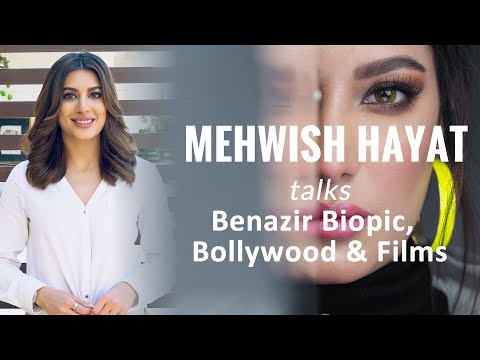 From a creative perspective, Mehwish alludes to the fact that she will direct a film in the near future. Shedding light on her dream project, she says:
"I have been quoted as saying that I am concerned about the way that western media portrays Muslims and the effect that that is having on society as a whole.
"While it is important that western media is more representative and fair, I do think that it is our responsibility as Muslims to be telling our own stories to the mainstream audiences.
"And there are so many to tell. This is something that I have been actively working on for some time now.
"Unfortunately because of confidentiality and to protect the projects I cannot say more. I hope that I will have something more to say very soon."
Recognising her contribution to Pakistani cinema, in 2019, the President of Pakistan honoured Mehwish with the Tamgha-I-Imtiaz, a national award for excellence.
Outside of the subcontinent, she has a big crush on Leonardo DiCaprio. She finds his "cheeky mischievous look" most attractive.
The future is evidently bright for the beautiful Mehwish Hayat. Fans of Mehwish can keep updated about her work on Instagram and Twitter.