"While Ishqiya was earthy and rustic, one gets to witness an alternate universe in Dedh Ishqiya."
The sequel to the critically acclaimed Ishqiya (2010), Dedh Ishqiya stars Bollywood's dancing queen Madhuri Dixit, alongside Naseeruddin Shah, Arshad Warsi and Huma Qureshi.
The film has been directed by Abhishek Chaubey and will release from January 10, 2014, onwards.
When the prequel, Ishqiya released in 2010, it received a great response. It had an unconventional feel to it, and showed Vidya Balan as a small town-based seductress Krishna, who had Khalujan (Naseeruddin) and Babban (Arshad) completely under her spell.
The film scored highly at the box office and wowed critics.
The producers (Shemaroo and Vishal Bhardwaj) announced anew installment, Dedh Ishqiya at a private party with the same cast and crew. Madhuri Dixit signed the role, making it her first film after moving back to India in November 2011.
She plays the character of Begum Para, a Begum of Mahmudabad. The up and coming Huma Qureshi is paired opposite Arshad Warsi.
The story picks up from where it left off in the first film; Dedh Ishqiya discovers yet another escapade of Khalujan (Naseeruddin Shah) and Babban (Arshad Warsi), a poetic who's journey is lined with revenge, drama and deception.
When speaking about her return to films, Madhuri says: "I'm used to people referring to it as a comeback, though I've always been around, so it doesn't matter. I had seen Ishqiya and was really impressed with the way all the characters were etched out. When the makers came to me with the film, I loved it, and decided to do the film."
She describes her character as: "The Begum of Mahmudabad, which is a small town in Lucknow. A widow, she is extremely beautiful, poised and graceful. Para loves performing arts, so you will see her dancing, singing and reciting poems."
Dedh Ishqiya brings classical elements back to screen, showcasing Madhuri's effortless Kathak steps. This was a first for choreographer Remo D'Souza, however he did not disappoint:
"I thought the choreography was very good, especially since it's not Remo's genre. He has always been comfortable in the hip-hop zone, but he took it up as a challenge to make sure that the elements of Kathak come out well," says Madhuri.
Huma Qureshi says her character, Muniya, is not a stereotypical small-town girl. Muniya is very clear about what she wants from life. Yet there is a certain mystery around her that keeps the audience engaged.
This is also the first time she is paired opposite Arshad Warsi. Speaking about working with him, she says: "Arshad is mad; you can never have a serious conversation with him. But he is very intelligent and that's where his humour comes from. He is a lovely person, who can put everyone around him at ease."
Dedh Ishqiya also gives Huma a huge break as the film is already attracting audiences and interest from all over the world:
"Desh Ishqiya is a film I am very proud of. When the first one released, it took everyone by surprise. I was in Delhi and thought 'WOW what a film'. And today I am a part of the sequel, doing interviews about it with you lovely people. So yes it is exciting."
The talented Vishal Bhardwaj, who has released many hit songs over the years, has composed the music album. The lyrics have been penned by the legendary Gulzar.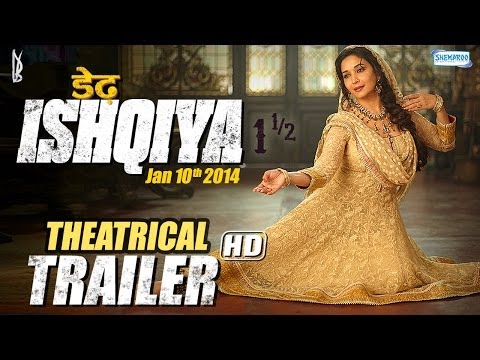 The first song, 'Dil Ki Mizaaj Ishqiya', has been sung by Rahat Fateh Ali Khan and is a beautiful romantic melody. The overall composition is pleasing to the ear and is one of those that will be on repeat.
'Hamari Atariya' is one that dancers will definitely love. Voiced by Rekha Bhardwaj, it is a mujra-themed song and has the traditional elements throughout. 'Zabaan Jale Hai' performed again by Rahat is guitar based, giving a calm, relaxing melody. This song may come across mellow to some however others will enjoy its unique sounds.
'Jagaave Saari Raina' is probably the most impressive of them all. Sung by Rekha Bhardwaj and Pandit Birju Maharaj presenting a kathak bol. This will definitely win over those who have an ear for classical Indian music and for those who understand this style of dance.
'Kya Hoga' is sung by Jazim Sharma, Master Saleem, Shahid Maliya and Jamal Akbar. It's a traditional Qawwali song with the singers giving powerful performances.
'Horn Ok Please' has been performed by Yo Yo Honey Singh, Sukhwinder Singh and Anushka Manchanda. It's the most modern track with a contemporary composition.
Overall, Dedh Ishqiya promises something for everyone. It brings back the traditional and classical element along with Gulzar's deep lyrics, which definitely makes it worth a listen.
Film critic and analyst, Taran Adarsh has many positive comments about the film, stating:
"While Ishqiya was earthy and rustic, one gets to witness an alternate universe in Dedh Ishqiya. There's a lot of poetry, music and colour this time around. At the same time, there are layers to the story that baffle you."
"On the whole, Dedh Ishqiya is a worthy follow up to the widely admired Ishqiya. Powerful writing, superb direction and outstanding performances make Dedh Ishqiya a must watch. Just don't miss it!"
The film sees some outstanding performances from the consistently mesmerising Naseeruddin Shah and Arshad Warsi. On top of that, fans can also experience the dancing bells of Madhuri once more.
Dedh Ishqiya releases from January 10, 2013 worldwide. If you loved the black comedy prequel, Ishqiya, then make sure you don't miss this one!