"I'm thinking an Indian wedding and an English wedding."
In the first episode of Desi Rascals Series 2, Jasmin Walia will be sharing her plans to get married.
In tonight's episode of Desi Rascals at 8pm on Sky1, we will see Jasmin and her boyfriend Ross Worswick at a wedding party, chatting to Rita Siddiqui and her boyfriend Adam Blick.
In a teaser clip, the 25-year-old star admits that being at the party is making her feel like she wants to get married.
She then goes on to reveal her plans for a dream wedding to the group.
At the party, Jasmin opens up to her new best friend Rita, saying: "This party is making me want to get a bit married. I'm not going to lie, I have actually planned our wedding."
She adds: "I know he hasn't even asked me yet. But I can't help it. I'm a girl."
Elaborating on the type of wedding that she would like, Jasmin says: "I'm thinking like literally two weddings. So I'm thinking an Indian wedding and an English wedding."
As if one wedding is not enough for her, the Desi starlet adds: "I want my celebrations to go on for like not even a week, maybe a month."
Sounds like it'll be a proper Desi wedding then.
Anyone who knows a thing or two about girls and weddings will know one thing: Diamonds are a girl's best friend.
And Jasmin is no different. She says: "When we go shopping, we was actually shopping for a watch for him. And, I'm not going to lie, I did try on a few rings."
The only thing is that this is no ordinary girl. This is Jasmin Walia. So the ring had better be special.
Ross says: "They start at like a million pounds, the rings she was looking at. So I'm sat there going like what?"
Watch the exclusive clip from Desi Rascals Series 2 here: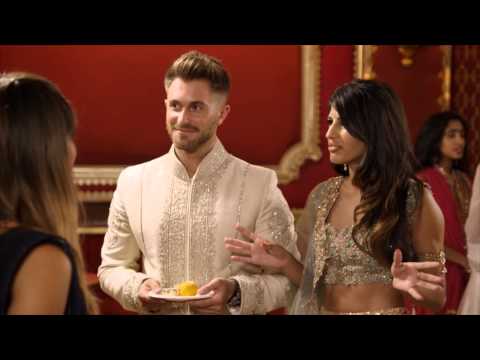 The former TOWIE star has readjusted her expectations though. She says: "I'd settle for about 200, 300 thousand."
Rita says that she would be happy with a £10,000 ring. But Ross says: "Basically, as long as she's happy, I mean it's your day isn't it."
It looks like Jasmin and Rita are becoming BFFs. Be sure to see some double-dating between these happy young couples.
Will we see Ross propose to Jasmin? Will we see Jasmin Walia and Ross Worswick tie the knot in Desi Rascals Series 2?
The brand new series of Desi Rascals starts tonight at 8pm on Sky 1.